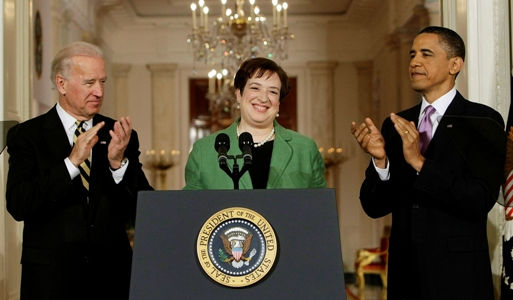 Calling her "one of the nations foremost legal minds" and a "trailblazing leader," President Obama announced his Supreme Court nomination of Solicitor General Elena Kagan on May 10.
Kagan, 50, currently serves as the nation's first female solicitor general and would succeed Justice John Paul Stevens who recently announced his retirement. She would be the fourth woman and youngest member to sit on the Supreme Court. Her confirmation, which is expected, would make history because it would also be the first time three women sat on the high court together.
Obama praised her fair mindedness and her skill as a consensus builder, highlighting her tenure as the first female dean of Harvard Law School.
The president specifically cited Kagan's recent efforts defending the government's position in the Citizens United case before the Supreme Court last year. Obama said Kagan defended the bipartisan campaign for finance reform against special interests seeking to spend unlimited money to influence elections.
"I think that says a great deal not just about Elena's tenacity but about her commitment to serving the American people," said Obama.
Previously, Obama has said one his most serious responsibilities as president is the process of selecting a Supreme Court nominee. He said his decision would be based on someone who knows that in a democracy, powerful interests must not be allowed to drown out the voices of ordinary citizens.
Accepting the nomination Kagan said serving on the Supreme Court would be an "honor of a lifetime." She adds she was "blessed" to have represented the U.S. government as solicitor general calling it "the most thrilling and humbling task a lawyer can perform."
Law matters, said Kagan, because it keeps Americans safe, protects our fundamental rights and freedoms, and serves as a foundation for democracy.
Kagan, who clerked for Justice Thurgood Marshall, taught alongside Obama at the University of Chicago Law School in the 1990s before joining the White House during the Clinton administration. From there, she became the first female dean at Harvard's Law School, where she is credited for revitalizing the school.
Many characterize Kagan as a progressive who has been able to find common ground with legal thinkers across the left-right political spectrum. Others say her experience in this regard is what Obama was looking for – someone who will work to keep the court's five conservatives from having a majority over the four liberals.
The White House hopes hearings can begin this summer and Democrats want Kagan confirmed by the August recess.
Wade Henderson, president and CEO of the Leadership Conference on Civil and Human Rights said his group welcomes Obama's decision.
"The president has nominated someone who is extremely well-qualified and who understands the lives of ordinary Americans," Henderson said in a statement. "The daughter of a housing lawyer and a school teacher, and herself a committed educator and public servant, Elena Kagan understands the effects of the court's decisions on ordinary people. We believe she will uphold the Constitution and the law to provide equal justice and protect personal freedoms for everyone in America, not just a few."
Terry O'Neill, president of the National Organization for Women, said her group also applauds Obama's historic nomination.
"Women have been under-represented on the Supreme Court for far too long," said O'Neill in a statement.
O'Neill said NOW will closely monitor the confirmation process and hopes Kagan will prove she is a defender of the rights of women, racial minorities, the poor and other oppressed groups.
"And we will follow the comments of the senators and the media, as both have a history of sexist treatment of women nominees," she said. "As Elena Kagan prepares to add another crack to the marble ceiling, we hope to see that stereotyped attitudes at long last, are history."
Photo: President Barack Obama and Vice President Joe Biden applaud as Solicitor General Elena Kagan is introduced as President Obama's choice for Supreme Court Justice in the East Room of the White House May 10. (J. Scott Applewhite/AP)