CULVER CITY, Calif.—In case you missed it last year at the Theatre of NOTE, For the Love Of (Or, The Roller Derby Play) is back on the boards at the Kirk Douglas Theatre. The revival of this rollicking roller skating romp is part of Center Theatre Group's annual "Block Party" that celebrates the L.A. stage by re-mounting several intimate theatre productions at the 317-seat Culver City playhouse named after the actor renowned for Spartacus and so much more.
Playwright Gina Femia's all-female, high energy Derby is about a women's contact sports team, the Brooklyn Scallywags. The two-act drama cuts from the rink, where the roller derby players train and play opponents, to the locker room full of banter and coaching, to off-arena settings where we get glimpses of and insights into their backstories and personal lives. Some of the skaters pursue same-gender lifestyles while others are straight.
So let's cut to the chase: Is bigger better? How does this amped-up version of Derby compare to 2018's diminutive Cahuenga Blvd. "hole-in-the-wall" show? To be honest, I had some trepidations because the two times in the past that I did see transitions from intimate to mid-size or larger thee-a-tuhs they both lost something in translation. What those plays gained in publicity and box office they both lost in intimacy and ambiance. (Those shows were not part of Center's ambitious Block Party.)
Having said that, I am happy to report that this revival of Derby is even mo' bettah than the original. Rhonda Kohl, who also choreographed and directed Theatre of NOTE's iteration, indicated to me that the move to the Kirk was seamless, and considering the large cast and the team sports subject matter, the current undertaking is indeed better suited to a larger venue.
Furthermore, the addition of newcomer Briana Price to the roster in the co-starring role of Joy Ride is, uh, priceless. She has toured with Nicki Minaj, appeared on TV's Glee and in the Odyssey Theatre's 2018 Lysistrata Unbound, and shines in this role, making it her own.
As such, she is a worthy competitor—not only in the arena but when facing off against Lizzie Lightning, with Tania Verafield reprising her rolling role as the Brooklyn Scallywags' star jammer. Rather remarkably, on March 9 the versatile Verafield went from playing Emilia in A Noise Within's matinee of Shakespeare's Othello to the opening night performance of Derby. She transformed herself from Iago's (presumably) heterosexual wife and Desdemona's gal pal in 17th-century Venice and the Mediterranean (although this is a modern dress version) to the lesbian Lizzie living in 21st-century New Yawk City. Verafield seamlessly moved from the Bard's iambic pentameter to Brooklyn patter without missing a beat.
In addition to her beauty and projection of imposing athletic prowess, Verafield reveals the ability for sensitive, nuanced acting. Being a native New Yorker actually born in Brooklyn myself, one of her best, most truthful moments is the way she eviscerates Joy, verbally and with facial expression, for the unpardonable, monumental crime of living in New Jersey. (Of course, in turn-around snob-play, Manhattanites sneer at the "bridge-and-tunnel crowd" that would include not only "Joisey drivers" but lowly Brooklynites, like Lizzie and her Scallywag teammates.)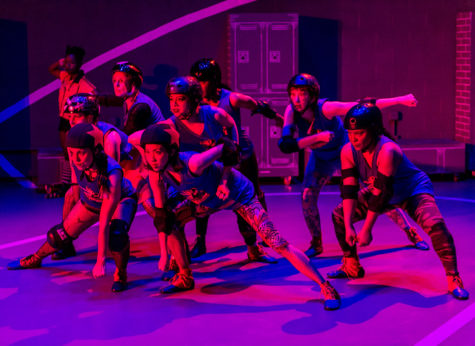 Derby's supporting cast includes other veterans from the first go-round, such as Alina Phelan reprising her role as Andrea the Vagiant, a former skater who, now that her knees have given out, has the thankless task of trying to coach the Scallywags. As the authority figure, Andrea comes in for more than her fair share of abuse, especially razzing from Lizzie (with whom she has a past). Eventually, the coach is given her due, as when she gives her best Knute Rockne-like inspirational "Let's-win-one-for-the-team (or Gipper)" locker room pep talk.
In the guise of a (presumably college) graduation speech, Liesel Hanson as Squeaky Mouse is also expressive as she gives voice to what it means to be a member of the riotous derby sorority. Like Hanson, Elinor Gunn is a Theatre of NOTE member reprising her Derby role as Michelle. To be honest, this is a pretty thankless task as she plays the least likable character as Joy's disapproving, "pragmatic" partner—one of those lovers who looks down on you and doesn't provide her significant other with the support and sex that should flow naturally from loving relationships. A former anarchist artist who sold her soul out to the corporate world, Joy sometimes calls Michelle "Chelle"—because, like, you know, she's a hollow shell of her former free-spirited self, consumed now with paying the bills.
Michelle is also a cock block (okay, poor choice of words but you know what I mean!) between Lizzie and Joy. Derby develops their sexual frisson and builds up to Lizzie and Joy's eventual facing the music in the denouement: Will they or won't they? Call this—and the games—"Rinkwomanship."
What is the point of belonging to the Scallywags? Is it to find romantic love and sexual passion? If this was a play about male athletes it would have been trite and full of toxic masculinity and über aggression. But Femia's clever conceit is to choose a predominantly (although not exclusively) female-played team contact sport, and to transpose the macho ethos to an all-women's game and story. The drama comes alive and is revelatory by subverting stereotypes. It's good fun to watch Verafield and company spoof and lampoon the male tough-guy poses.
In addition to its gender and sexual identity themes, Derby also deals with racial representation. Lizzie is, like some of the play's other dramatis personae, such as Crystal Diaz's character, Hispanic (Verafield is actually part-Chicana), Joy is African American, Jenny Soo the Prosecute-Her is Asian, and so on. So it is a multi-culti all-woman show.
By the way, the origin of the word "Scallywag" has a post-Civil War derivation, referring to a White Southerner who supported the Reconstruction-era radical Republican Party (Thaddeus Stevens's, not Trump's Republicans!) and its policy of Black emancipation. Scallywags were considered to be traitors by Southern racists. So, in that sense, the feminist Brooklyn Scallywags are wryly, aptly named.
The roller derby team is a metaphor for female empowerment and unity: Sisterhood is powerful! (in this case, literally). Considering that they performed at the Kirk Douglas, I half expected them to shout "We're Spartacus!" after losing a bout.
In order to further focus on the notion that playing in the game elevates and distinguishes the identities and lives of each teammate, the playwright might have added some scenes showing how adoring fans admire and emulate them. It could be something as simple as autograph seekers pursuing their favorite players. I also think that given the larger venue, Femia and choreographer/helmer Kohl might have introduced some actual skating on the boards—no Evel Knievel daredevil derring-do that risks some life and limb, but a few simple rolls across the stage could get an additional rise out of the audience.
Speaking of which, the sold-out opening night audience was wildly enthusiastic and added to the good fun and exciting ambiance that kicked off as soon as the house doors opened and before the proverbial curtain lifted. It all tremendously enhanced the atmosphere in a true celebration of L.A. theatre. I noticed Michael A. Shepperd, director of "Block Party's" next installment, Rotterdam, had a front-row seat. This is fine for theatergoers who like to be where the action is, but this scaredy-cat spectator preferred watching the fast-moving action safely ensconced in the fifth row.
It was great to see the granddaughter of that Hollywood Blacklist hero, screenwriter Bobby Lees, reprise her Lizzie Lightning part in a larger theatre where more fans could be dazzled by Tania Verafield's lightning bolts—especially as that playhouse is named after an actor who played a role in ending the insidious Blacklist era by helping Dalton Trumbo see his name back in lights again where they belonged. And I am sure Bobby would be extremely proud of his granddaughter, a creative chip off of the old block, who has arguably rendered her best performance yet in Derby.
As for the character incarnated by Verafield, Lizzie Lightning, the fearless leader of the freewheeling feminists: The only thing that could stop this Brooklynite is Kryptonite. This great show just may make you pop a wheelie!
For the Love Of (Or, The Roller Derby Play) plays March 7-17 at the Kirk Douglas Theatre, 9820 Washington Blvd., Culver City 90232. The other Block Party plays running through April 28 are Skylight Theatre's Rotterdam (March 28-April 7) and Antaeus Theatre Company's adaptation of Richard Wright's Native Son (April 18-28). For information see the Kirk Douglas website.