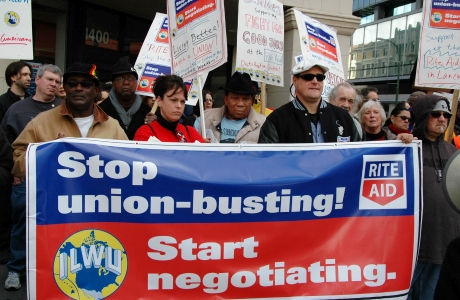 When it comes to union busting, the retail drug giant Rite Aid is the "poster child" for why we need the Employee Free Choice Act, says Peter Olney, organizing director for the International Longshore and Warehouse Union.
Some 600 unionized workers at the company's southwest distribution center in Lancaster, Calif., thought they had won when they voted in the union but soon learned that fighting for their first contract would continue their struggle.
EFCA would let workers form a union by signing cards authorizing union representation, mandate arbitration to prevent employers from stalling in first contract negotiations, and increase penalties for violating the rights of workers supporting unionization.
Three years into a vicious anti-worker campaign by the nation's third largest retail drug chain, "the workers remain solidly behind the union," Olney said, "but they've been through hell and back."
Speedup, mandatory overtime, mistreatment and arbitrary dismissals were among the working conditions that motivated the workers to first reach out to the ILWU in 2006.
In an election supervised by the National Labor Relations Board, the workers voted to join ILWU in March, 2008, making this "one of the largest private sector victories in California in many years, certainly in warehouse," Olney said.
But sixteen months and 60 negotiating sessions later, the workers are still without a contract.
Despite a continuing company campaign that has included harassment, intimidation, illegal threats, firings of union supporters, the use of professional union-busting consultants, and an effort to decertify the ILWU, the workers are holding firm behind their union and making gains.
In negotiations with the company, the workers won protections against dangerous indoor heat, the right to refuse dangerous work, and a process by which to deal with ergonomic problems.
As the union returns to negotiations this week, it expects to put the final touches on an agreement with the company on employee discipline and discharge policies.
The ILWU has been able to block an effort by Rite Aid to decertify the union, which Olney described as a "game that so many companies play."
After workers choose the union, he said, companies commonly engage in "surface" bargaining, they "wait out the union for a year and then decertify," a tactic facilitated under current labor law which the EFCA would eliminate.
"We of course did not lie down and allow all this to happen," Olney noted. Early on the union reached out and received widespread support from throughout the country and resorted to a series of legal actions, forcing the company to start bargaining more seriously.
Support has been forthcoming from other unions, community organizations, consumer groups, senior citizen networks, and elected officials. Some of the workers also appeared on television and radio programs.
Solidarity actions have been both varied and creative. They have included informational picketing at Rite Aid retail stores throughout the country, a postcard campaign aimed at the CEO, a confrontation with management at the annual shareholder's meeting in New York, and a spirited Halloween rally at a Rite Aid store in Portland, Ore.
Last September Rite Aid union members met with congressional representatives in Washington for a "Lobby Day" to promote the EFCA. During the AFL-CIO convention in Pittsburgh that month, Rite Aid worker Debbie Kaliff brought the house down with an impassioned speech and, later along with other speakers, shared her stories with Labor Secretary Hilda Solis.
After being informed of Rite Aid anti-worker activities at their annual Employee Benefits Conference in Orlando, Fla., union benefit managers late last year expressed alarm and suggested they be included in talks to win a fair contract for the workers without further delays.
ILWU Secretary-Treasurer Willie Adams, in December 2008, told the Food and Drug Council convention in Las Vegas, "One thing they (Rite Aid) understand best is money," noting that ILWU members and pensioners had spent nearly $8 million dollars on Rite Aid prescriptions the year before.
"That kind of business isn't something Rite Aid should be taking for granted, and it isn't business they can afford to lose," Adam said. Union leaders responded by pledging to also investigate the drug business Rite Aid is receiving from their union health plans.
The union has also been aggressively pursuing the workers' case through the National Labor Relations Board (NLRB).
At the union's urging, the NLRB initially alleged 49 violations by Rite Aid, including illegal threats, harassment and firing of union supporters. As a result, the company was compelled to rehire dozens of employees with back pay.
Olney complained that companies like Rite Aid employ coercive measures and fire workers trying to organize. "When they're found guilty, they experience a slap on the wrist."
A million dollar settlement in back pay is "meaningless to a Fortune 500 company" like Rite Aid, Olney said. He noted that the EFCA would impose stiffer monetary settlements and fines.
Last September the NLRB issued complaints charging the company with illegally laying off workers, reducing hours, reassigning work, and failing to provide the union with information needed for negotiations. The court date with an NLRB judge is pending.
For the workers, Olney said "It's been a hell of a fight but they stick with the union." He is confident "they're going to persevere, and so is the ILWU," he concluded.
For more information and to get involved, contact Peter Olney at peter.olney@ILWU.org or (415) 775-0533, ext. 220.
Photo: Community supporters have visited Rite Aid stores, including this one in Oakland, to show solidarity for 600 warehouse workers in Lancaster, Calif., that are trying to negotiate their first contract after nearly two years of negotiations. ILWU