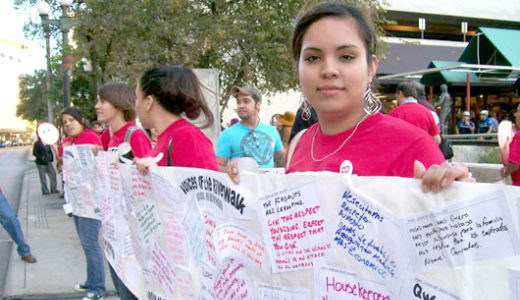 SAN ANTONIO – On October 28, over 100 hotel workers from the Grand Hyatt and their supporters marched together with workers from the Hyatt Regency demanding changes to make hospitality jobs "sustainable, healthy work with a living wage all through our city," according to Daniel Ovalle, a public areas attendant at the Grand Hyatt.
The Riverwalk is a tourist Mecca in central San Antonio with hotels, restaurants, shops and boat rides along the colorful San Antonio River. Over 106,000 workers are employed here by the hospitality industry, mainly in the hotels. Wages average $8.50 an hour, which is $1.50 per hour less than most of the country, according to the Bureau of Labor Statistics.
UNITE HERE launched "Voices of the Riverwalk," a collection of hand written statements and demands by workers. The statements were attached to a giant paper banner which was held up by the workers as they marched. The writings described the difficulties and injustices of their work and the changes they are demanding.
Gregory Fox, a pastry cook, has worked for the Grand Hyatt for 10 years. He describes management as "cheap and mean." He makes $11.33 hourly. This is almost $3 per hour less than in a unionized Hyatt. He says, "The Hyatt doesn't want a union because it would cut into their profits."
"The Grand Hyatt made $970 million dollars in profits in 2009!" he continued.
The five biggest hotels in San Antonio, which include the Hyatts, also received $250 million dollars in public subsidies.
"The taxpayers," said George Ibarra, a Grand Hyatt cook, "have paid into these hotels and the jobs they provide should be decent for our investment."
The march ended with a rally at the Hyatt Regency. Supporters of the union have been fighting for an organizing process free of intimidation. Initially, union supporters were fired and then, after a legal battle, rehired at the Grand Hyatt. The Regency workers also demand fair treatment.
The most common complaint was the large amount of injuries caused by management's forcing housekeepers to clean up to 30 rooms per day. Fox said that in the unionized Hyatts, only 16 rooms per day are required. When asked what happens to an injured worker, Fox said, "They are sent to a company doctor who usually tells them it is a 'pre-existing condition'." He described the case of Rene Escobal, who went to court after an injury only to be told, "You are just old!"
Elvio Claudio, a young housekeeper, complained that the work was so much that she had pain in her hands, legs, back and body. "We want full time, not part time, but also not 10 days straight. We are not machines to be used and thrown away," she said to huge applause.
Gabriel Morales, a worker was fired for being less than five minutes late, said, "For thirty years the Regency has not listened to us. That is why we wrote on this big banner called Voices of the Riverwalk. They have taken a lot from this community and we demand that they listen to us."
Roslyn Martinez, a phone operator, said she was told by the company how to sign up for Medicaid if she couldn't pay her share of the insurance plan. Maria Soto, also a housekeeper, said her boss had called the women "wetbacks and cows." She said, "We want to be treated with dignity. We are not animals! It is time to end the exploitation of San Antonio hospitality workers."
Image: Hotel workers hold giant scroll listing their grievances Vivian Weinstein/PW