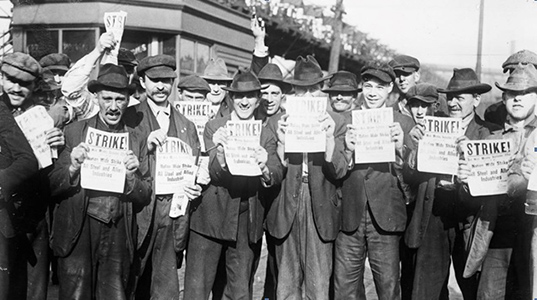 Here's the good news: Union membership increased by about 48,000 last year and another hundred thousand new workers received union representation even though they aren't actual members. Now the bad news: Out of a workforce of 148 million, unions lost ground again this year, down from 11.3 percent of the workforce in 2013 to 11.1 percent. This means that even as unions gain new members, the economy creates more jobs, leaving union membership as a smaller percentage of the work force.
Dwindling union membership has far-reaching effects. The larger the share of unionized employees, the more the market feels pressure to increase wages. During the rising 1950s and 60s, working incomes increased – including minimum wages – because organized labor represented over 35 percent of the workforce. Unionized workers raised everyone's pay.
So with wages flatlining and the middle class shrinking, why is union membership in decline? "Right-to-work" advocates would have us believe it's because employees view unions as useless organizations that want to limit their choices and take a cut of their paychecks.
The reality is more complicated. Unions aren't organizing members in greater numbers because it's tedious, time-consuming and costly. Here's the way it works: A union either targets a workplace or responds to interest shown by employees. An organizer quietly and confidentially determines the level of that interest. If there is enough to get started, the organizer and interested workers name a committee and begin building more interest among a broader base of employees. One-on-one appointments or small groups of workers meet off site, maybe in someone's home. Eventually, when the organization feels strong enough, the effort goes public – both to protect active workers from termination and to gather community support. When the committee has collected at least a majority of signed pledges asking for a union, the company and the union go to the National Labor Relations Board (NLRB) to ask for an election.
Bored yet? Exhausted? Hang on, you're barely half-way there. If the NLRB decides there is enough legitimate interest for an election, a campaign begins. Here the employer has the advantage of closed-door meetings, on-site and mandatory, while the union usually meets around the edges and employees decide if they want to show up. If the union wins the NLRB election, then the company and the workers begin negotiating a contract, which they may or may not get due to legal challenges and company resistance.
Nurses I worked with at St. John's Health Center, a hospital in Santa Monica, took four years to organize and win their NLRB election. More than a year later, they finally had a contract. That's over five years and probably half a million dollars in staff time and materials for the nurses to organize at one mid-sized hospital. During the NLRB vote, while management held mandatory closed-door meetings with employees, the pro-union nurses had to meet in the bathroom. They were banned from the premises in off-work hours. These nurses risked their jobs and endured the animosity of peers as well as management, and still they persevered. Ultimately, in this case, they won.
At Huntington Hospital in Pasadena, nurses are fighting to unionize despite fierce resistance from management. A friend passed along a letter he received from the hospital that attacked the union organizers and activist nurses for their "noise and attempted intimidation." My friend doesn't sit on the hospital's board or donate money. He received the letter because he gets medical treatment there. Struggle for a union continues while the hospital hires expensive, union-busting lawyers and spends thousands on publicity like that letter.
The risk during these efforts must feel unbearable for the families involved. In another organizing struggle, a group of Rite-Aid warehouse workers in Lancaster, Calif., were fired. Six months later, in a settlement with the NLRB, Rite-Aid agreed to rehire two of the workers with back-pay. A good ending to bad corporate behavior, but what did those employees and their families do for six months while they were without a job and an income? That's the fear that cuts through workers trying to build justice on the job.
After the St. John's nurses won their contract, I visited a friend who was in the hospital learning to walk again. While I visited, I had an opportunity to chat with the physical therapist assigned to my friend. "So now you have a union," I naively said to her. "Oh, no," she replied, "I'm a PT, not a nurse." Then she volunteered this in a hushed voice: "When the union thing started, I was against it, but then I saw how the nurses were treated by management during that whole campaign." She paused. "If I could join a union, I'd sign up today."
I think a lot of workers would say exactly the same thing. But getting there is a long and perilous path that takes patience and courage, not to mention a huge investment in organizing. No wonder unions can't keep pace with the expansion of jobs. No wonder wages aren't going anywhere fast. On the other hand, 148,000 new workers covered by a union contract isn't anything to sneeze at. I think it's a miracle.
Rev. Jim Conn is the founding minister of the Church in Ocean Park and served on the Santa Monica City Council and as that city's mayor. He helped found Clergy and Laity United for Economic Justice, Los Angeles, and was its second chair, and was a founder of Santa Monica's renter's rights campaign.
Photo: Striking steelworkers, 1919
Reprinted by permission of the author and Capital and Main