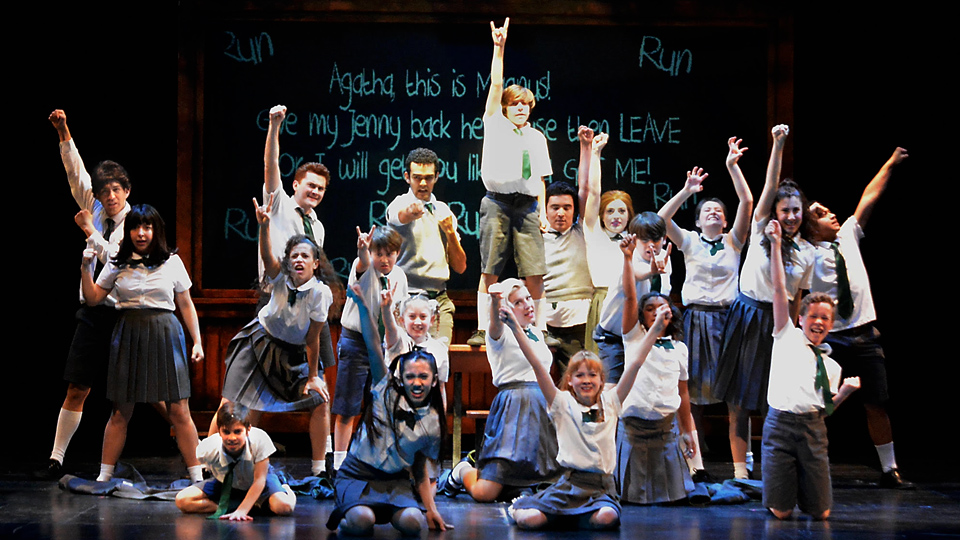 THOUSAND OAKS, Calif.—Author Roald Dahl (1916-1990), whose books have sold over 250 million copies worldwide, is equally known as a fantasy writer for adult readers and for his portfolio of children's and young adult novels that unsentimentally lift the curtain on some of the macabre fears and dark nightmares of growing up. His vivid tales feature starkly malicious enemies and earnest, kindhearted kids trying to figure out the best way to survive childhood.
Almost anyone who has been a child in the mid-to-late 20th century, or their parents, will recognize the titles he is best known for: James and the Giant Peach, Charlie and the Chocolate Factory, The Witches, Fantastic Mr. Fox, and George's Marvelous Medicine, among others.
One of his most popular books is his late novel Matilda, published in 1988. The protagonist is a precocious 5-year-old girl with mystical psychic powers, a love of reading and a gift for wild, inventive storytelling, who overcomes the cruel fate of being born into a family of mediocre ballroom artistes and con-job masters who prize ignorance. Her brilliance helps her timid but well-meaning teacher reclaim her life out from under the terror of a dictatorial headmistress.
If there's a message, it can be summed up in this little quatrain by the author: "So, please, oh please, we beg, we pray, go throw your TV set away, and in its place you can install, a lovely bookcase on the wall."
Adapted by Dennis Kelly, with music and lyrics by Tim Minchin (Groundhog Day), Matilda the Musical opened at the Royal Shakespeare Company at Stratford-upon-Avon in late 2010 and went on to a run in London's West End. It opened at Broadway's Shubert Theatre in April 2013, closing on January 1, 2017, after 1555 performances.
Matilda won seven 2012 Olivier Awards, including Best New Musical—the most such awards ever won by a musical, only matched by Hamilton in 2018. In 2013 it won five Tony awards, including for Best Book of a Musical. A film version is in the works.
The present 5-Star Theatricals production is the Thousand Oaks premiere (seen March 22). Thousand Oaks is a suburban community of Greater Los Angeles, just over the Ventura County line. The production runs only through Sun., March 31 at the Kavli Theatre at the Thousand Oaks Civic Arts Plaza. Artistic Director Patrick Cassidy has good collegial relationships with other regional theatres in the Greater Los Angeles area and, although nothing has been announced yet, a show like this is simply too good not to be picked up by one of the other local companies.
Matilda features a large 29-member cast, including lots of highly talented, energetic young performers. The title role is shared by Lucy Bollier, age 10, and Olivia Marcum, who is in fifth grade. It's a huge part and Lucy (seen March 22) acquitted herself splendidly. These kids have real futures in the theatre.
The adult leads are Matilda's parents, Mr. (James Larsen) and Mrs. Wormwood (Janna Cardia) who shine as, respectively, a huckster specializing in used cars and an acrobatic danseuse also of questionable morals. They both are ashamed of having a bookworm for a daughter. By contrast, their son Michael (Nick McKenna) is a TV-besotted, intellectually disabled maladroit.
Other adults include Miss Honey (Katie DeShan), the school teacher who recognizes Matilda's genius and hopes to provide it the opportunity to flower, and her nemesis, the sadistic martinet Miss Trunchfull (Nicholas Mongiardo-Cooper), a former competitive hammer throw in track, who incarnates evil itself. There would appear to be some "bulldyke" lesbian stereotyping going on with this character. Mrs. Phelps (Deanna Anthony), the school librarian, listens with genuine enchantment to Matilda's original stories.
The stories, enacted with dolls, are dream-like narratives with obvious Freudian symbolism that reflect Matilda's life experience with resentful parents who never loved her. They recall scary stories by the Brothers Grimm, and other archetypal fairy tales such as Hansel and Gretel, which raise real issues of hunger and scarcity, unwarranted punishment, unpredictability and unfairness, fears of death, uncaring stepmothers and fathers. "The sooner you're locked up in school, the better," her mother tells her. And uncannily, Matilda anticipates in her fantasy the real-life backstory for the other characters.
Life at a school wrapped in barbed wire is no picnic either: Miss Trunchbull maintains a punishment closet called "the Chokey," and in one well-staged scene forces a student, Bruce (Marcello Silva), who stole a piece of the headmistress's chocolate cake, to eat the whole cake (I have personal memories of a childhood of being ordered to sit at the dining room table until I had finished everything on my plate—the likely source of my lifelong anti-authoritarianism.) "That's not right," Matilda says.
Trunchbull has a whole number, "The Smell of Rebellion," devoted to her obsession for squelching any hint of protest, dissent or resistance, summing up how even reading books is subversive if your object is to create a mass of obedient, undifferentiated subjects who will dutifully do your bidding. "To teach the child we must first break the child," Trunchbull sings in this Gilbert and Sullivan-type patter song, as if she were raising a platoon of Marines.
This way of looking at life is the 180-degree opposite to the musical's opening number "Miracle," which celebrates and honors every child as a person of magical possibility. I remember one of my grandfather Israel Gordon's snide observations when he remarked that "Every parent thinks their kid is a genius. So where do all the dumbbells come from?"
Genius or dumbbell: the very opposites represented by Matilda and her brother Michael. Yet, whatever capabilities people have—limitless or limited as the case may be—shouldn't each person be given the best chances in life, the broadest opportunities to discover what they're good at and to be recognized for it?
The much vaunted theory of meritocracy, as we have been seeing it play out in the current college admission scandal, is faulty even if practiced ethically, because first you have to look at the system of spoils for the wealthy and privileged that trumps all else. How many "Matildas" are wasting away, their minds and talents not only unseen but even disparaged and punished, in underfunded, understaffed schools everywhere in the world? Success in life only for those who strive and continually sharpen their brains is a cruel myth: The homemaker with no larger ambitions and the immigrant janitor are also entitled, by nothing more than the virtue of their humanity, to a decent standard of living.
On opening night, the evening began with the awarding of four citations from the theatre company to outstanding teachers in the community (three women and one man), based on testimonials submitted by students and evaluated by company personnel. Without taking any well deserved honor away from any of these individuals, it was remarkable, and disappointing, that all of them came from private schools, and none from our public schools which are now so threateningly under attack. The opportunity to convey a powerful statement in support of public education, where teachers also perform miracles every day, was sadly lost in this mostly white suburban community.
Lewis Wilkenfeld expertly directed this complicated show with many moving parts, and Heather Castillo provided a stunning variety of choreographic numbers for the adults and children alike. The scenic design is by Stephen Gifford, lighting design is by Jose Santiago, sound design by Jonathan Burke, and costume design by Noelle Raffy. Jennifer Lin led a capable 11-piece orchestra in a score with many finely crafted charms; however, on opening night the balance between voices and the orchestra was off, so it was a struggle to make out words and lyrics, especially as everyone in the cast put on some pretty plummy British accents.
Still, even if a few details got lost to some viewers, most of the audience, I suspect, knew the story well and could anticipate each turn of the plot. Even if there is ultimately no absolute democracy, Matilda is a feminist superheroine and role model who shows how a sharp mind, a vivid imagination and a healthy attitude of coming to the aid of the oppressed can help you change your destiny!
Roald Dahl's Matilda the Musical (which seems to be the official title of the show) runs through Sun., March 31—the last day of Women's History Month—at the Kavli Theatre at the Thousand Oaks Civic Arts Plaza, 2100 Thousand Oaks Blvd. in Thousand Oaks. Remaining performances are Thurs. at 7:30 pm, Fri. at 8 pm, Sat. at 2 and 8 pm, and Sun. at 2 pm. Tickets may be purchased at the box office or through www.5startheatricals.com, or by calling (800) 745-3000.
Dale Greenfield contributed a number of critical ideas to this review.