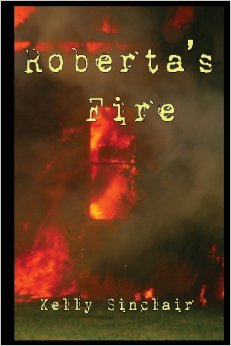 I had some mind-traveling to do in reading "Roberta's Fire," by Texas songwriter-singer-journalist Kelly Sinclair. My only direct experience with Texas was a couple of days in an air-conditioned El Paso conference room a few years back, and I have no personal experience with what it was like to be gay or lesbian in America in the 1950s, or what it's like today. But this slim novel of only 150 pages tells a story that anyone can relate to and learn from.
It's told from the viewpoint of E.L. Signoret, an 85-year-old retired literature professor, who returns to Tantona, a small Texas town where shocking events altered her life more than 65 years earlier. Going back for the funeral of someone she knew back then, Signoret encounters people with surprising connections to her past. In alternating chapters of past and present, the story unfolds of a young woman of 19 grappling with her emerging identity as a lesbian in 1951 in a town swirling with homophobia, anti-immigrant prejudice, and racism. Things escalate into a tragic hate crime which costs the life of one person and changes the lives of everyone involved.
Some years later, Signoret writes a novel based on the events she experienced, much like real-life Harper Lee's famous 1960 novel "To Kill a Mockingbird," which also dealt with small-town prejudice. Like "To Kill a Mockingbird," Signoret's novel, the only one she will ever write, becomes a runaway best-seller. The similarity is not coincidental. Sinclair says she was interested in the fact that Harper Lee, long believed by some to be a lesbian, had written one and only one great book: "I thought, what if a Harper Lee-like character spent one summer in Tantona," during a time of civil rights violence. In "Roberta's Fire" Sinclair tells a "Mockingbird"-like tale, a bittersweet story bathed with both nostalgia and outrage, despair and a kind of hope.
In addition to writing fiction and song, Sinclair is also a contributing writer for People's World (see her bio and recent articles here). She grew up in a succession of small Texas towns, although she was born well after the 1950s. In "Roberta's Fire" and the two earlier novels in her Tantona Trilogy, Sinclair draws on real people and details from her life and observations. As she puts it, these novels "depict the rise and fall and possible rebirth of a small Texas town as told through its gay, lesbian and straight citizens."
Like in any community, people in the fictional town of Tantona are of all stripes – decent, hateful, fearful, courageous, selfish, giving, and many combinations of these. "In my story and in real life, there are good people, straight and otherwise, who behave heroically, who do the right thing," Sinclair says. Really, these people do some mind-expanding of their own.
Some bookstores and libraries these days compartmentalize their offerings: "African American," "women," "gay and lesbian," and so on. That can be a mind-limiting trap. Whether you are gay or straight, Lone Star or Land of Lincoln, I recommend you mind-travel with "Roberta's Fire."
Book information:
"Roberta's Fire"
By Kelly Sinclair
2013, Blue Feather Books, paperback $13.00; Kindle $8.99