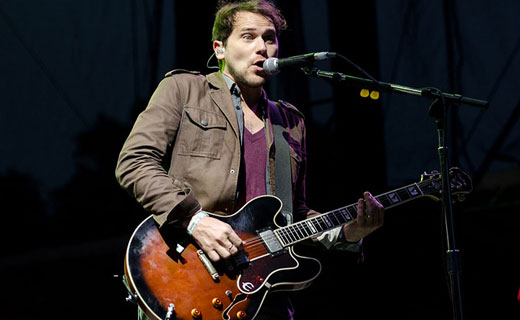 Alternative rock band Silversun Pickups has demanded that Republican presidential candidate Mitt Romney stop using its song, "Panic Switch" in his campaign – the latest example of a group of young musicians speaking out against right-wing politics.
The Los Angeles band's attorney sent a cease and desist letter to Romney's campaign on August 15, remarking that neither the band, nor its representatives, were contacted for permission prior to the song being used.
The band made it clear they did not support President Obama's Republican opponent. Lead singer Brian Aubert said in a statement, "We don't like people going behind our backs; using our music without asking. And we don't like the Romney campaign. We're nice, approachable people. We won't bite – unless you're Mitt Romney!
"We were very close to just letting this go because the irony was too good: While [Romney] is adverdantly playing a song that describes his whole campaign, we doubt that 'Panic Switch' really sends the message he intends."
The cease and desist letter partially read, "As the former governor of the state of Massachusetts, a graduate of Harvard Law School, and candidate for U.S. President, we're pretty sure you're familiar with the laws of this great country of ours. We're writing because we, like you, think these laws are important."
The blatant misuse of songs like this for political campaigns is perhaps a sign that Republicans like Romney may not really view rock musicians as valid workers – but nevertheless, they are.
And the GOP candidate isn't the first person to pilfer rock songs to serve his agenda. In 2008, frontman Dave Grohl of hard rock band Foo Fighters criticized then-presidential candidate John McCain for using the group's 1997 hit "My Hero" without permission.
"It's frustrating and infuriating that someone who claims to speak for the American people would repeatedly show such little respect for creativity and intellectual property," said Grohl of the incident. "The saddest thing about this is that 'My Hero' was written as a celebration of the common man and his extraordinary potential." Grohl said someone like McCain using the song therefore "perverts the original sentiment of the lyrics."
In recent times, an overwhelming number of rock artists have expressed displeasure with right-wing politics; Silversun Pickups are only the latest example.
The band's attorney, Tamara Milagros-Butler, said this was a perfect example of the need for politicians to pay attention to and respect musicians' rights. "Hard-working folks like them who have worked for years and years building the value of their copyright know the law, and they have to be vigilant about their rights."
Photo: Silversun Pickups performs in Dover, Del. Mark Runyon/Flickr & ConcertTour.org