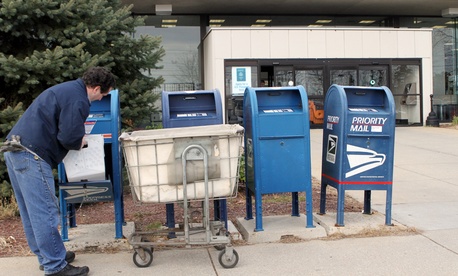 WASHINGTON (PAI) – Postal unions and the top customers of the U.S. Postal Service all agree on key provisions of a planned postal reform bill to virtually end USPS' current red ink and set it up on a sound future footing, Letter Carriers President Fredric Rolando says.
And senators from both parties appeared to sign on to those concepts, too, at the Jan. 21 Senate Governmental Affairs Committee hearing where Rolando, speaking for all four unions, testified.
Whether the joint agreement will translate into legislation that finally resolves the USPS' ills and ends its cuts in service and staffing is another matter. That's because the GOP-run Congress has a crowded agenda and is giving itself fewer days for work this election year.
And while the Senate appears open to sensible reforms, the more-ideological House GOP has pushed through past legislation to cut delivery, let the Postmaster General fire thousands of workers, threaten union contracts and encourage "privatization" through outsourcing USPS business from middle-class unionized postal workers to minimum-wage non-union Staples stores.
The Senate panel called this year's hearing in Congress' latest attempt to solve the USPS' financial ills, caused by a 2006 "postal reform" plan enacted by a GOP-run Congress and signed by anti-worker Republican President George W. Bush.
That measure ordered the USPS to pre-fund $5.5 billion per year of future retirees' health care costs for a decade, and billions more beyond that, Rolando testified. It also wouldn't let USPS reclaim a huge surplus in its pension fund.
Combined with the Great Recession and other factors, the health care mandate plunged the USPS deep into the red. It has stayed there, despite operating profits of more than $1 billion yearly for each of the last three years, Rolando said. The prefunding accounts for 86.3 percent of the Postal Service's $56 billion in reported losses since 2006, he noted.
To cut the red ink, past Postmaster General Patrick Donahoe slowed mail delivery, closed sorting centers, tried to let 100,000 workers go by attrition and fire 100,000 more, schemed to end 6-day service, and outsourced postal services, among other moves.
Unions resisted Donahoe's schemes, and not just over jobs. "The damage this policy inflicted goes far beyond the adverse financial effects," Rolando said. For example, it robbed the USPS of money it needs to replace its obsolete fleet of postal vans, cars and trucks.
"It also forced the Postal Service to excessively down-size in ways that are short-sighted and counterproductive," by closing or cutting hours at post offices, removing neighborhood mail boxes, "and reducing its service standards" so it could close mail processing plants, Rolando said. Doing all that is "giving away business."
The legislation, introduced by Sen. Thomas Carper, D-Del., and supported by a bipartisan group of lawmakers, would keep 6-day delivery, end the health care prefunding, suspend other closures for five years, make current stamp prices good through 2018, and would let USPS ship other goods, such as wine and beer, to increase business and revenues.
The unions enthusiastically support all of those ideas, Rolando said. Though he did not say so, almost all were originally in a postal reform bill authored by Sen. Bernie Sanders, Ind.-Vt., now a Democratic presidential hopeful. One of the unions, the Postal Workers, has endorsed Sanders for the nomination. The others have yet to decide.
The joint legislation, Rolando added, would also "use postal-specific assumptions to value pension plans with any surpluses returned to the Postal Service over time," reduce the health benefits cost by enrolling postal employees in Medicare and would let the health fund for postal employees invest in a mix of higher-paying securities, as some other government health and pension funds do. Carper calculated the Medicare move and eliminating the prefunding of health care would save at least $32.5 billion over a decade.
Carper agreed on the need, and even right wing committee Chairman Ron Johnson, R-Wis., criticized health care prefunding. "Absent legislative intervention, the Postal Service will continue twisting in the wind. It will remain unable to fully invest in its future, and its employees and customers will continue to be uncertain about what that future holds," Carper said.
Photo: Jim Cole/AP