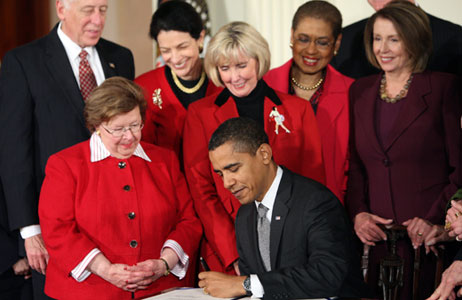 Republican presidential candidate Mitt Romney spent almost a full day yesterday denying the GOP's gender problem and his campaign made matters worse by refusing to back the Lilly Ledbetter Fair Pay Act, signed by President Obama in 2009 despite powerful opposition from Republicans in Congress.
In a telephone press conference Romney aides said, "We'll get back to you," when reporters asked whether the candidate backs the equal pay law. Late in the day Romney tried to undo the damage by saying he supports equal pay but he ran away from questions about whether he supported the equal pay law itself.
The Ledbetter Act strengthens the ability of women to sue over equal-pay discrimination claims. It allows the 180-day statute of limitations for filing a lawsuit to reset with each new discriminatory paycheck.
When the bill was before Congress in 2009, most Republicans voted against it because of that provision, they said, which, they claimed, would lead to excessive litigation.
The law was an issue in the 2008 presidential campaign with Sen. John McCain, the Republican presidential nominee opposing it.
In response, the administration released yesterday a statement not from itself but from Lilly Ledbetter herself. Ledbetter is the now-retired long-time Goodyear Tire employee after whom the legislation is named.
"I was shocked and disappointed to hear that Mitt Romney is not willing to stand up for women and their families," she said. "If he is truly concerned about women in this economy, he wouldn't have to take time to 'think' about whether he supports the Lilly Ledbetter Fair Pay Act. Anyone who wants to be president of the United States shouldn't have to think about whether they support pursuing every possible avenue to ensuring women get the same pay for the same work as men," she said.
According to the National Women's Law Center, women are paid, on average, only 78 cents for every dollar paid to men with the gap even worse for women of color – African American women earn only 69 cents and Latina women earn only 59 cents for each dollar earned by males.
Obama signed the Lilly Ledbetter Fair Pay Act in 2009, restoring the protection against pay discrimination that had been stripped away by an earlier 5-4 decision of the Supreme Court in Ledbetter vs. Goodyear Tire & Rubber Co.
The act reinstated prior law and makes clear that pay discrimination claims on the basis not only of sex, but also of race, national origin, age, religion and disability "accrue" whenever an employee receives a discriminatory paycheck, as well as when a discriminatory decision or practice is adopted, when a person becomes subject to the decision or practice, or when a person is otherwise effected by the decision or practice. The law is retroactive to May 28, 2007, the day before the court issued its ruling in Ledbetter.
Photo: President Obama signs the Lilly Ledbetter Bill with Lilly Ledbetter, at center behind Obama, at the White House, Jan. 29, 2009. Ron Edmonds/AP