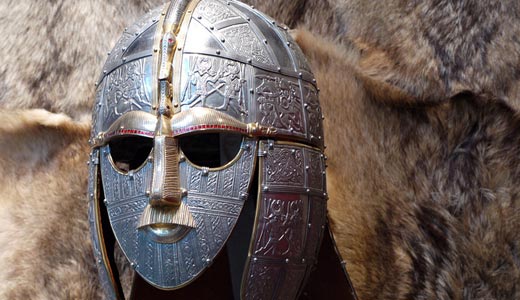 Mitt Romney ran into hot water this week over Anglo-Saxons.
Romney foreign policy advisers told the British Daily Telegraph that Romney was better able to relate to Britain than President Obama because: "We are part of an Anglo-Saxon heritage, and he [Romney] feels that the special relationship is special." One adviser added: "The White House didn't fully appreciate the shared history we have."
The remarks were widely seen as a xenophobic, racist allusion to the fact that Obama's father was from Kenya. Top Obama adviser David Axelrod called the comments "stunningly offensive."
In fact, the Anglo-Saxons were not native to England, but rather Germanic invaders (undocumented immigrants?) in the 5th century. They were pagan tribal people for whom "fighting was a way of life," and "endlessly intricate blood-feuds generated perpetual excuses for going to war." Their idea of law enforcement was chopping off hands and noses for punishment. Is that the heritage the Romney team has in mind?
In the 19th century, according to Wikipedia, some British and American writers used the term "Anglo-Saxon" to "justify racism and imperialism, claiming that the 'Anglo-Saxon' ancestry of the English made them racially superior to the colonised peoples." Is this the covert Romney message?
Romney's team is a little out of touch with today's England. As of 2009, about 18 percent of British residents described their ethnicity as something other than "white: British." That includes about 6 percent – more than 3 million people – who identify themselves as Indian, Pakistani, Bangladeshi or othe South Asians. Hundreds of millions of others are African, Caribbean, Chinese or "mixed."
Likewise, Americans' heritage can hardly be described as "Anglo-Saxon." As of 2010, about 28 percent of Americans identified themselves as something other than "white or European American." And undoubtedly only a small percent of those who identify as "white or European American" are of Anglo-Saxon heritage. Consider the millions of Americans whose origins are Irish, Italian, Greek, Scottish, Polish, Portuguese, and so on – none of these are Anglo-Saxon.
CBS News reports that Romney's press secretary, Andrea Saul, disputed the report of the controversial comments. "It's not true. If anyone said that, they weren't reflecting the views of Governor Romney or anyone inside the campaign," she told CBSNews.com in an email. But, says CBS, "Saul did not comment on what specifically was not true." Romney later claimed he did not know who the advisers were.
The Telegraph reports that "the advisers could not give detailed examples of how policy towards Britain would differ under Mr Romney. One conceded that on the European crisis: 'I'm not sure what our policy response is.'"
Romney is visiting England, Poland and Israel in an effort to beef up his foreign policy credentials. He is doing two "lucrative" fund-raising events in London.
Revised 7/26, 8:45 p.m. Author added: "And undoubtedly only a small percent of those who identify as "white or European American" are of Anglo-Saxon heritage. Consider the millions of Americans whose origins are Irish, Italian, Greek, Scottish, Polish, Portuguese, and so on – none of these are Anglo-Saxon."
Photo: Reproduction of an Anglo-Saxon helmet. Chris Eccles // CC 2.0