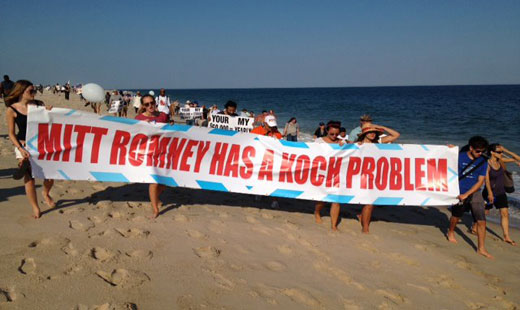 SOUTHAMPTON, N.Y. – In a spirited march down the beach in New York's Hamptons, nearly 100 demonstrators – with air support from a plane flying a banner – protested Mitt Romney's big fundraiser yesterday.
The bash, at the beachside digs of billionaire oil mogul David Koch, brought in millions for the Romney "Victory" fund and capped a week of fun in the sun for the Republican presidential candidate and his family.
Protesters, carrying a banner that read, "Mitt Romney has a Koch problem," said they were aiming their ire at the unprecedented power in America of deep-pocketed donors over the political process.
Romney and the rest of the Koch guests at the compound got a welcome from the demonstrators who were both loud and unreserved in their choice of words.
Among the demonstrators were people belonging to MoveOn, Occupy Long Island, Greenpeace, and various unions.
Arriving guests had to go around demonstrators downtown who shouted, "Shame on you!" as they waved protest signs. The hosts of the Romney bash were Clifford Sobel, the former U.S. ambassador to Brazil, and Koch.
Koch drew most of the angry remarks from the demonstrators. Their signs compared the beach party admission price of $50,000 to their own annual salaries and life savings.
The demonstration actually started on Meadow Lane in the downtown area but when police cleared the area the protesters went onto the beach and marched the one-mile distance to the Koch beach house. They had a drum, horns, and a saxophone and marched until they were stopped by Secret Service and Romney campaign staff at the edge of the Koch property. Where they were stopped they began to sing, chant and wave signs while a MoveOn.org plane buzzed and circled overhead. A Coast Guard vessel watched from offshore throughout the peaceful protest.
Photo: https://www.facebook.com/photo.php?fbid=10150898094755493&set=a.61232960492.81458.7292655492&type=3&theater