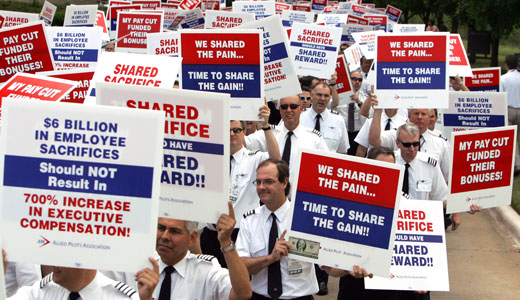 American Airlines announced yesterday that it will take the advice of Mitt Romney's firm, Bain Capital, and lay off 13,000 workers, end the pension plans for its retirees and for all those remaining and take away the health insurance of its retirees.
The announcement came only seven days after American Airlines hired Bain Capital to guide it through a bankruptcy procedure for which the airline had filed last November.
Bain Capital recommended job cuts and pension cuts even as Romney, in his quest for the Republican presidential nomination, continues to claim he has unique business experience as a job creator.
"He's talking about creating jobs," declared Transport Workers Union President James Little, but "he's not a job creator. He's a job cremator." Little's union represents 24,000 workers whose jobs and benefits are threatened in the bankruptcy process underway at American.
Only three days ago it surfaced that American had contributed less than $7 million to its pension fund, out of a normally required $100 million for the month of January.
"I have a hard time sitting back," said Little, "when American Airlines is taking hard-earned money to pay $525,000 a month to have Bain come in and tell them how to cut heads."
No one in the public relations office at American Airlines was willing to comment and the airline did not return calls.
Pension plans have, for many years, been standard on U.S. airlines but American claimed yesterday on a new website it has set up that it can no longer afford to pay for them.
The unions have long claimed that American is hiding assets, including substantial ones it has overseas.
In a move seen as validation of that claim, the Obama administration yesterday clamped liens of $91 million on the airline's property. Joshua Gotbaum, Obama's appointee to the directorship of the U.S. Pension Benefit Guaranty Corp., said that "before American takes such a drastic action as killing the pension plans of 130,000 employees and retirees, it needs to show there is no better alternative."
The airline's announcement yesterday said that it must cut labor costs by 20 percent. CEO Thomas Horton said the company lost $884 million in the first nine months of 2011, and $904 million for December alone. He said it lost $11 billion since 2001. Gotbaum argued, however, that the company has failed to provide even basic financial details to back up these claims.
"This is an absolute outrage," said Laura Glading, president of the Association of Professional Flight Attendants. "There's nothing here that is even remotely acceptable."
Little vowed his union would fight. The TWU represents mechanics and bag handlers, 40 percent of whom would be laid off. TWU members and pickets followed Romney around the state of Florida this week while he was campaigning and they plan to be at many of his future events across the country.
The company is counting on protecting itself under bankruptcy law, however, which allows it to ask a bankruptcy judge to throw out existing labor contracts and to impose company demands on the workers.
Unions point out that if the disaster facing the company were as severe as American says it is, the airline would not be going ahead with orders it has placed for hundreds of new aircraft. Although the bankruptcy judge has not yet approved those orders American has been allowed to take delivery of some new jets.
Photo: Back in 2007, American Airlines pilots marched in protest outside AMR headquarters in Fort Worth, Texas. The three unions representing American's employees wanted to make up for double-digit wage and benefit cuts back in 2003. In 2007 they argued that their sacrifices saved the nation's largest airline from bankruptcy. LM Otero, File/AP