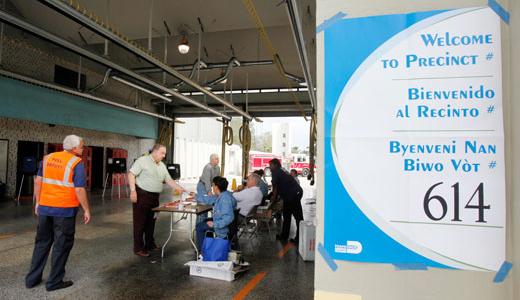 Only hours after winning the Republican primary elections in Florida last night Mitt Romney told reporters, "I'm not concerned about the very poor. We have a safety net there. If it needs repair, I'll fix it."
"You can focus on the rich," he told the reporters, "that's not my focus. You can focus on the very poor, that's not my focus. My focus is on middle-income Americans.
"We will hear from the Democrat Party, about the plight of the poor," he added.
He expressed his cavalier attitude towards the poor – who, when we count the many millions of working poor, amount to half the country – only hours after his victory speech Tuesday night.
Almost immediately after the Florida polls closed a firestorm erupted over the attack ads and the money behind the Romney victory.
The pro-Mitt Romney SuperPAC waited until the last of the cameras were shut off before filing the required report on its expenditures.
Restore Our Future, as the Romney SuperPAC is called, showed that it took in $17.9 million during the last six months of last year, on top of the $12.2 million it had collected in the first six months of the year, ending up with $23.6 million in the bank.
None of those figures include what it raked in during January 2012. Most of the pro- Romney money, according to the filing, came from top hedge fund managers and private equity firms, among them Bain Capital. That group of donors was responsible for $18 million of the $23 million used in Romney's attack ads.
There were also seven big donors of $1 million apiece. Among them were Paul Singer, long criticized for his secretive hedge fund schemes overseas, and Julian Robertson and Robert Mercer, two other big hedge fund managers.
Also on Romney's $1 million sugar daddy list were the now famous, or infamous, Koch brothers and Miguel Fernandez, head of a private equity firm called MBF Healthcare Partners. Three top executives at Bain Capital gave almost three quarters of a million in personal donations.
Romney insists he has nothing to do with the superPac but commentators noted today that the claim is obviously false since the superPac held back required filings until after the candidate gave his victory speech last night. (It is illegal for superPaCs to coordinate their activity with specific election campaigns.)
Although the results last night showed Romney the clear winner in Florida they show that the out-of-touch Republican Party continues to have potential problems turning out voters.
Exit polls taken by NBC showed that only 40 percent of the registered Republicans in the state turned out to vote and that the total turnout of 1.6 million was also sharply lower than the almost 2 million Republicans who voted in Florida's 2008 GOP primary in which John McCain beat Romney by a margin of 36 percent to 31 percent.
While Romney continued in Florida to offer no concrete plans about how to deal with the economic crisis, Newt Gingrich one upped himself in his continual drive to launch racist attacks against President Obama rather than deal with any issues.
In Gingrich's speech last night he derided President Obama for singing a brief line of a famous Al Green song at a recent event at New York's Apollo Theater (Al Green was in the audience). "He cannot sing his way out of the disaster of his presidency. We don't need an entertainer-in-chief, we need a commander-in-chief," said Gingrich. That racially charged remark followed by only a week the Gingrich characterization of Obama as "the food stamp president."
The blatant corporate takeover of their campaign financing, the appeals to racism and the failure of the GOP candidates to tackle the issues voter really care about (job creation, protecting Social Security, education, for example) have caused even well known, long-time Republicans to think twice about their field of candidates.
Florida's former Republican Gov. Charlie Crist admitted yesterday in a television interview that he may support President Obama and would consider running for office as a Democrat.
Photo: Poll Deputy looks on as a voter checks in to cast her ballot, Jan. 31, at a fire station in Coral Gables, Fla. Wilfredo Lee/AP