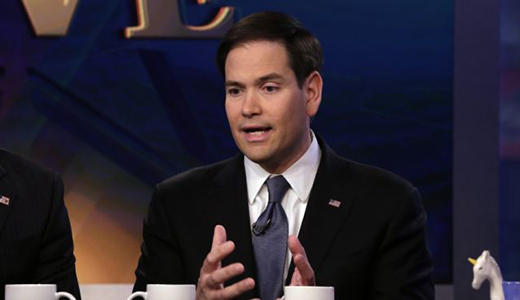 LOS ANGELES – When he announced he was running for president Monday, Florida's Republican senator, Marco Rubio, became another in the growing list of tea partiers and right wingers announcing for that office.
The big money behind Jeb Bush assures for now, at least, that Rubio will not be the favorite of the so-called GOP establishment. Right-wing evangelicals seem to be flocking to Sen. Ted Cruz of Texas while hysterical anti-union forces are cheering for Wisconsin's Gov. Scott Walker.
When Rubio announced Monday, he talked about how young he was and about his parents having immigrated from Cuba.
On Cuba his problem is that he is left out of the excitement about normalization of relations with that country since he and his party oppose normalization – something supported now by majorities even in the Cuban-American communities.
Because of his flip flop on immigration, immigrant rights activists are also not enthusiastic about his candidacy.
"Looking at what Marco Rubio has done for our community, well, it's hard to say exactly," said Cesar Vargas, co-director of the Dream Action Coalition. "With his family's immigrant background, we were hoping he would be a vocal advocate, but he abandoned the Gang of 8 legislation very quickly, never came out with his own promised Dream Act legislation and opposes DACA and DAPA, two programs which keep my family together while we wait for Congress to finally get something done."
"While Marco Rubio has a Latino name and serves as a reminder of how far the Latino community has progressed in this country, unfortunately he is much more beholden to his tea party base than to his Latino community," said Erika Andiola, the group's other co-director.
Rubio's legislative record includes stripping the child tax credit from undocumented parents of U.S. citizen children and he filibustered the Violence Against Women Act for offering protections to undocumented victims.
Nevertheless some right wingers have not forgiven him for joining Senate Democrats in passing a bi-partisan compromise bill on immigration reform – something he did before his flip-flop on the issue.
"It's a wart on an overall positive story (about Rubio)," Michael Needham of the American Heritage Foundation told the LA Times yesterday.
Photo: AP