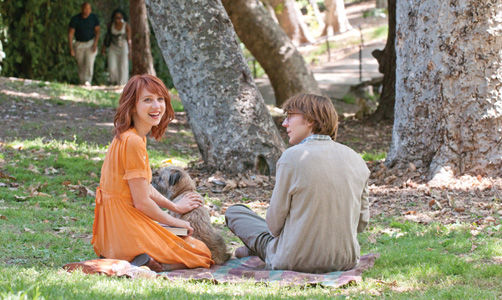 "I spent my life looking for the perfect woman, but when I found her, she was looking for the perfect man!" – Anonymous
"Ruby Sparks" is a romantic comedy with some rather dreadful underpinnings. In it, a formerly famous author (Paul Dano) creates a woman by writing about her on his typewriter.
This isn't "Pygmalion" or "My Fair Lady," where a man makes a gracious "lady" out of a lower class woman. It's not "Pinocchio," where Giuseppe the toymaker had, at least, a puppet to work with. This guy creates his perfect girlfriend out of thin air. It is pretty cute and funny to watch him panic when she first manifests, down in the kitchen, cooking one of his favorite meals.
She really is perfect. Not only does she cook, exchange clever remarks, have loads of fun on dates, and laugh at his jokes, but she has absolutely not one living relative!
The problem, when it finally floats up, is that she really is real. Being real, she just isn't right there doing exactly what he wants done every minute of the day. Somewhat reluctantly, because he is sick with love, he has to return to the typewriter, from time to time, to tweak his creation.
By then, the audience starts getting the message. In some ways, it's like Woody Allen's best work, "Annie Hall." As the guy describes how wonderful the woman is, we see, more and more, the flaws in the guy, the creator himself. As the fun turns serious, we begin to ask ourselves, "What kind of a guy creates his own girlfriend anyway?"
The answer is, "A serious control freak." He's a narcissist who can't love anybody but reflections of himself. He's a jealous, intolerant master manipulator. In other words, many people might say, he's a man of his capitalist times, after all.
Will he go on tweaking her until she's just a puppet? Will he kill her off with his typewriter? Will he grow up a little bit and let her go? Or will she just disappear by evolving backward into the murky recesses of his tormented mind? What will happen to him? Will he get his just deserts? Or will the screenwriter let him have another chance at love?
Spoiler alert! The best of the jokes within the jokes is that the male character, from whose point of view everything is shown, didn't actually write this movie. It was written, you guessed it, by the woman.
A condemnation of controlling men this well done probably couldn't have come from a man. Zoe Kazan wrote the script. Further, she also acts the part of the very captivating Ruby Sparks! She created this allegory and portrays it extremely well!
Movie Review
"Ruby Sparks"
Directed by Jonathan Dayton and Valerie Faris
Rated R, 104 min.

Photo: Ruby Sparks website.