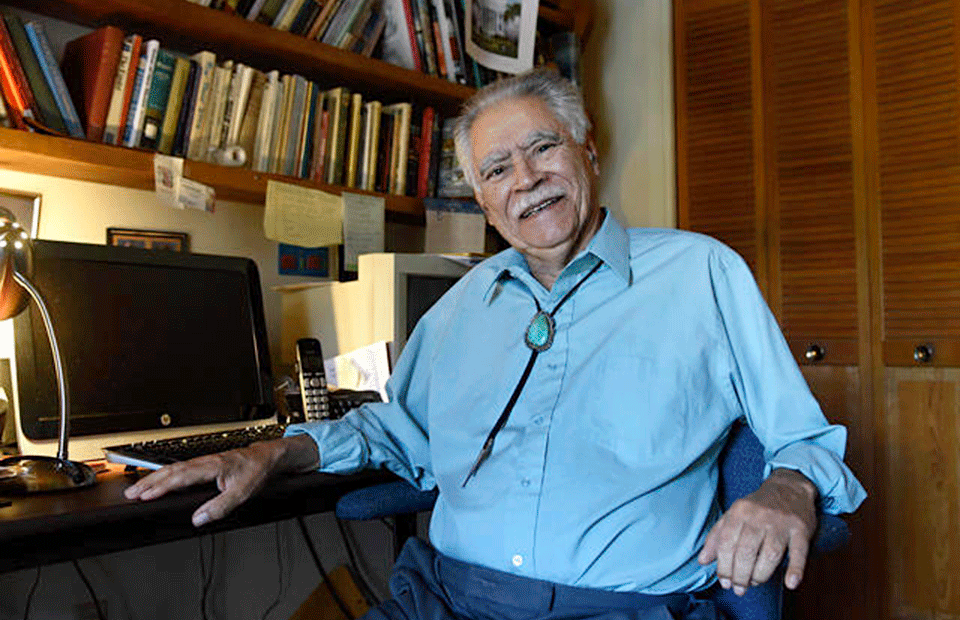 LOS ANGELES — Rudolfo Anaya, a gifted contemporary Chicano literature author, has died at age 82, in his home in Albuquerque, N.M. The Chicano literature world and the community heard of his passing on June 28.
Anaya's stories touched the very soul of Mexican/Chicano experience.
Now we find the dry arid blowing whistling winds of Albuquerque have descended into silence. The splendid landscape with all its sun-baked colors seems a little less bright. The favorite son of the Southwest has no more words. But his legacy as an author will last for eternity.
The words of great authors—Hemingway, Faulkner, Morrison, Baldwin, Angelou, Anaya, and others, will never leave our earth so long as the written word is cherished by those who desire to read a sentence, a paragraph, a page, a book, with the mastery of language giving pleasure to the heart, with words that touch our ever-inquiring minds.
One cannot discuss the Chicano Movement without mentioning the talent of Rudolfo Anaya. He was the beacon of light guiding the Chicano resistance movement through turbulent waters of the times with his stories. His words brought a different perspective to the '70s Movement. Like a towering lighthouse, he was a shaft of light guiding the movement out of the fog and away from the perilous cliffs of social rejection and discrimination. He gently spoke to the movement in his writings, guiding it away from the existing trope of hegemonic American exceptionalism, to a place where the movement could flourish.
Rudolfo Anaya was the heart and soul of Chicano literature. He told a generation of Chicano activists, "We have to come out of our own experience, our own traditions, culture, roots, our own sense of language, of story and deal with that, and to hell with the white model"—advice that is as contemporary today as during the 1970s.
Here is a small example of Anaya's writing, in case you are not aware of him:
Around me, the moonlight glittered on the pebbles of the llano, and in the night sky, a million stars sparkled. Across the river, I could see the twinkling lights of the town. In a week I would be returning to school, and as always I would be running up the goat path and crossing the bridge to go to church. In the future, I would have to build my own dream out of those things that were so much a part of my childhood.
Rudolfo Anaya wrote short stories, poetry, novels, six plays, and a dozen children's books such as The Farolitos of Christmas. Some of his books include the 1972 Bless Me, Ultima, 1976's Heart of Aztlan, 1978's Tortuga, 1995's Zia Summer, and 40 other books. His mastery of language, narration, and his profound words written with intense creative vision, are all now part of the enlightening journey of our great American writers.
A visit to Anaya's literary world is to escape into a descriptive worldview of cultural Chicano identity, individual self-discovery through cultural rebirth, and a sense of belonging. Anaya once described his writing this way: "I've used the technique of cuento. I am an oral storyteller, but now I do it on the printed page. I tell stories and write what I know about." This technique and counsel have been taken up by many current Chicano writers.
I first came across his works in the early '70s as a young college student. His book Bless Me, Ultima touched me in a way no other author had. His words were my life. His description and narration spoke to me. I knew the total experience he was expressing. His story was my story. The duality of his characters, struggling in the U.S,  speaks to the common thread running through the lives of many immigrants and people of color.
Terry Reyes, a retired school teacher, gave her reflections on Rudolfo Anaya:
You have choices. I was first introduced to Rudolfo Anaya when I was a Chicano Studies Major at CSULA during the 1970s. One of our many required readings was "Bless Me, Ultima." Mr. Anaya was my first introduction to a contemporary Chicano author, and I was hooked. Jump 30 years into the future, my son was in high school and asked if I had a copy of "Bless Me, Ultima" which was his required reading in a class. I proudly gave him a choice of three different size copies of the treasured book. What a tribute to Mr. Anaya that his book continued to be required reading for students in 2005 and continues to be today. His literary works also include children's picture books, a cultural introduction for school-age children which I have used in my classroom. Thank you, Rudolfo Anaya, for sharing your literary skills and cultural perspectives.
A generation of Chicano families has raised their children on Anaya's books. Teachers in the classrooms have their students read his books. Elementary school teachers read his books to their young students. Today in Chicano Studies his books are required reading. He has inspired a generation of Chicano writers. In death, his words are not and never will be lost.
Another reflection comes from writer, singer, composer Ismael Parra:
When Rudolfo died, my youngest brother called me to tell me the news. He said, "Hey, I have some sad news, big brother. I responded, "What is it, Wee?"—'cause that's what I call him. And he told me in lowered voice, "Did you hear? Rudy Anaya died." I answered, "Bless Me, Ultima." He said, "Yeah, I remember when I was little you read it out loud to me." I was quiet for a moment in memory of then and of the owl, Ultima's soul. We chatted quietly after that, in respect.
Rudolfo Anaya won many awards in his lifetime, including the 2016 National Humanities Medal awarded to him by President Barack Obama. But his most cherished prize was creating stories that brought the community closer together.