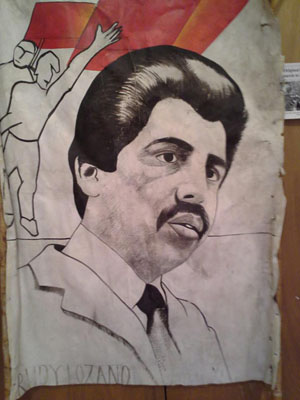 CHICAGO – There were tears, laughter, poetry and song as family and friends gathered June 8 to remember the life and legacy of Rudy Lozano Sr. The event marking the 30th anniversary of his death was held at the Uri-Eichen Gallery in the Pilsen neighborhood where Lozano did much of his work as a union organizer and community activist. Gallery walls were full of artwork inspired by Lozano's work.
While the pain is still tangible over his untimely death, (Lozano was assassinated in his home in 1983) there was a sense of renewed hope with the presence of so many young people who were grasping the meaning of Lozano's legacy and committed to following in his footsteps.
The program included poetry by Michael Reyes and a song entitled "They Took My Father," by Rosalba Valdez, who wrote the song when she was 11 years old, after her father was deported. (See video below.)
By all measures, Lozano led a remarkable life. At the time of his death at age 31 he was widely revered.
Rudy Lozano Jr. said his father championed three great causes – the rights of undocumented immigrants, political independence and Mexican American equality. Lozano Sr. was adept at finding the links between these and other struggles.
Lozano Sr. had activism in his DNA, his sister Emma Lozano said. They learned from their father, a metalworker and staunch union activist. They walked strike picket lines as children.
He and his future wife Lupe dated as teenagers and attended Harrison High School. They were swept up in the upsurge of the time and led a student walkout in 1970, demanding more Latino teachers and classes in Latino history.
They joined with others to fight for a new school in the Mexican American neighborhood.
"The old school was literally falling apart. The administration was doing nothing. So Rudy said, 'if you won't fix this one, we want a new one,'" said Emma Lozano, director of Centro Sin Fronteras. They led a movement that resulted in the construction of Benito Juarez High School.
Lozano was among the first wave of Mexican American students at the University of Illinois – Chicago. He led struggles for student diversity and multi-cultural curriculum. He led the establishment of the Latin American Recruitment and Educational Services Program (LARES).
After graduation Lozano helped found a local chapter of Center for Autonomous Social Action (CASA) that organized undocumented immigrant workers. Lozano was a pioneer in organizing undocumented workers into the labor movement.
"This work took him into the factories. And when he started organizing in the factories that took him into the homes," said Emma Lozano. "He saw people in fear that needed a voice."
At the time of his death, Lozano was the Midwest director for the International Ladies Garment Workers Union (ILGWU), known today as Workers United, and was organizing Tortillería del Rey, the biggest tortilla maker in Chicago.
Giving voice to the growing Mexican American community led Lozano on the path of political independence from the entrenched, racist and corrupt Democratic Party machine. He barely lost a bid for alderman in 1982, in what many believe was a stolen election.
Lozano played a key role building a strategic alliance between the Mexican American and African American communities that resulted in electing candidates in districts where together they shared a majority vote.
He was instrumental in forging a winning multi-racial coalition that resulted in the historic election of Chicago's first African American mayor, Harold Washington, and organizing the Mexican American community to support Washington.
His experience as a trade union organizer gave him a unique perspective on building multi-racial alliances. He fought to build ties with white workers and progressives overcoming racism and segregation between communities.
"This movement was recognized nationally. It's why a young Barack Obama was first attracted to Chicago. He wanted to find out more about it," said Rudy Jr.
Out of this work Lozano Sr., Lupe Lozano, Jesus Garcia and others established an independent political organization in the Little Village community, which remains a key progressive force in the city.
Lozano was killed shortly after Washington was elected. Many are convinced the investigation into Lozano's death was deliberately bungled. Former mayor Richard Daley was states attorney at the time.
An art auction was held during the event with proceeds going to fill buses of undocumented immigrants to Washington, D.C., to lobby for passage of immigration reform legislation and an end to deportations.
"We are demanding that President Obama suspend deportations. It makes no sense the very people who would benefit from the new law are being deported," said Emma Lozano. "Over 1,400 are being deported each day and families are being broken up. While President Obama has done some good things, he is wrong on this."
Photo: This portrait of Rudy Lozano was one of the art pieces that honored the community organizer and political activist (PW/John Bachtell).