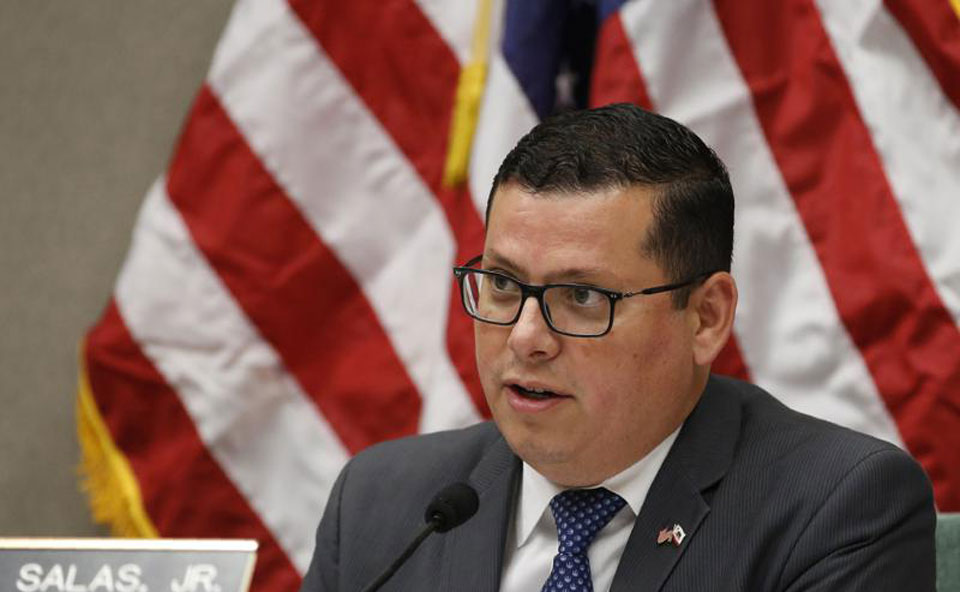 BAKERSFIELD — In the wake of highly destructive Hurricane Donald, as the primaries have wound down, here's the final count on the 10 House Republicans who voted to impeach Trump after the Jan. 6th attempted coup. Four are not seeking reelection, and another four (Liz Cheney being the latest) have been defeated. The remaining two are Reps. Dan Newhouse of Washington and David Valadao of California, who will advance to the general election on Nov. 8.
Central Valley Republican David Valadao was born and raised in Hanford, California. His parents are Portuguese immigrants from the Azores, who established a dairy farming business in the 1960s. The incumbent from Congressional Dist. 21 is running in the newly designed Dist. 22, formerly Devin Nunes's district. This district is about 49% Latino and 45% white.
In the June nonpartisan primary, Valadao came in second, behind Democratic five-term California Assemblyman Rudy Salas. Owing to his vote to impeach Trump, Valadao earned the anger of a certain proportion of his base, so he had to fight off two Republican challengers to his right. Salas earned 45.4% (24,092) of the vote compared to Mr. Valadao's 25.6% (13,583) votes.  That put Valadao plus the two other Republicans racking up about 55% of the vote.
Is this district in the San Joaquin (or Central) Valley, including parts of Kern, Kings and Tulare counties, ready for a change? The new district lines make it considerably more Democratic-friendly, having gone for Biden by 13 points. It is now 5% favorable to Democrats, with a 17% Democratic voter registration advantage. Every major race tracking organization rates the district a toss-up.
Though there's animated debate on this somewhat blurry subject, Portuguese immigrants and their descendants are generally not considered "Latinos" in the U.S. Neither, for that matter, are those of Spanish, French or Italian heritage. "Latino" does not mean people who speak a Latin-derived language, but who are from Latin America. Whether Latino voters would be more drawn to Salas, because of a common Mexican or Latin American origin, than to Valadao is probably not going to be the deciding factor in November. The results will come down to politics, money, campaign volunteers and turnout.
Rudy Salas, from Bakersfield, has been an effective member of the Assembly, and with an eager bank of supporters who will work for his election, he could well defeat Valadao and capture a sorely needed additional Democratic House seat.
Who is David Goncalves Valadao?
Valadao comes from a dairy farming background, which is actually more telling about his political philosophy and social values than might at first appear. He was a partner in the Triple V Dairy, and in 2018 was named in a pair of lawsuits against the business for defaulting on close to $9 million in loans, and for failing to pay a supplier. That June, a bank took possession of the indebted dairy and sold it off. A year later, Valadao agreed to compensate former employees some $325,000 on their claims that the dairy had abused statutes concerning work breaks, minimum wage and overtime pay. However, Valadao and Triple V Dairy filed for bankruptcy, meaning the employees did not receive their settlement. Rather than own up to the inconvenient laws about employment, wages and fair treatment of workers, and apparently preferring to keep his workers in some form of feudal servitude, not to mention possibly admitting his company's poor management practices or that monopolistic corporate competition in agricultural industries could in any way be held responsible for the demise of smaller-scale enterprises, Valadao falls back on the standard-issue Republican talking point, saying, "Like so many family dairy farms across the country, burdensome government regulations made it impossible for the operation to remain open." In other words: For businesses to survive in this economy, they have to flout labor and environmental laws.
Valadao attended the College of the Sequoias in Visalia, and served one term in the California State Assembly from 2010 to 2012. He was elected to Congress in 2012 and held his seat from 2013 to 2019. In 2018, a Democrat, engineer TJ Cox of Fresno, challenged Valadao. News media called the election for Valadao, but the late count of mail-in votes ultimately gave Cox a narrow lead of 862 votes. Cox was one of seven California Democrats in 2018 to unseat Republican members of the House, returning that body to a Democratic majority.
In 2020, after one term, Valadao defeated Cox by 1754 votes to win back the seat, in an election with more voters (being a presidential year) and by the exact same percentage, 50.4% to 49.6%, but in reverse. Elsewhere in California, too, three other seats flipped in 2018 flipped back.
(In related news, on August 16, 2022, media reported that TJ Cox was indicted by a grand jury and pleaded not guilty in a Fresno federal court to a host of charges involving including wire fraud, falsifying campaign contributions, and money laundering, some of those actions during the 2018 campaign. If convicted, he faces substantial monetary fines and prison.)
By May 2016, when Trump became the presumptive Republican presidential nominee, Valadao announced he would support his candidacy. But within a month, seeing more of Trump in action, he withdrew his support on the basis that he could not back someone who "denigrates people based on their ethnicity, religion, or disabilities."
Probably, like most Americans, Valadao did not expect to see Trump win, even by the fluke that he managed to pull off. Once Trump was installed in the Oval Office, however, Valadao voted against a resolution directing the House to request ten years of Trump's tax returns, to be reviewed in closed session by the House Ways and Means Committee. And FiveThirtyEight found that in the 115th and 117th United States Congresses, loyalist Valadao had voted in line with Trump's positions 96.8% of the time.
He only recaptured some of his earlier reservations about Trump after the attempted coup, voting for Trump's second impeachment on Jan. 13, 2021. Though objecting to the Democrats' process, he had to "go with my gut and vote my conscience," naming Trump a "driving force" behind the insurrection and calling his speech at the Ellipsis rally "un-American, abhorrent, and absolutely an impeachable offense."
Was this vote entirely a matter of conscience? One might be tempted to give Valadao full credibility for it. Or was Valadao already looking ahead to the 2022 election when he would face a more Democratically inclined electorate?
What we do know is that despite the vote, Trump did not do his typical thing and act punitively to throw his weight against Valadao and toward a primary challenger. House Minority Leader and fellow Californian Kevin McCarthy also endorsed Valadao. With an election that over several cycles had proven to be so close, the Republican Party clearly felt it could not at this point make Valadao into a devil and risk losing the seat.
The dairy bankruptcy, and Valadao's anti-regulatory response to it, indicate a great deal about his priorities. Let's take a closer look at some of his politics, as articulated in policy statements on his campaign website. These are open declarations of what Americans can expect if the Republican Party takes the House again. The talking points sound like they come straight from the Republican playbook.
In an item on "Protecting Our Seniors," Valadao cites "our nation's financial situation" as the need to "carefully examine the future of programs our seniors depend upon like Medicare and Social Security." Funny how the nation's finances never come into view when Congress passes ever more inflated military budgets, nor when Republicans pass trillion-dollar tax relief for their billionaire buddies. Only when it comes to programs Americans have toiled all their lives and paid into as insurance for their old age! "Without improvements, both Social Security and Medicare will be unable to fully meet the promises made to the next generation of retirees and will burden future generations with reduction in services and crushing tax increases…. [W]e must act in order to strengthen and preserve these vital programs."
I'll bet you my next Social Security check that Valadao is not considering removing the annual cap on income that must be assessed for SS deductions: Some billionaires reach that cap within the first few hours of the day on January 1! Bottom dollar, he wants to privatize SS and turn over its assets to the vagaries of the stock market, but it would be too dangerous to come out and say so. As for Medicare, privatize that too, along with all health care, and watch the American life expectancy plummet even lower than it has in the last several years, and not only from COVID. How productive for the economy are all those old people anyway? And Republicans had the nerve to fulminate about "death panels" in the Affordable Care Act!
Valadao comes closer to revealing his intentions with his next point on "Getting You Affordable Care." Although he "believes quality, affordable healthcare should be available to all Americans," he also believes "the best healthcare is a market-based approach to healthcare reform that provides individuals with competitive choices and addresses the needs of those unable to afford healthcare insurance. It is David's priority to ensure your healthcare remains in the hands of you and your doctor, not the federal government." So, the rich get all the private health care they can pay for, and the poor—well, don't count on society as a whole (read: "the federal government") to play a role in public health. YOYO. You're On Your Own.
Valadao can't shake his dairy farm wisdom: "Small businesses are the backbone of our nation's economy and needless regulations and a greater tax burden make it harder for them to hire." As if! As if his premise is even valid. No mention of the megacorporations that have destroyed Main Street—and maybe his own dairy farm—and enjoy tax loopholes and exemptions that are bankrupting the very programs, such as infrastructure, education, health care, that make a country strong.
On the critical issue of the future of energy: "Our nation, especially California, is blessed with an abundance of traditional and renewable energy resources. However, red tape and frivolous litigation is [sic] blocking the development of America's energy resources, killing jobs and slamming families with sky-high energy costs." As if, again! As if the high gasoline and heating oil costs we've seen over the last year are explained as he sees it, rather than by price-gouging and hoarding. His rhetoric can only mean more coal! More fracking! More offshore drilling! More industrial exploitation of public lands! More wars to protect U.S. access to oil! More support for corrupt oil states! And no accountability for pollution, climate change, global warming, catastrophic weather events, toxic rivers, asthmatic air. His analysis of job loss is flawed also: Renewable energy already is providing more jobs than the outdated, technology-heavy fossil fuels of yore.
In key votes of the 2021 Congress Valadao voted for the National Defense Authorization Act, the American Dream and Promise Act, the SAFE Banking Act, the COVID-19 Hate Crimes Act, and Impeaching Donald John Trump. He voted against the American Rescue Plan Act, the For the People Act, the Equality Act, the Infrastructure Investment and Jobs Act, and the Build Back Better Act, the Women's Health Protection Act. As of July 2022, Valadao had voted in line with Biden's stated position 26% of the time—more than many other Republicans, to be sure, but destructive nevertheless.
Who is Rudy Salas?
Rudy Salas, the Democratic candidate running against the Republican Valadao, has served as a California State Assemblyman since 2012. In fact, his immediate predecessor in that job was David Valadao himself. Curiously, Salas was born in 1977 just a month and two days before Valadao.
Salas is a former farmworker, as was his father. His experience leads him to represent the underserved working and small business communities of the Central Valley, unlike Valadao, whose loyalties are to the dairy and agricultural growers and owners, even if to thrive they have to disobey labor law and declare bankruptcy so as not to pay compensation.
The Assemblyman began his political career in 2000 as a legislative staffer in the office of Vice President Al Gore, right after earning a BA degree in political science and history from UCLA. He already has set precedence by being elected, in 2010, as the first Latino Bakersfield Councilman in the city's 112-year history.
Overall, the California Latino vote was low in the June primary. If Salas retains his lead over Valadao, he will be the first Latino to be elected in District 22. That will require prodigious efforts to pull out the Latino vote in the lead-up to Nov. 8th.
As an Assemblyman, Salas secured $50 million to invest in Central Valley nursing projects, plus construct emergency response centers, a cooling center, a clean water well, a new building at the Bakersfield College-Delano campus, and secured millions of dollars for local students and colleges.
During the COVID-19 pandemic, he was instrumental in providing small business assistance and protective equipment to residents and frontline workers. He also helped save Kern Medical Hospital from closing its doors.
When David Valadao posts that he "can't sit silent and let Rudy Salas pursue a radical liberal agenda that will hurt our communities," it's hard to believe he's talking about the same Rudy Salas who is running against him.
Actually, Salas has been called a "Valleycrat," a cautious Democrat not given to far off-center positions. One of his contributions, $10K, is from Mainstream PAC. His platform for CD 22 includes increased funding for public safety, expanding workforce development projects, implementing veterans' and workers' rights, maintaining clean water infrastructures (a big issue in the Valley with all the runoff from fertilizers and manure), and bolstering the interests of the small business communities.
Salas's ratings on the issues reveal something of his moderation, and his concern for local sensitivities. For example, he has a 75% rating from Gun Owners of Calif., and 83% from NRA. At the same time he has a 100% rating from Planned Parenthood Affiliates of California, and high ratings from educators: 100% from both the California Federation of Teachers and the California School Employees Assn., and 96% from the California Teachers Assn. On environmental issues, he has middling ratings, although he has helped pass a number of Assembly bills on renewable energy. Health Access California gives him a 100% rating. More complete ratings can be found here. Salas is endorsed by the California Labor Federation, AFSCME California, BOLD Democrats, and Everytown for Gun Safety.
At the end of the first quarter of 2022 (June 30), Valadao had $1,716,226 cash on hand, compared to Salas with $690,280. Once again, money will be a significant if not the determinative factor in this election. The three biggest factors in this midterm election are 1) turnout, 2) Turnout, and 3) Turnout.
The composition of the U.S. House of Representatives for the next two years of the Biden administration absolutely depends on what happens in places like Bakersfield and the surrounding rural communities of California.
The Rudy Salas for Congress website can be accessed here.
Teri Gonzalez contributed to this article.