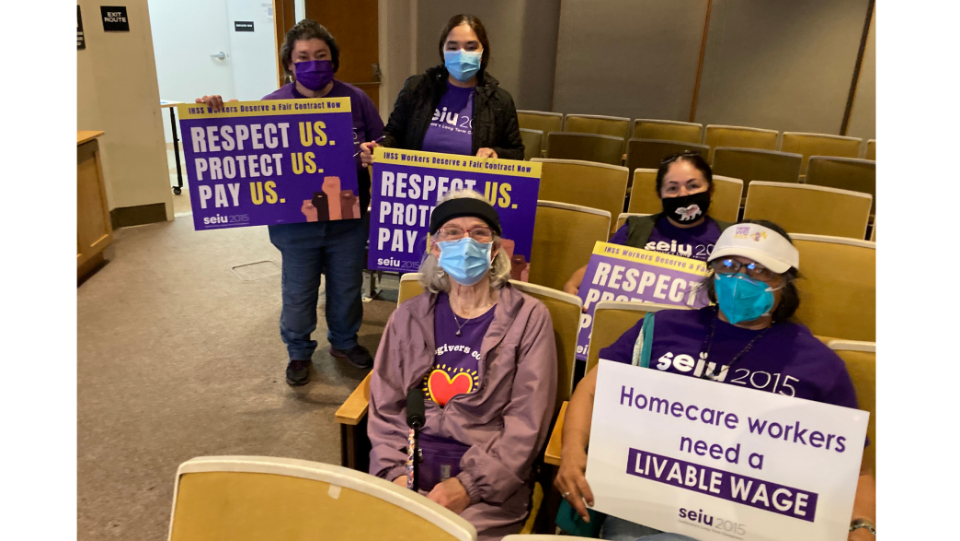 EUREKA, Calif, – Members and supporters of SEIU's Local 2015 home caregivers in Humboldt County, California, went before the county Board of Supervisors to demand a fair contract.  Humboldt County is rural, the largest city being Eureka (population 27,000), about a five-hour drive north of San Francisco.
The caregivers serve low-income people, mostly seniors and disabled, unable to care for themselves. Some 2,000 people in the county are eligible for and need their services, but workers' numbers are not sufficient to meet the needs of all those eligible. The caregivers are paid by a combination of Federal, state, and county funds. Although the county pays only 17% of their compensation, it is the county Board of Supervisors that sets their pay and the other provisions of their contract.
Several workers spoke of the difficulties of everyday life that they face given their meager compensation for a very demanding job. Under the current contract, union caregivers receive only fifty cents per hour over minimum wage—poverty-level wages even in rural California.
Only recently did they get overtime pay. They receive no pay for gas used to travel to the often remote areas where their clients reside, and they have no health or other benefits. Under such conditions, it is no wonder that 20% of caregivers say they would leave the industry if other opportunities turned up—which of course would cut down the already inadequate number of caregivers still further, leaving more people without adequate care.
Vivian Deniston, SEIU 2015 vice-president for Region 6, comprising 13 mostly rural counties, points out that neighboring Trinity County, considerably poorer than Humboldt County, pays its SEIU 2015 members a dollar over minimum wage. The caregivers there and in Lake County, also quite poor, recently won a 65-cent-per-hour raise.
This writer told the Supervisors that his observations of the caregivers who cared for his parents' home showed him that caregiving is a profession demanding considerable skill that deserves to be fairly compensated, not a job taken by people who can't do anything else.
County supervisor Steve Madrone, recently re-elected to a second term on the Board of Supervisors, has been, according to Deniston, a consistent supporter of SEIU 2015 workers, and at least one newly-elected supervisor, Natalie Arroyo, is expected to be supportive also, so Deniston is optimistic about the prospects for a better contract. She and other SEIU leaders have urged supporters of the union and the essential services it provides to contact the Board of Supervisors to demand that they negotiate a fair contract for these workers so badly needed by many people in the county.