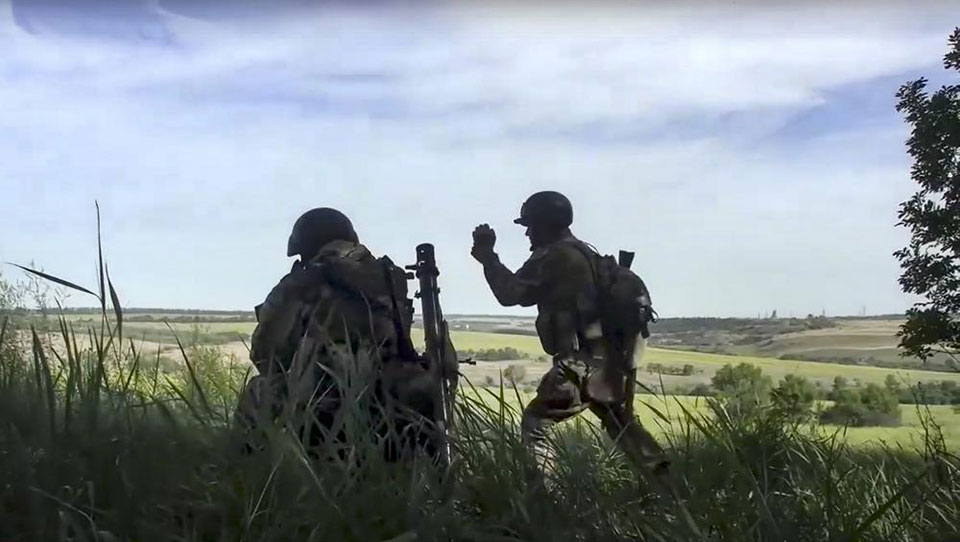 Russia will expand its territorial ambitions in Ukraine if the country receives more high-tech Western weaponry, Foreign Minister Sergey Lavrov said Wednesday.
Lavrov said his country was no longer only "interested" in the Donbass, where Moscow's recognition of the breakaway Donetsk and Lugansk "people's republics" immediately preceded its invasion.
It has installed regional governments in other conquered areas, including Kherson and Zaporizhia, where Russia-imposed rulers have hinted they will be formally annexed to the Russian state.
Lavrov told RT television and the RIA Novosti News Agency that Russia plans to retain control over broader areas beyond eastern Ukraine, including the Kherson and Zaporizhian regions in the south, and will make more gains elsewhere. Lavrov named these as "geographical objectives" in his remarks.
Lavrov's comments came as Russia claimed to have killed 60 Ukrainian soldiers in a "precision strike" near Odessa, while Ukraine said it had badly damaged a bridge over the Dnipro river near Kherson, hampering Russian troop movements.
His remarks and the Ukrainian missile attack on the strategically important Kherson bridge indicated the nearly five-month war could broaden to more areas after unfolding mostly in eastern Ukraine since April.
The top Russian diplomat noted that when Russia and Ukraine in March discussed a possible deal to end the fighting, "Our readiness to accept the Ukrainian proposal was based on the geography of March 2022."
"Now it's a different geography," Lavrov said, repeating Russia's argument that the United States and Britain were encouraging Ukraine to expand the hostilities.
With Western countries providing Ukraine with longer-range weapons, Lavrov said Russia's "geographical tasks will be pushed even further from the current line because we cannot allow the part of Ukraine under control of Zelensky or whoever comes to succeed him, to have weapons that will pose a direct threat to our territory and the territories of those republics that have declared their independence."
Russian President Vladimir Putin has repeatedly questioned Ukraine's right to independent existence, referring to it as "malorussia"—"little Russia," a medieval term for what is now Ukraine—and saying the Ukrainian nation was an invention of Communist leader V.I. Lenin.
In Washington, meanwhile, U.S. Defense Secretary Lloyd Austin said Wednesday that Ukraine has been using U.S-supplied HIMARS rocket launchers effectively and that the U.S. would provide four more, bringing the total to 16. The truck-mounted HIMARS launchers fire GPS-guided missiles that can reach targets up to 80 kilometers (50 miles) away.
And to finance the fighting, the Ukrainian government says it is asking investors to allow the country to postpone foreign debt payments for the next two years. Leaders of a group of creditors said they agreed to the delay and urged bondholders to do the same.
This article features material from Morning Star and the Associated Press.