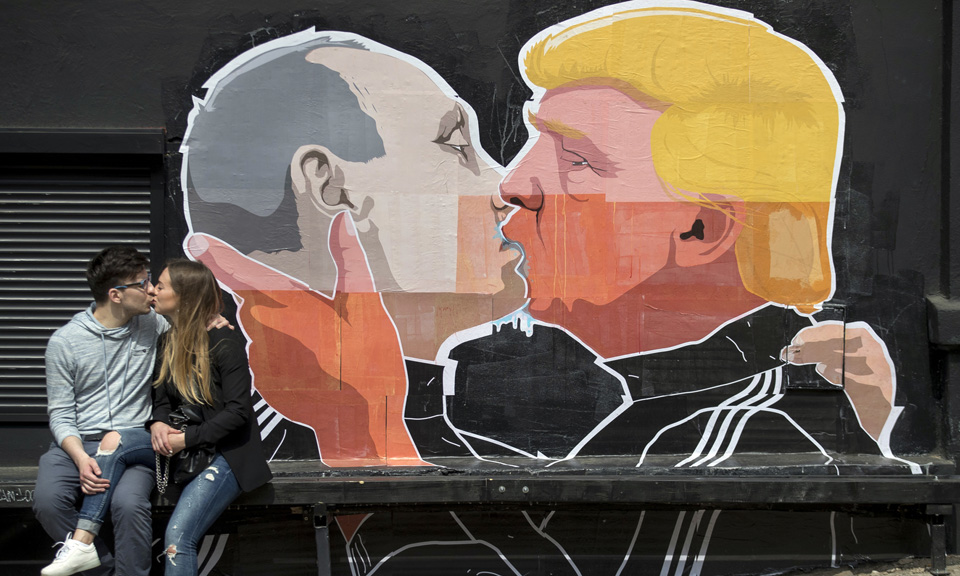 Six weeks have passed since Election Day 2016, when the United States and the world watched as reality-star businessman Donald Trump won the Electoral College and became the president-elect. Since then, much has happened, such as less-than-desirable cabinet picks for working people, a rise in hate crimes, and calls to combat systemic voter suppression.
Most recently, a number of government intelligence agencies have revealed that Russia may have hacked and interfered with the election to favor Trump. In a sea of increasingly bizarre, negative, and sometimes fake news, it's hard to judge whether or not the possible Russian hacking scandal is something people should take seriously, or if it might even affect Trump's ability to take office. What sounds like a reboot of The Manchurian Candidate (with a dash of troubled hip-hop star Kanye West), may very well be our new reality. It sometimes feels like we're living a work of fiction.
What we know so far
On Dec. 9 both the Washington Post and The New York Times reported that Central Intelligence Agency (CIA) officials concluded in a statement to lawmakers that Russia had intervened in the 2016 election to help Donald Trump win the presidency. According to The New York Times:
"The C.I.A.'s conclusion does not appear to be the product of specific new intelligence obtained since the election… Rather, it was an analysis of what many believe is overwhelming circumstantial evidence – evidence that others feel does not support firm judgments – that the Russians put a thumb on the scale for Mr. Trump, and got their desired outcome."
Trump's transition team released a statement shortly after, claiming that the CIA were "the same people that said Saddam Hussein had weapons of mass destruction," that "the election ended a long time ago in one of the biggest Electoral College victories in history," and it was "time to move on and 'Make America Great Again.'"
As recently as Thurs., Dec. 15, Trump took to Twitter (no surprise there), saying, "If Russia, or some other entity, was hacking, why did the White House wait so long to act? Why did they only complain after Hillary lost?" The president-elect's tweet is misleading, of course, because the Obama administration did formally accuse the Russian government of stealing and disclosing emails from the Democratic National Committee and a range of other institutions and prominent individuals back on Oct. 7, a full month before Election Day.
The extensive saga of the hacking was detailed by The New York Times for months leading up to the election. This clearly isn't a new issue, but it is one getting a lot of attention now that Trump, seemingly a friend to Russian President Vladimir Putin, is set to move into the White House.
The reasoning behind the recent accusation that the Russian government conducted a hacking campaign to favor Donald Trump appears to be that the Russians supposedly hacked both the DNC and the RNC, but released no documents from the Republican organization. This was claimed by a senior administration official to The New York Times.
Since Mon., Dec. 12, the push to hold an investigation into the alleged Russian hacking has picked up steam. Some Republicans who had been hesitant to point a finger at Russia initially are now joining with Democrats to call for a serious probe. Sens. John McCain (R-Ariz.) and Chuck Schumer (D-N.Y.) appeared jointly on CBS This Morning on Monday, calling for an investigation. Senate Majority Leader and usual Trump ally Mitch McConnell (R-Ky.) said he supported an inquiry as well.
Since an investigation is looking more likely, the question becomes: What kind of investigation? As reported by The Daily Beast, McConnell stated this week that the Senate Intelligence Committee will lead on the probe, but that the Armed Services Committee would also play a role. Meanwhile, the Obama administration is launching a separate inquiry, to be finalized before he leaves office in January. Democrats are calling for a new committee to investigate the issue, while some Republicans, like California Rep. Devin Nunes, chairman of the House Permanent Select Committee on Intelligence and close Trump ally, said in a statement it would be redundant to do so.
Can an investigation stop Trump from taking office?
If it is concluded with certainty that Russia had a hand in trying to sway the election to Donald Trump, would this affect Trump's ability to become president? Possibly, but unlikely.
What would have to happen is that the Electoral College would need to look at the evidence and deny the president-elect his right to take office. This outcome is seen as a long shot given that it would take a minimum of 37 Republican electors not voting for Trump to change the election results. If 37 Republican electors don't vote for Trump, thus bringing him under the 270 electoral votes needed to win, the decision would then go to the House of Representatives. The House is Republican-controlled, however, which may just decide to place Trump in anyway.
Despite the odds, there are Electoral College members mounting a campaign of resistance to the president-elect. On Dec. 12, ten electors (nine Democrats and one Republican) addressed an open letter to National Intelligence Director James Clapper, citing extensive reports of Trump and his allies' entanglements with Russia. Further, they are reaching out to other Electoral College members, mainly in Republican-dominated states, to join them in blocking Trump from the White House.
There are many moving parts to this ongoing scandal. Although there may be little ordinary citizens can do directly concerning the alleged Russia hacking, the controversy plays into the much larger issue concerning the way the elections turned out.
An ongoing attack against true democracy
The fact that the U.S. government has bought and sold elections in other countries in the past does not justify Russia's possible hacking into ours. Also, no one should feel the need to defend the Russian government, because it too is corrupt, with its own regional, if not larger global hegemonic aspirations.
The hacking and email leaks, that many in the mainstream media sensationalized above reporting on issues that would directly affect voters, played right along with the onslaught of fake news stories aimed at misinforming and distracting the American public.
This international hacking played hand-in-hand with the "domestic hacking," as noted by the Rev. Jesse Jackson in a recent article, of voter suppression in many states. The voter suppression was systematic and, as Jackson noted, was done not by Russians but by "right-wing partisan state officials eager to suppress the vote of people of color, the young, and the working poor." These factors undergird the authoritarian nature of the Trump campaign and the administration he is presently assembling.
Trumpism does not have everyday working people in mind, but rather plays on racism, xenophobia, homophobia, misogyny, hate, and climate recklessness, along with misinformation, distraction, and empty rhetoric. Domestic hacking of the election done through voter suppression was possibly coupled with the international hacking that further exemplified how Trump has seemingly allied himself with fascist, white supremacist, and corporate-imperialist forces to undermine what is left of our flawed democracy.
It is imperative that working people pay attention, and take seriously all of these attacks on our voice and our rights, if we have any hope of continuing the fight against the emergence of a new American fascism.