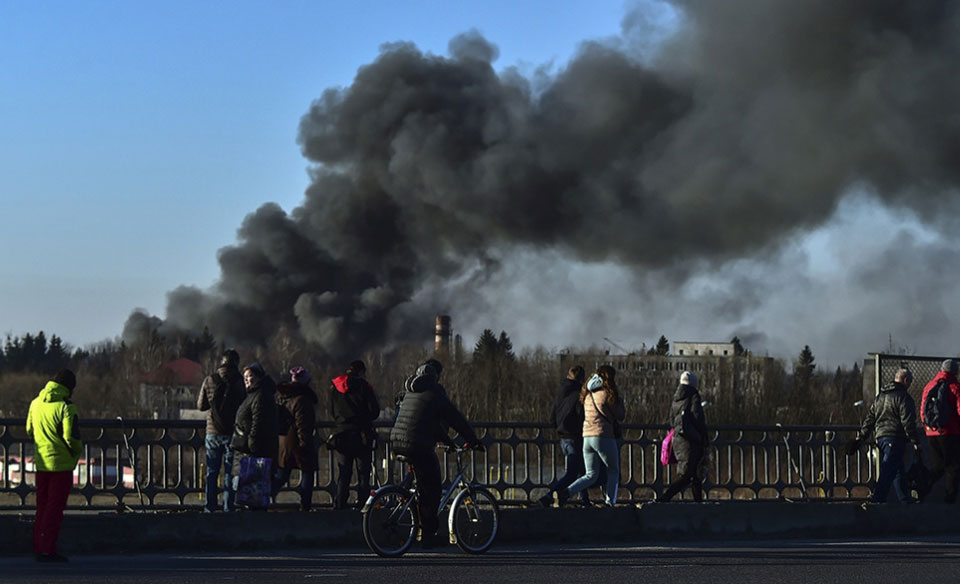 Russian missiles struck the Ukrainian city of Lvov on the border with Poland today, destroying an aircraft factory close to the airport and killing at least 35 people.
About 30 cruise missiles targeted the military facility just 15 miles from Poland's border, with another 135 people injured in the attack.
The Ukrainian Air Force, citing preliminary reports, said that the aircraft repair plant was hit by cruise missiles launched from the Black Sea.
Other Russian missiles were reportedly shot down by Ukrainian anti-aircraft defenses.
Mayor of Lvov Andriy Sadovy confirmed that the aircraft building had been destroyed in a blaze following the attack, but said operations had already ceased there.
The eastern city of Kharkiv was also shelled this morning with one person believed to have been killed and 11 wounded as a multi-story teaching building was bombed.
Russian President Vladimir Putin said that his forces were "tightening the noose" around the Black Sea port city of Mariupol as the invasion entered its fourth week.
"In Mariupol, units of the Donetsk People's Republic, with the support of the Russian armed forces are squeezing the encirclement and fighting against nationalists in the city center," a statement from Russia's defense ministry said.
Some 350,000 citizens remain in the besieged city with limited access to food or water. Humanitarian convoys are reported to have been bombed trying to deliver aid there.
Hundreds of people remained trapped in the rubble of a theatre bombed in Mariupol earlier this week, Ukrainian President Volodymyr Zelensky said.
Putin claimed that the Ukrainian government was stalling peace talks in a phone call with German Chancellor Olaf Scholz today.
"It was noted that the Kiev regime is attempting in every way possible to delay the negotiation process, putting forward more and more unrealistic proposals," a Kremlin statement said.
"Nonetheless, the Russian side is ready to continue searching for a solution in line with its well-known principled approach," it said.
More than 2.5 million are believed to have fled Ukraine since Russia launched its invasion on February 24.
European spending on U.S. weapons including drones, missiles, and defense systems, has expanded rapidly since the conflict began Reuters has reported.
The Pentagon's Defense Security Co-operation Administration is meeting weekly to review requests for the sale of arms by U.S. military contractors.
Arms dealer Lockheed Martin's stock has increased 8.3 percent and Raytheon's is up 3.9 percent, according to reports.