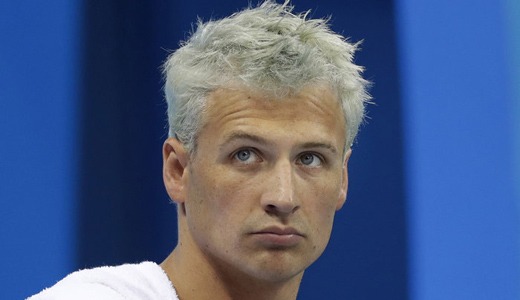 A full-blown international incident is unfolding at the Olympics, and it has nothing to do with Russians and doping. In the wake of a phenomenal U.S. swim team performance, four U.S. swimmers are caught up in a scandal that has taken more turns than Katie Ledecky swimming the 800-meter freestyle.
On Sunday, U.S. media began reporting that Gold Medalist swimming superstar Ryan Lochte and three other members of the U.S. Olympic Swim Team were robbed at gunpoint at a Rio gas station by men wearing police uniforms. Fox Sports' Ben Way was the first to report it Aug. 14. The International Olympic Committee and the United States Olympic Committee initially denied the story.
Lochte's mother, Illeana Lochte, confirmed the story to USA Today, however, about an hour after Fox Sports tweeted it out. "I think they're all shaken up. There were a few of them," she said. "No, they were just, they just took their wallets and basically that was it."
Sticking to their story…but for how long?
Among Lochte's initial statements were that the robbers told them to drop to the ground and one of the men cocked a gun and placed it against his forehead when Lochte refused. The swimmer said they were drunk after a night of partying.
Lochte told NBC, "We got pulled over, in the taxi, and these guys came out with a badge, a police badge, no lights, no nothing just a police badge and they pulled us over," Lochte said. "They pulled out their guns, they told the other swimmers to get down on the ground – they got down on the ground. I refused, I was like we didn't do anything wrong, so – I'm not getting down on the ground.
"And then the guy pulled out his gun, he cocked it, put it to my forehead and he said, 'Get down,' and I put my hands up, I was like 'whatever.' He took our money, he took my wallet – he left my cell phone, he left my credentials."
Given all the reports about crime in Rio and other athletes getting robbed, Lochte's account seemed plausible. But the blockbuster story began to unravel quickly when Brazilian investigators saw inconsistencies in the swimmers' statements and found witnesses and video that gave an entirely different version.
A few days of international drama ensued, which included taking two of the four swimmers involved, Jack Conger and Gunnar Bentz, off their Aug. 17 U.S.-bound flight, and the day before Brazilian Judge Keyla Blank ordering Lochte's and Jimmy Feigen's passports to be seized. Lochte arrived home before the order. Feigen seems to be still in Brazil but his whereabouts are unknown.
In an interview on Wednesday with Matt Lauer, Lochte defended the story but modified a few crucial details.
Then today, Brazilian authorities told the media that they believed Lochte lied, and then offered another narrative of what happened early Sunday morning. Based on witness testimony and video at the gas station, authorities said the swimmers were indeed drunk, stopped at the gas station to use the bathroom and damaged a door in the process. When confronted by a security guard and station manager, the swimmers gave them money and took off in their taxi. (For a timeline of events and statements, check out SBNation.)
False claim could aggravate international tensions
Rio, like many big cities, has its share of crime but some of the robberies reported happened in the Olympic Village and not at gunpoint. Brazil's troubles – from the impeachment of President Dilma Rousseff leading to a "coup government" to Zika to poverty and treatment of the poor to water pollution to crime and corruption – have dominated U.S. media reports. Many Brazilians say their country has been treated unfairly by the preponderance of negative stories.
In addition, Brazil and U.S. relations have had tensions both recent and historic. After Edward Snowden brought to light the vast National Security Agency's massive spying operation in 2013, President Dilma Rousseff, who was an NSA target, gave a scathing speech to the United Nations protesting U.S. behavior. But two years later, frosty relations between Rousseff and President Barack Obama seemed to thaw.
The United States has a long history of supporting right-wing dictatorships throughout Latin America and the Caribbean. From 1964 to 1985, Brazil was ruled by a U.S.-supported military dictatorship.
American reaction to what is being called "Lochtegate," is mixed. Some have taken an imperial approach of "how dare they" (the Brazilians) exert control over Americans to question Lochte from the get go. Radio sportscaster Jerry Thornton said there was no way he would trust Lochte's story.
U.S. athletes seemed for the most part to be good guests and not the typical "Ugly American." At the end of the swimming events, Michael Phelps and others held up a banner thanking Rio for hosting the Olympics. Swimmer and Gold Medalist Nathan Adrian, also a son of a former union local president, and teammate Ryan Murphy said security had been adequate.
"Rio is an amazing city. There are going to be problems anywhere you go and we've been briefed on how to mitigate those risks as best possible," Adrian said.
Photo: Ryan Lochte was unharmed. Michael Sohn | AP