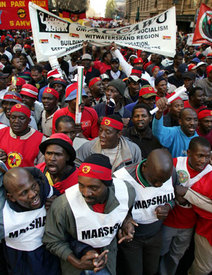 Earlier this month the people of South Africa celebrated the 10th anniversary of the first democratic constitution. The dismantling of the oppressive apartheid regime in the early 1990s, and the end of dominance by a privileged white minority, gave hope to millions of black South Africans seeking justice and self-determination.
The first provision of the country's constitution prioritizes the values of "human dignity, the achievement of equality and the advancement of human rights and freedoms." The struggle to fulfill those values continues to this day.
On May 18, the leadership of the Congress of South African Trade Unions (Cosatu), a 2-million-member federation of over 30 unions, mobilized its members and supporters in a day of action, including a nationwide strike, to bring attention to "the national catastrophe of unemployment and poverty."
Up to 80 percent of South Africa's industrial workers heeded the call and downed tools. The country's metal workers, especially, turned out in big numbers to demand that the government put a stop to job losses.
The action accented Cosatu's "Jobs and Poverty Campaign," which has several key demands, including better paying jobs, job security, an end to outsourcing, public works projects on a mass scale, equal access to education, improved government services, resistance to World Trade Organization demands, and an end to racist and gender abuse at the workplace.
The current government, led by the African National Congress, has a target of reducing unemployment significantly by 2014, but is falling short of its interim goals. Today, according to official statistics, about half of South Africa's 44 million people live below the poverty line, and the unemployment rate is 27 percent. The true rate of unemployment is closer to 40 percent, Cosatu said.
That black Africans make up only half of the university student population is another indication that further steps are needed to achieve real equality.
Zwelinzima Vavi, Cosatu's general secretary, recently said, "We fought for democracy in this country, but where is democracy when people are engulfed with poverty and unemployment? The 'better life for all' concept promised by the government … should be honored.
"Four out of 10 people in this country are able to find a job and the rest live in poverty," he said.
Cosatu is part of a national tripartite alliance that includes the African National Congress and the South African Communist Party (SACP), an alliance that was forged in the struggle against apartheid.
Blade Nzimande, general secretary of the SACP, recently spoke about his party's 1962 program, which characterized apartheid South Africa as a "colonialism of a special type."
"Of course, 12 years of democracy have brought about major changes," he said. "But have we decisively transformed the economic foundations of colonialism of a special type? In many ways this is the core question being posed, in action, by current working-class struggles, including the strikes under way in various sectors of our economy, as well as the May 18 Cosatu action. Indeed, we may even ask whether our economic policies since 1996 might not have actually reinforced some of the key systemic economic features of 'colonialism of a special type.'"
Nzimande added, "The ownership and control of private capital in a capitalist society are not some neutral technical functions. Ownership and control is premised on the intensifying labor exploitation and maximizing profit. That is the iron law of capitalism. And while the state is no longer a white minority state, there has been a concerted class attempt to ensure that the new political elite is thoroughly submerged within an emerging black capitalist stratum."
He said the May 18 day of action would also serve to disrupt the growing "alliance between some of our leading political cadres and emerging capitalist interests."