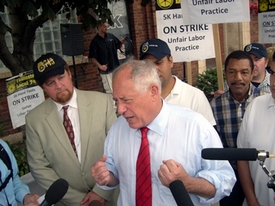 CHICAO – After a 10-week strike to save their jobs, health care and union, seventy Teamster Local 743 members at S K Handtools voted 3 to 1 to accept the company offer and began returning to work Nov. 6. The strike garnered national headlines after the company dropped health care coverage without notifying the workers, many of whom went into debt for thousands of dollars of medical expenses before they found out.
S K Handtools, maker of metal tools including the Sears Craftsman brand, tried to maintain production with scabs but the unity of the workers and solidarity from the labor movement prevented a resumption of full production. All the scabs have been fired and the workers are being called back by seniority.
"These brave sisters and brothers stood together on the picket line 24 hours a day and became the voice of workers in the national health care debate. Political pressure from the governor, several U.S. congressmen and U.S. Secretary of Labor Hilda Solis, along with the informational leafleting at Sears stores, showed SK that the Union was serious in its demands," stated Local 743 President Richard Berg.
The National Labor Relations Board issued an unfair labor practice complaint saying the company had bargained illegally by stopping health care coverage without notice. Negotiations for a new contract had begun earlier in the year, and the company had demanded wage concessions but never expressed concerns about health care coverage.
Illinois Gov. Pat Quinn was one of many elected officials and supporters who condemned the callous action of the company and joined the workers on the picket line.
In ending the strike, the workers were forced to make the difficult concession of a 20 percent pay cut the first year of the new contract. Small increases accompany the 2nd and 3rd year of the contract. The company refused to pay for the medical bills of the workers.
SK Handtools, in business for 88 years, is a small company and maintained it was in financial trouble because of the economic crisis and couldn't continue to operate without some concessions.
By preserving their jobs and union the workers win a chance to fight another day and restore the concessions. "Because we are Teamsters and willing to fight, we're now the only employees at SK with health insurance. This is something that all Americans should have," said Emilio Lunar, SK steward and strike leader.