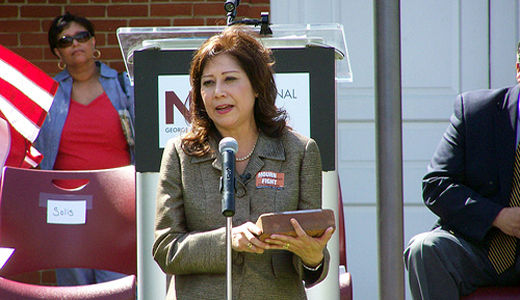 Miners are killed. If a worker dies at a job site where the company failed to correct violations the executives are guilty of a criminal offense. They can go to jail for life.
Such is the law of the land – not here in the United States but in Canada, the vast country to our north. The Canadian Parliament passed the Westray Law a decade after the Westray mine explosion in Nova Scotia in 1993 when 11 miners lost their lives.
If an American labor leader had his way we would have an Upper Big Branch Law that does the same thing here – "make the lives of workers matter to their employers."
According to Leo Gerard, president of the United Steel Workers, "The most important thing to come out of a mine is the miner." He said that "in an economic climate that prizes profits over life," a law like the one in Canada would "provide a vehicle to punish the reckless and provoke safety by the callous. In Canada, the law sets priorities: People first, profits second."
Gerard made these remarks only a week before Workers Memorial Day on April 28. It is a day when workers and their unions pause to remember the more than 5,000 workers who die each year on the job, 50,000 others who perish from occupational diseases, and the millions of others who get hurt at work or fall ill on the job but live.
The Steelworkers president is reminding people of the anti-worker attitude of Steve Blankenship, CEO of Massey Energy, operator of the Upper Big Branch mine in West Virginia that exploded April 5, killing 29 miners.
"Fines and lawsuit settlements have proved ineffective in forcing the likes of Massey to reform," Gerard said. "Even after a $4.2 million fine at another Massey mine where two miners died in early 2006, Massey kept breaking the law at Upper Big branch. And Massey paid Blankenship a salary more than twice that amount – $11.2 million in 2006."
While the union leader is spending the time just before Workers Memorial Day urging criminal penalties for safety violators, a top federal court in Washington D.C., on April 16, handed workers a victory in their fight for safer working conditions.
The court upheld , last week, the Occupational Health and Safety Administration's power to levy multiple fines against safety violators – one fine per worker involved in each incident, and also one fine per violation per worker.
OSHA had fined a contractor in Texas on 22 counts of safety violations, two for each of 11 workers involved. They had been hired to clean out a building containing asbestos.
Eleven of the counts against the contractor, Erik K. Ho, were for failing to provide the workers with training on how to handle asbestos. The other 11 were because Ho had failed to provide each of the workers with respirators.
Ho and three business groups, including the National Association of Homebuilders, sued both OSHA and the internal agency appellate panel that upheld OSHA's ruling. The businesses argued that since all the problems were at the same place, there should only be two violations. Had they won Ho would have faced only two fines with each one being from $7,000 to $70,000, not 22 fines, each within that range.
Also coming as Workers Memorial Day approaches are special April 27 hearings by the Senate's Employment and Workplace Safety Committee. Sen. Patty Murray, D-Wash., who chairs the committee, says the hearings will zero in on both the recent coal mine disaster and the oil rig explosion in the Gulf of Mexico last week.
Murray has co-authored legislation that would strengthen OSHA. The Protecting America's Workplace Act, as it is called, would, for the first time in 20 years, increase the fines OSHA could levy and would make accidents that kill workers on the job into felonies punishable by 10 to 15 year jail terms.
She does not expect her bill to hit the Senate floor any time soon, however.
"It's really challenging to try to get time for it, with regulatory reform in the banking industry, extending jobless benefits, job creation legislation and energy legislation, among other things, all lined up in front of the OSHA measure," she said.
Photo: http://www.flickr.com/photos/labor2008/ / CC BY 2.0