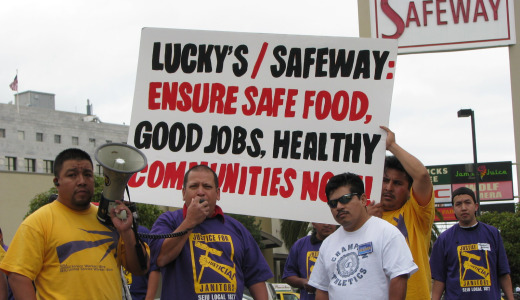 OAKLAND, Calif. – Dozens of janitors who clean Safeway supermarkets in northern California stopped work on the night of Feb. 10, frustrated by the intimidation tactics of Safeway's janitorial services contractors, including illegal threats of termination, and their proposals to sharply cut standards for wages and benefits. Talks for a new collective bargaining agreement are now in their fifth month.
"I walked out because Safeway's janitorial contractors are not working with us to negotiate a contract which will remedy unsafe and unhealthy conditions in the stores, and help us support and build a life for our families," said Santa Rosa janitor Leodegario Acevedo.
Talks for a new contract began last October between SEIU United Service Workers West, Local 1877, representing 450 janitors at area Safeway supermarkets, and janitorial services contractors ABM, Crystal, Premier and AMS. The four contractors are proposing a big increase in the number of hours a janitor must work to be eligible for health care benefits. They want to increase wages by just 10 cents an hour per year, and seek the right unilaterally to remove janitors from their pension plan. The contractors also propose to eliminate dental benefits for new hires, increase their waiting period for medical coverage, and lower their starting pay to just $8.60 per hour.
Safeway janitors now average just $10.24 per hour. Safeway, Inc. is the third largest U.S. supermarket chain, with an estimated $44.8 billion in annual sales and consistent profits in recent years.
Safety and health are also issues in the talks, with the contractors refusing to add "green cleaning" standards to the contract. Though Safeway janitors now use toxic industrial cleaning chemicals that cause serious health problems and may pose a risk to food safety and customers' health, neither Safeway nor the contractors have been willing to take responsibility. Each claims health and safety conditions fall under the other's jurisdiction.
"Safeway wants to be seen as a responsible, neighborhood grocery store, yet they sit quietly by while their contractors propose cuts to vital benefits and refuse to assure safe working conditions for the janitors who clean their facilities," said Denise Solis, Local 1877's northern California vice president. "Ultimately," she said, "both Safeway and their individual contractors are responsible for making supermarkets safe, clean and green."
After the work stoppage, janitors say they'll continue to mobilize against the contractors' intimidation and proposed cuts, and to speak out against Safeway's silence on the issues. While the union and the contractors have more bargaining dates in the coming weeks, the janitors may soon vote on whether to authorize their bargaining committee to call an unfair labor practices strike. The janitors' last extension of the collective bargaining agreement expired Feb. 9.
"It's insulting to sit at the bargaining table with Safeway's contractors, and hear them say that Safeway won't give them the money to increase our poverty wages, maintain our health care benefits, safeguard our safety and health, and protect their own customers," said Neri Macuixtle, a Salinas janitor and bargaining committee member. "Safeway must own up to its responsibility to ensure quality jobs, safe food and healthy communities."
Since the contract talks began, janitors have visited northern California supermarkets, letting customers know about the problems harsh and dangerous cleaning products can cause to both workers and the buying public, and pressing for a switch to new "green" cleaning standards.
Photo: Janitors make their point at a Nov. 5, 2009, demonstration on the "green cleaning" issue, at a San Francisco Safeway. (PW/Marilyn Bechtel)