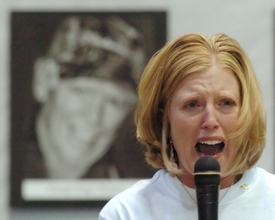 While an unprecedented public hearing on the Jan. 2 explosion inside the Sago Mine reached no definitive conclusions, it showed that the surviving families know more about mining coal safely than the International Coal Group's owners and executives.
The methane explosion claimed the lives of 12 miners in the worst coal mining disaster in West Virginia in 40 years.
What ICG does know about is making money — lots of profit. The corporation's first quarter report shows a net increase in revenue of 38 percent over the figure for the same period in 2005, or $212.2 million versus $153.2 million.
"We are, of course, disappointed that we did not see better results," said Bennett H. Hatfield, ICG president and CEO. "The Sago Mine accident was a tragedy that unexpectedly and negatively affected not only our financial performance for the quarter, but also strained out management resources as we responded to the accident and its aftermath." ICG reported that the Sago disaster cost $11.7 million, or nearly $1 million in lost production for each miner killed in the 53 production days the mine stood idle.
Never before had miners' families been able to stand before a coal company and the federal Mine Safety and Heath Administration (MSHA) and ask questions as to why their loved ones didn't come home from work. West Virginia Gov. Joe Manchin (D), whose uncle died in the 1968 Farmington explosion that killed 78 miners, called the hearing.
The families were prepared and sharp. Many had read the extensive interviews and preliminary reports in the wake of the disaster, adding their own experiences and independent research. Their questions forced the Buckhannon, W.Va., hearing to be extended from two days to three, May 2-4, producing 25 hours of sworn testimony.
Debbie Hamner, whose husband George died inside the Sago Mine, wanted to know why MSHA asked Sago safety director Al Schoonover, maintenance foreman Denver Wilfong and fireboss John Boni not to participate in the hearing. Ed Clair, MSHA's chief lawyer, said, "I'm not going to answer that question," noting that another investigation is under way.
In interviews following the explosion, Boni said he lied about receiving additional safety training. He said he did so at the direction of Schoonover, his superior. Wilfong testified that Sago did not have lightning arresters, like surge protectors, on some equipment. ICG maintains that lighting ignited the explosion. The interviews are available online at the West Virginia Office of Miners' Health, Safety and Training, a state agency.
In fact, as questioning from the families revealed, ICG made this claim — that lightning, a freak act of nature, had caused the explosion — one day before it re-opened the mine for production. Its report supporting the claim was not completed until six weeks later and raised more questions than it answered.
Family members hammered on the hundreds of safety violations at Sago. Company CEO Hatfield stuck with the story that the violations did not contribute to the explosion. That prompted MSHA's top mine inspector, Ray McKinney, to respond. In a roundabout way, McKinney said that the previously cited violations were part of a number of factors that caused the explosion, but that the agency had not yet issued a final report.
Amber Helms, daughter of Terry Helms, who died in the initial blast, summed up the hearings saying, "It opened many windows, but not many doors."
In a joint statement, United Mine Workers of America union President Cecil Roberts and AFL-CIO President John Sweeney demanded federal action to protect miners. They also condemned the Bush administration.
Pointing out that nothing has changed in the wake of the Sago disaster, despite numerous investigations, congressional hearings, legislative action by West Virginia's Legislature, and this public hearing, Roberts and Sweeney said, "The Bush administration has failed to enhance health and safety measures for coal miners. Since 2001, the coal enforcement staff has been cut by 190 positions and the budget by 10 percent."
Driving home the point that the Bush administration's actions have resulted in increasing the danger in mining, they cited 17 safety rules "killed" during its watch, including standards for rescue teams and ventilation systems.
While ICG was tallying up its profits, more miners have died in the first quarter of 2006 than in all of 2005.