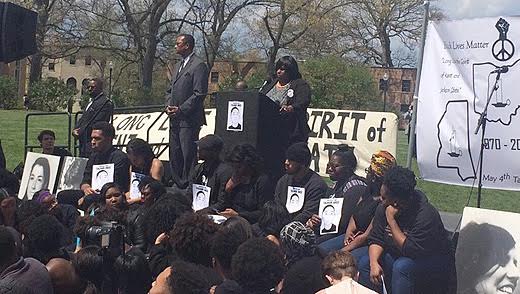 CLEVELAND – Making a powerful appeal for Black and white unity to defeat racism, Samaria Rice was the featured speaker May 4 at the 46th annual commemoration of the shootings of students at Kent State University. Rice , whose 12-year old son, Tamir, was gunned down by police while playing alone with a toy gun in a park outside a Cleveland recreation center in November 2014, called racism a "disease."
"You are not born with it. You are taught racism Let's look for a cure to racism just as we seek cures to other diseases," she declared to loud cheers. Her audience of over 500 was seated on the lawn near the site where four KSU students were killed in 1970 by Ohio National Guardsmen during a protest against President Richard Nixon's invasion of Cambodia. Many held pictures of Tamir and circulated petitions demanding prosecution of the officers responsible for his death.
Although a Cleveland judge had ruled there was probable cause to charge the officers with murder and other crimes, his recommendations were ignored by the county prosecutor who convinced a grand jury not to file indictments. The case remains open and the officers continue to hold jobs on the police force.
"At the end of the day," Ms. Rice said, "I am just a mom. I am struggling to be strong for my family. But," she said, what happened "made me decide to speak out for social justice." While the majority of unarmed citizens killed by police are Black, she said "white people are affected as well." Change will occur, she added, if "white people stand with us. If we unify, we can make the government act so they can't use deadly force as a first resort."
Large photos of the four slain KSU students stood by the podium where Ms. Rice spoke. The event also commemorated police killings of two Black students at Jackson State College in Jackson, Mississippi, during a similar protest 11 days after the KSU incident. This was the first time the KSU commemoration linked up with the Black lives movement and the recent acts of police violence against unarmed African Americans.
"What happened here and at Jackson State makes us ask why have First Amendment rights, if you can't exercise them?" Ms. Rice said.
China Baldwin, incoming president of the Kent State Black United Students, got enthusiastic applause as she decried the systemic and institutionalized forms of racism still prevalent in American society.
Longtime Ohio activist and labor attorney Staughton Lynd connected the 1970 incidents with a more general problem of state and police violence and abuse of state power as he recounted the origin of May Day in the struggle of the early labor movement for the eight-hour day and the frame up and hanging of its leaders after police and protesters were killed when a bomb exploded following a rally on May 4, 1886, in Haymarket Square in Chicago. Lynd hailed the massive response to socialist Presidential candidate Bernie Sanders, and was loudly cheered as he called for efforts to preserve and build this movement after the November election.
Photo: Samaria Rice speaking, by LaTonya Goldsby, Samaria's cousin.