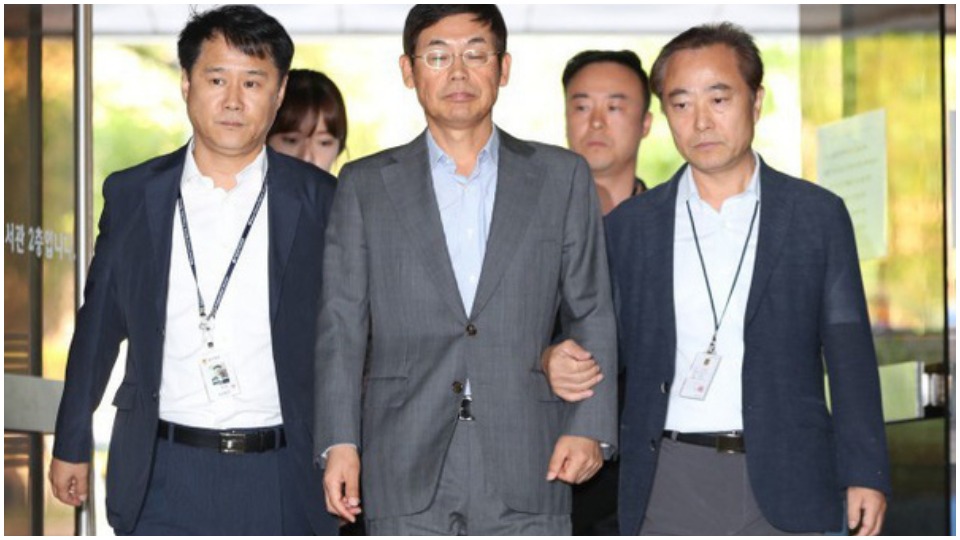 There are roughly 7,111 languages spoken around the world. As we close out 2019 and enter 2020, that number will increase (or decrease) as we continue to understand, grasp, and document what constitutes a spoken or written language.
In any case, and in any language, we can all agree: Union busting is disgusting.
And, unlike the painless "slap on the wrist" we're used to seeing bosses get here in the United States—giving them ample room to violate workers' rights again and again—there are some places in the world that take breaking labor law a little more seriously.
The Seoul Central District Court in South Korea convicted and sentenced Samsung Electronics chairman of the board Lee Sang-hoon, the tech company's number two executive, to 18months in prison on Dec. 17 for actively sabotaging labor union activities in violation of South Korea's labor laws.
Samsung vice president Kang Kyung-hoon was given the same prison sentence for his involvement.
But it doesn't just stop there. Several dozen other current and former employees at various Samsung locations were also convicted for their mistreatment of trade unions and workers.
Under South Korea's Trade Union and Labour Relations Adjustment Act of 1997, an unfair labor practice (ULP) charged can be filed if bosses:
— Dominate or interfere with the formation or operation of a trade union by workers.
— Make it a condition of employment that workers abstain from joining or forming a union.
— Dismiss or discriminate against a worker on the grounds that they joined or intended to join a union.
— Or dismiss or discriminate against a worker on the grounds that they had taken part in lawful collective activities.
The ULPs listed in South Korea's "Act" are quite similar to the U.S.' own National Labor Relations Act—except for one small (massive) difference: Chapter VIII: Penal Provisions.
A boss found guilty of a ULP "shall be punished by imprisonment of up to two years, or by a fine up to twenty million won (roughly $17,000 USD)." That's quite a deterrent for breaking labor laws—but bad bosses never learn.
During trial, South Korean state prosecutors showed Samsung executives used various tactics to bust union activities, including threats to wages and withdrawing business from subcontractors who were union-friendly.
Samsung's anti-union activities have been under investigation since last year when prosecutors launched a wide-ranging fact-finding mission into allegations the company had worked behind the scenes to undermine union organizing. This legal action was triggered by the leak of internal company documents containing union-busting guidelines issued to management by Samsung executives.
With this latest ruling, Samsung faces growing public pressure to reset labor relations with its workers following a decades-long anti-union stance. And while not an "official" policy, Samsung has publicly expressed a distaste for unions, saying they "create unnecessary conflict."
Only a handful of union bargaining units exist within the tech conglomerate's 60-some departments, but there are signs pointing to change. Last month, workers at Samsung Electronics formed their first recognized labor union under the Federation of Korean Trade Unions, well-known for its militant rank and file stances.
This latest scandal adds to Samsung's already tarnished reputation, which took a hit thanks to a corruption scandal by the company's heir, Lee Jae-yong, currently facing a re-trial on bribery charges.
Let's hope we go into a new year with more victories for workers around the world, and more bosses behind bars.