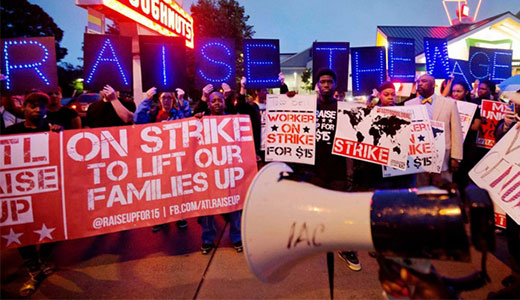 SAN FRANCISCO – Following a June 10 agreement by unions, community groups, businesses and local political leaders, San Franciscans will vote this November on whether to gradually increase the city-wide minimum wage to $15 an hour.
If they approve it, the California city will join its own suburb of Richmond, Calif., plus Seattle and Sea-Tac, Wash., as current municipalities with the $15 minimum. San Francisco will reach that figure in 2018, more quickly than Seattle will, the agreement shows.
The San Francisco agreement and vote is part of a nationwide movement to raise the minimum wage without waiting for dysfunctional lawmakers in D.C. to do so for the whole U.S. The federal minimum, $7.25 an hour, hasn't risen since the GOP Bush administration.
President Obama, congressional Democrats, organized labor, community groups and religious organizations have all campaigned for a hike to $10.10 by 2016. The GOP U.S. House majority and GOP Senate filibusters beat those efforts, so far.
The San Francisco agreement came the same day Obama's Labor Department proposed regulations to impose a $10.10 minimum for employees of future federal contractors (see separate story). Both hikes would help tens of thousands of low-wage workers, especially in the fast-food industry.
"The San Francisco Labor Council is proud to be part of an historic agreement reached yesterday with the Mayor and the San Francisco Board of Supervisors that puts a consensus minimum wage measure on the November ballot that gets all workers to $15 with the cleanest non-exemption path in the United States," the council said in a statement.
"It wasn't easy," San Francisco Labor Council Executive Director Tim Hudson said of the $15 minimum wage referendum pact. "The organizing was difficult, the negotiating intense, but the coalition was unique, historic and dedicated – labor and community partners fighting to increase the power of San Francisco workers.
"This was more than just an agreement to get $15 on the ballot, but also changed the culture of how labor unions and community organizations can fight together for equity, fair wages, and a voice at work. And yesterday didn't end with only the minimum wage deal. There is more," he added, without being specific. San Franciscans rallied June 14 to support the increase.
Unlike Seattle's $15 minimum, there will be no different time lines in San Francisco depending on a business' size, he added. Business agreed to that. "All workers will be covered equally," Hudson said.
"Our coalition will also advocate for full enforcement. We are proud that San Francisco is the first city to have an Office of Labor Standards Enforcement to monitor and enforce our worker laws and we will continue to fight for resources to empower this valuable department."
San Francisco's minimum wage is now $10.74 an hour and California's is scheduled to rise in July, to just below that figure. The November referendum would be on raising the city minimum to $12.25 next May, then to $13 in July 2016 and $1 each year after that until 2018. A $15 minimum wage translates into $31,000 yearly for a full-time worker, in one of the nation's most-expensive cities.
Photo: AP