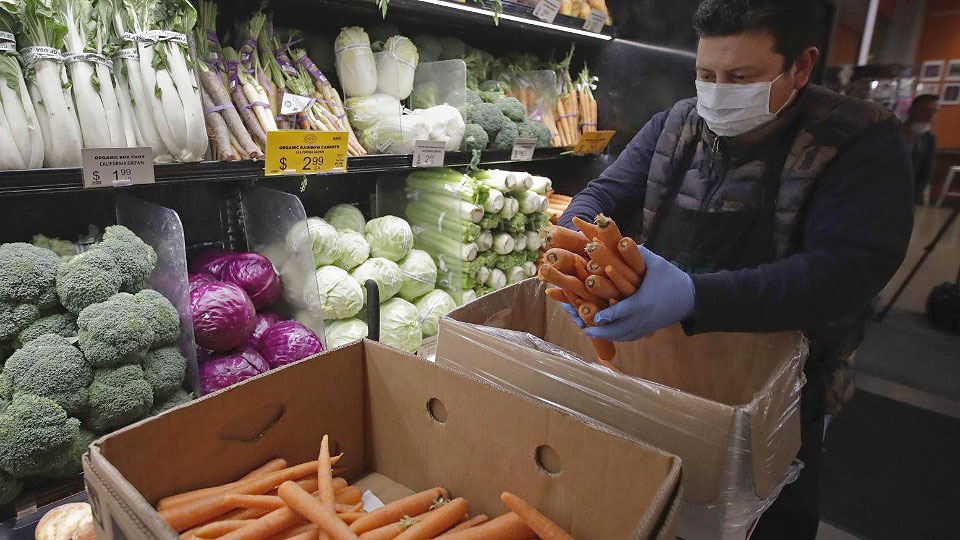 San Francisco this week joined the growing number of Bay Area cities mandating hazard pay for grocery workers, when its Board of Supervisors on March 9 unanimously passed an emergency ordinance requiring large grocers and pharmacies to pay their workers an additional $5 per hour during the COVID-19 pandemic.
The city had earlier urged, but not required, the hazard pay.
Early in the pandemic, a number of grocery companies voluntarily raised the pay of their frontline workers, but as the pandemic continued, many had discontinued the pay hike.
Large retail grocers, pharmacies, and janitorial and security contractors whose employees work at these locations will now temporarily be required to provide $5/hour hazard pay to workers who make less than $35/hour or under $75,000/year. San Francisco's minimum wage is just over $16/hour.
The mandate will apply to grocery firms and retail locations with pharmacies that have 500 or more employees worldwide, and at least 20 employees in San Francisco itself. Small groceries and pharmacies with fewer workers will be exempt from the requirement.
The measure also protects the workers against retaliation, a provision that will be enforced by the Office of Labor Standards Enforcement. The ordinance is to be in effect for 60 days or as long as the local emergency lasts.
Several more Bay Area cities have taken similar action—among them, Oakland, Berkeley, San Jose, Daly City, and San Leandro. They are joined by southern California cities including Los Angeles, Long Beach, Santa Monica, and Montebello. And more, including San Carlos and Redwood City in the Bay Area, are considering the move.
Late last month, a UC Berkeley Institute of Governmental Studies poll found 77% of Californians support hazard pay legislation for frontline essential workers.
After the San Francisco ordinance was approved, Board of Supervisors President Shamann Walton noted that essential grocery workers "are often paid minimum wage and are expected to take high risks by constant exposure to the public," but the public doesn't always follow basic anti-COVID 19 protocols like wearing masks and social distancing.
"This emergency ordinance compensates grocery workers and drug store workers who have had heightened exposure throughout this pandemic by working to survive," Walton said in a statement.
The measure was developed with insights from United Food and Commercial Workers Local 5 and Local 648.
The workers "have sacrificed their health and safety to ensure that our food and other essential needs have been met throughout this pandemic," said Jim Araby, Local 5's director of strategic campaigns. Though case numbers are falling and vaccinations are rising, he said, "many workers still have risks bringing COVID home," and passing the hazard pay ordinance "will reward them for continuing to take this risk."
Local 648 President Dan Larson also expressed appreciation for the measure, saying its passage "highlights the dangerous conditions that our grocery and drug workers face every day."
It should be no surprise that the California Grocers Association has taken a far less positive view of hazard pay measures around the state.
Association CEO Ron Fong has warned of unintended consequences including higher prices for consumers and fewer work hours for employees. The Association has also filed lawsuits against several cities, including Oakland, San Leandro, Long Beach and Montebello. Late last month a federal judge denied its attempt to get a preliminary injunction against Long Beach, saying the grocers' group had not made a good case opposing the hazard pay.
Meanwhile, the supermarket chain Kroger said it is closing stores in Long Beach and in Seattle because the hazard pay is costing them too much.
In another COVID-related action on Tuesday, the San Francisco Supervisors unanimously passed a requirement that gig companies operating food delivery services provide their drivers with personal protective equipment and pay them for the time they must spend disinfecting their vehicles.
Noting that throughout the pandemic delivery service drivers have been putting themselves at risk to provide an essential service, the measure's sponsor, Supervisor Matt Haney, said many homebound people rely on the drivers for their food and medicine. "Yet still in many cases, these workers are not provided with the protections they need to work safely."
The rule will also apply to grocery, drug store, and restaurant workers. As it will make permanent a temporary mandate passed last spring, it will take effect after a final vote next week.
Kroger closes grocery stores to avoid COVID hazard pay for workers