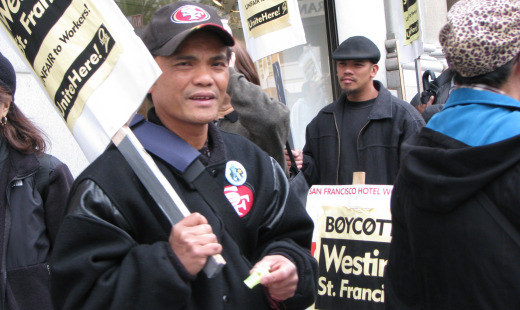 SAN FRANCISCO – The giant hotel corporations that dominate this city's top hotels may think they can hide behind the current economic crisis to force workers to accept a contract full of takeaways. But some 9,000 hotel workers and their union, Unite Here! Local 2, are saying loud and clear: "Think again!"
As talks that began in August for a new citywide contract dragged on into the fall, the workers conducted a series of street actions – rallies, brief strikes, informational pickets, peaceful civil disobedience – and called for a consumer boycott of seven of the most prominent hotels.
The latest in the series – a "two-day siege" March 31-April 1 at one of those hotels, the Westin-St. Francis in the heart of downtown – brought a noisy, enthusiastic picket line to the hotel's front door.
Patrick Cirby, a house attendant at the hotel for over 17 years, paused in his picket rounds to say that as in most current contract struggles, the main issue is the demand of the hotel's corporate owner, the Starwood Corporation, that workers typically earning $30,000 to $35,000 a year pay large sums for health coverage. While he and other single workers would see their take-home pay drop significantly under the proposal, he said, workers with families could face stark choices about necessities.
Cirby said the hotel is also trying to increase workloads, to cut the number of workers by combining job categories, and to gain the right to call workers in for four hour shifts forcing them to work more days to qualify for benefits including health coverage.
As she anchored one end of the picket line, Omni Hotel cook Linda Knighten said, "We're very optimistic, we've been through this before and we are very confident in our union's leadership." Knighten was recalling the two years of struggle, including a two-week strike, a 53 day lockout and a boycott, before the last citywide contract was signed in 2006.
In the meantime, she said, the hotel is slow to hire needed replacement workers and to settle grievances and other issues, and workloads are increasing.
"Corporate greed hasn't changed," Knighten said. "They claim they are suffering because of the economy, but the hotels are making money. They're trying to get a cheap long-term deal when we know the economy will change."
Local 2 says the boycotts have cost the affected hotels far more than they would have paid under an inexpensive, short-term contract the union proposed last year. "Instead, they insisted on fighting us for a long term contract full of takeaways," the union said in a statement. "Their greed has already cost them millions in lost business, and that number is going up every week."
The union points out that the major hotel corporations, including Starwood, have continued to show significant profits despite the recession.
Health coverage is also the big issue across the bay in suburban Pleasanton, where over a month ago, the Castlewood Country Club locked out 60 workers including cooks, servers and dishwashers when they rejected the club's demand that they pay $739 a month for family health coverage. Workers average a little over $12.50 an hour, and currently pay nothing for their health coverage.
On March 28, over 85 people joined a peaceful march at the country club, and on March 31, faith leaders joined the workers for a bilingual religious program on the picket line.
Photo: Marilyn Bechtel/PW