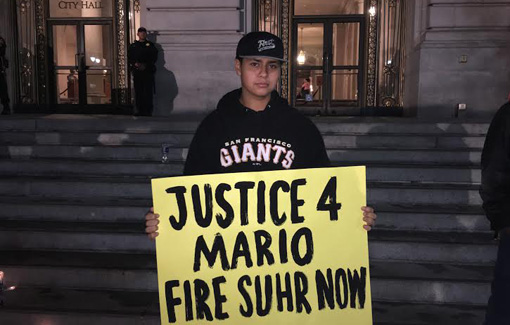 SAN FRANCISCO – Chants such as "Our community is under attack. What do we do? Stand up fight back" rang out in front of City Hall here on Wednesday night as close to 300 demonstrators gathered to demand justice for Mario Woods. Woods, a 26-year-old African American man, was fatally shot down by San Francisco police officers on Dec. 2 in the predominantly black Bayview neighborhood. Woods was reportedly shot 15 times by approximately five officers.
The speak-out on the steps of City Hall supported activists who were headed into a San Francisco Police Commission meeting inside the building to make demands for justice in the ongoing investigation into Woods' death.
Black Lives Matter Bay Area and The Last 3% were two of the main organizers of the event Leaders of the organizations stood in front of a large sign that stated, "We are the last three percent of Black SF," a reference to the city's shrinking black population. Etecia Brown, a long-time Bayview resident, noted that San Francisco has the fastest out-migration of black people since post-Katrina New Orleans. She said the city must hold those responsible for Woods' death accountable "for their failure to the black community."
"We must always speak out," Brown said. "They call us suspects after they kill us. They don't see us as human. Mario was a human life. We get caught up in the politics and rhetoric and we lose sight that a life was lost."
"Mario was my neighbor," she added.
"Liberation of black lives is a liberation of all people," Brown said. "Now's the time. Rise up."
Ronnishia Johnson, another young leader involved in both organizations, said, "We have to look at the historical context. San Francisco likes to pride itself on being a very liberal city. I beg to differ." Johnson referred to the recent decision by the city to increase the police budget as a way to continue the "over-policing of people of color."
It "takes the hood to save the hood," Johnson said, Referring to the role of the police, she said, "We need them to not pacify us with bullshit. The community will hold them accountable… Don't lose hope."
Defending the ongoing demonstrations, shut downs, and protests, Johnson said there's "no such thing as being scared and modest when your life is on the line."
A list of community demands in the Woods' case was distributed through the crowd, as all participants were urged to go into the City Hall meeting as a united front. The demands included the release of the names of the police officers involved in the shooting, a public apology to Mario Woods' mother Gwendolyn Woods, payment by the city for Woods' funeral arrangements, a federal investigation into the shooting, as well as an independent external investigation, and lastly a firing of not only the officers involved but also San Francisco Police Chief Greg Suhr.
A community statement on Chief Suhr asserted: "Since appointed in 2011 his [Suhr's] administration has been nothing but racist, ineffective, and malicious with their practices. Under his leadership, SFPD has violated the constitutional rights of citizens in a number of high profile cases. This year alone there have been several high profile cases of police misconduct and corruption, 10 most notably that highlight SFPD's track record that is consistently anti-poor and anti-people of color. As one of the highest paid chiefs in the nation with a salary of over $400,000, Chief Suhr has demonstrated that he is not fit for the position and we demand that he be fired immediately."
Inside the City Hall building, demonstrators filled the meeting room to capacity as Bayview residents stepped up to the podium to speak, including members of the Woods family. Chief Suhr also appeared before the commission and publicly renewed his call for equipping police officers with tasers. Suhr also reported that a group is reviewing the department's use-of-force policies and that a draft of that report should be ready in the beginning of 2016.
Police officials have claimed, in a report on the incident, that after beanbag guns and pepper spray did not subdue Woods, who reportedly was wielding a kitchen knife, he began walking towards an officer. The report then stated, "At this point, fearing serious injury or death, officers fired their department issued handguns at the suspect." But a video that spread across social media shows Woods moving alongside a wall as he is confronted by several officers. It is seen that after Mario is hit with bean bags he attempts to limp away from the officers. It is then that one officer is shown getting in front of Woods as he walks, and at that moment gunshots ring out right before Woods falls to the ground.
Citing the London incident last week where officers were able to stop a knife attack by shooting the suspect with a stun gun, Suhr argued that if SFPD officers had been able to use stun guns they might not have fatally shot Woods. Suhr said officers had no other weapons at their disposal except their handguns after pepper spray and bean bags failed to stop and disarm the young man.
Others said tasers wouldn't solve the real problems. Rheema Calloway, a young leader of Black Lives Matter Bay Area, told this reporter that city officials "only care about money. They increased the police budget to protect the new, white, population." Calloway said there is a deep pain within the community from police terror, and the killing proved that police were not there to protect residents. Referring to the recent Planned Parenthood shooting in Colorado she said it was an example of how, if Woods had been white, he would have perhaps been taken in alive as the white gunman in Colorado, Robert Lewis Dear, had been. Mario "didn't stand a chance," Calloway said. "It's structural. It's state violence. It's systemic racism."
The police officers involved in the shooting of Woods are still on paid administrative leave as the investigation is ongoing. Supporters of the Woods family are organizing a campaign to take care of the expenses of the young man's funeral. Those interested in supporting this campaign can do so here.
Photo: Chauncey K. Robinson/PW