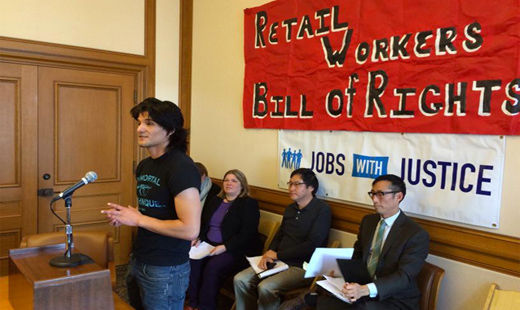 San Franciscans are celebrating another "first" for labor rights in their city. On Nov. 25, the SF Board of Supervisors unanimously gave final approval to a pioneering Retail Workers Bill of Rights, which will give an estimated 40,000 hourly workers at large chain stores and restaurants greater stability in their schedules and hours, making it more possible to plan their lives and care for loved ones.
Mayor Ed Lee is expected to sign the new legislation. Under its provisions, employers must give workers their schedules two weeks in advance, and must compensate workers when their schedules are changed at the last minute. Employers must also offer more hours to current part-timers before hiring new ones, and cannot discriminate against part-timers over pay or promotions. If a company is sold, workers employed for six or more months must be guaranteed work for at least 90 days.
The bill will apply to the largest, most profitable retailers operating in the city – companies with businesses at 20 or more locations globally and 20 or more workers in San Francisco. It is estimated that the legislation will cover nearly half the hourly retail workers in the city.
Last summer, Supervisors David Chiu and Eric Mar worked with Jobs with Justice San Francisco and a coalition of workers, labor, community and advocacy groups, to introduce the package of measures making up the Retail Workers Bill of Rights. Its passage came after SF voters called on Nov. 4 to raise the city's minimum wage from the present $10.74 to $15 by 2017.
Though San Francisco's Bill of Rights is the country's first, others including New York City, the District of Columbia, and the states of Minnesota, Delaware, Michigan, and New York, are considering similar actions. Chiu, who was elected to the state Assembly last month, has pledged to introduce a similar statewide bill next year.
At the national level, Democratic legislators in the House and Senate introduced the Schedules that Work Act last summer. It would require employers to post schedules two weeks in advance, and compensate workers when last minute changes are made or they are sent home early. It would also bar employers from denying scheduling requests related to care-giving, education or second jobs, without a "bona fide" business reason.
With Republicans controlling the House of Representatives, the bill is unlikely to move forward.
The need for such measures was underscored by a recent University of Chicago study of scheduling practices experienced by "early career" (ages 26-32) workers. The study found that over 40 percent of part time hourly workers knew their schedules a week or less before the start of their workweek. Short notice was even more common among black and Latino workers.
Three-quarters of early-career hourly workers, especially part timers, said the number of hours they work varied significantly. Especially affected were food service workers, janitors and housekeepers, the report said, but elite professionals, business staff and technicians also experienced significant shifts.
Other researchers have found that of the more than 27 million part time workers in the U.S., over one quarter would rather work full time.
Photo: Mark Ortiz, a retail worker at Macy's Union Square in San Francisco, underlines the importance to him and other workers of advance scheduling and other worker rights. Jobs with Justice, courtesy of Wisconsin AFL-CIO Facebook page