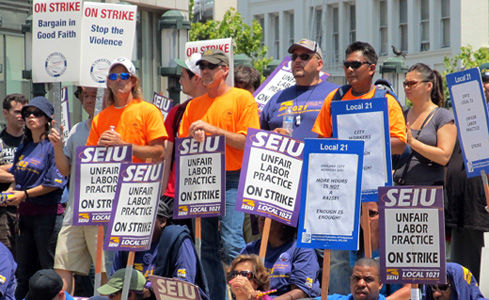 SAN FRANCISCO – Management refusal to negotiate on its own work rule demands – demands the unions say could impact worker safety – forced workers for the San Francisco Bay Area Rapid Transit System (BART) to strike at 12:01 a.m. Oct. 18.
The workers, members of Amalgamated Transit Union Local 1225 and Service Employees Local 1021, had to walk off the job, Local 1021 President Roxanne Sanchez said. She added the two unions would be willing to submit their disagreements with BART managers to binding interest arbitration.
One BART worker told National Public Radio the dispute went far beyond "work rules." He said management sought changes that would impact safety and noted two workers have died on the job in the last several years. Other workers said management wants to restrict workers' rights.
"Over the last several nights, all of us – workers, elected officials, the federal mediators, the media and, most importantly, our riders – have been played by a management team simply unwilling to settle the contract," Sanchez said as she left the final 30-hour bargaining session late on Oct. 17.
"At this point, we have come to an overall understanding on economics. However, in the end, BART management is withholding settlement because they want to fundamentally and significantly change the conditions under which we work.
"Time and time again, after we made a concession, management would move the goal posts, including now — after reaching a general agreement on economics — demanding changes in work place rules that historically protected workers from issues like abuse of power, unfair treatment and sexual harassment.
"Given how close we are to settlement, we are willing to take the unprecedented step of agreeing to voluntary binding interest arbitration on the specific outstanding issues of workday and workweek scheduling and wage schedules for utility workers and system service workers."
As she left the talks, Sanchez told local media that "we made concessions, but you can only bend so far before you break. This is the way they want to solve the conflict, in a fight, a street fight." ATU Local 1225 President Steve Ramirez left the spokeswoman's role to Sanchez.
Management had no specific response to the two unions, other than to complain that they were being inflexible.
BART workers first struck after their contract expired at midnight June 30. Gov. Jerry Brown called a 60-day cooling off period, during which BART and the unions tried to resolve their differences. The cooling off period expired on Oct. 10. The union set an earlier strike deadline and then postponed it in hopes of reaching agreement. But the transit authority's refusal to accept arbitration for work rules forced the union to walk out.
Photo: Oakland city workers and striking BART transit workers Hold a massive rally July 1 (PW/Marilyn Bechtel).
TOWN HALL May 2 – Confronting the COVID Economy: Women Fight Back