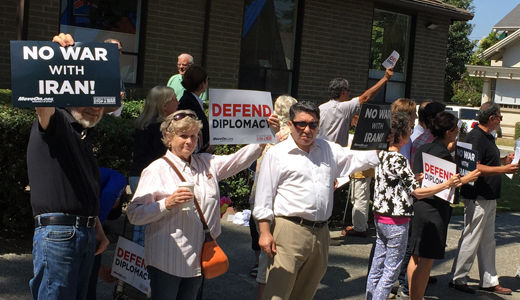 SAN JOSE, Calif. – Waves and honks of support from passing motorists greeted some 30 South Bay activists gathered near the office of Democratic Rep. Zoe Lofgren to show their opposition to war with Iran and their support for the international nuclear arms deal with that country.
They delivered a petition bearing signatures of local residents calling on Rep. Lofgren to come out in support of the agreement and were pleased to find that she has done so.
This action was part of the National Day of Action to stop a war with Iran that was initiated by Moveon.org. It was a first-time organizing effort for Caryn Quist, who put together the event using tools provided by Moveon. Asked what led her to take this on, she responded, "I have an Iranian partner, so it's very personal for me, and I'm very pleased with the actions of the Obama Administration." Referring to the 1,200 signatures on the petition, she said, "I think we're in good company."
The event was very much a grassroots affair. David Martinez, a Puerto Rican resident in the neighborhood, said he came at the invitation of some of his neighbors. He reported proudly, in Spanish, that he had voted for Obama.
Among the participants was Brian Wheatley, president of the Evergreen Teachers Association, a local of the California Teachers Association, the state branch of the National Education Association. Brian has good reason to believe in negotiations, having led his local in a tough struggle to negotiate with the Evergreen School District, which at one point tried to cut off negotiations and move toward imposing a settlement on the teachers by declaring an impasse. This move was rejected by the state Public Employees Relations Board, and Brian looks forward to resuming negotiations shortly. "On a fundamental level, I believe that you should talk things out rather than act aggressively and in haste," he said when asked what brought him to the demonstration.
Photo: Henry Millstein/PW