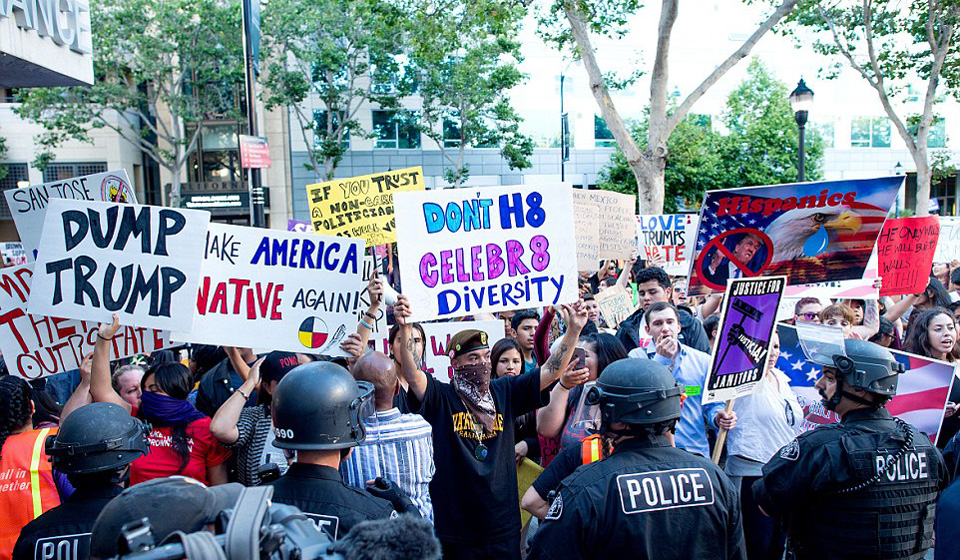 SAN JOSE, Calif. – Rainy skies didn't deter the one thousand people who gathered Sunday at City Hall here, determined to wage a united struggle against the divisive agenda of the incoming Trump administration. A coalition of over 30 social justice and community groups organized the "Protect Our Community: Standing Up for Democracy and Dignity for All" rally.
The City Hall gathering came on the heels of a student rally at San Jose State University on Wednesday that demanded the University declare itself a sanctuary for immigrants threatened by the Immigration and Customs Enforcement agency (ICE).
Local progressive political figures headed the speakers list on Sunday. "It's not enough for us to be here; we need to use our ability to be empowered here to protect the people of our community," declared Ash Kalra, newly elected member of the California State Assembly.
Kalra went on to recall two points of an appeal by Angela Davis to people of conscience: "All our issues are intertwined; we need to take up community organizing as it used to be done – going door to door, household to household." Kalra further quoted Davis: "We have been divided; we have to recognize that it's all one story. There are millions of people who are disaffected, who aren't being heard; we have to talk to them – or someone else will."
Kalra went on to announce that he had just come from Standing Rock, S. D. The crowd loudly cheered his support for Native Americans and their allies there who are struggling against the building of an environmentally destructive pipeline.
U.S. Rep. Zoe Lofgren said, "We must be aggressively together." To loud applause, she stated, "If Muslim immigrants are required to register, we should all go and register!" That call was echoed by speakers throughout the rally.
On Election Day, the congresswoman said, "a majority of Americans rejected the hate that we are now facing." She urged participants to build bridges of community and "listen to those who felt so alienated that they would vote for a man like Donald Trump."
The chair of the Santa Clara County Board of Supervisors, Dave Cortese, reported that a proposal for a legal defense fund for all immigrants will come before the Dec. 6 meeting of the Board. He invited rally participants to attend the meeting in support of the measure, which was introduced by him and Supervisor Cindy Chavez.
Other speakers addressed the urgency of protecting women's rights, including reproductive freedom, affordable health care, and the rights of the LGBTQ community. San Jose State University Professor Scott Myers-Lipton declared, "We will build a wall of love that is stronger than Donald Trump's wall of division."
Kate Chance, Interfaith Coordinator for the Islamic Networks Group, spoke of the importance of interreligious unity and cooperation in beating back threats to freedom of religion and other civil liberties.
The Rev. Jon Pedigo of the Social Ministries of the Catholic Diocese of San Jose said, "We can't wait till bad things happen, we need to be active." He called for finding a way to talk to those who voted for Trump – including at the Thanksgiving table.
Participants signed commitments to work on one of the three issue areas raised at the rally: immigrants' rights, maintaining affordable health care. and protecting civil liberties and stopping hate crimes.
The Rev. Jethro Moore, president of the San Jose NAACP, summed up the spirit of the rally: "Today I am a Muslim. Today I am an immigrant. Today I am a Jew. Today I am LGBTQ."
Moore announced that on January 20, Inauguration Day, a march will encircle the local office of ICE letting the government know that the community will not stand for deportations.