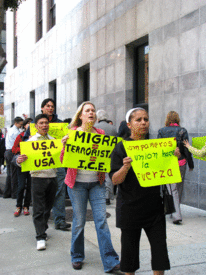 SAN FRANCISCO — In an outraged response to ICE raids just days after immigrant rights supporters filled the streets on May Day, labor, faith groups, students and community members rallied around the area last week.
On May 5, hundreds gathered outside the San Francisco headquarters of U.S. Immigration and Customs Enforcement (ICE) to protest the agency's raids at restaurants operated by El Balazo taqueria chain in several Bay Area cities. During the May 2 raids, 63 workers were detained. Most were released that day pending immigration hearings.
State Senator Carole Migden (D-San Francisco), representatives of other elected officials, clergy from many denominations and labor leaders joined immigrant rights advocates in the noontime rally.
"We marched on May 1, and then they came after us," San Francisco Labor Council head Tim Paulson told the crowd. "This cannot happen in San Francisco, in California, anywhere in the United States!" he declared. Paulson pledged the continuing support of labor in San Francisco and the East Bay "to fight this injustice in our community."
Protestant, Catholic and Jewish faith leaders held aloft a symbolic shelter, a canopy "open on all four sides" so that "all people may come in and be welcome within the circle," before conducting a ceremonial purification of the ICE headquarters. "Our prayer is that God will remove your hearts of stone and replace them with hearts of flesh, ready for mercy and compassion," one faith leader said, as others prepared to sprinkle the building's entrance with holy water. The religious leaders also called for immigration laws to be "transformed" so they are "worthy of enforcement."
As "sanctuary cities" that have pledged to welcome all immigrants and not to cooperate with ICE raids, the San Francisco, Oakland and Berkeley communities have been especially angered by the ICE actions.
Elected officials including Oakland Mayor Ronald Dellums raced to the scene May 6 after ICE agents were reported near an East Oakland elementary school campus. Similar reports in Berkeley drew a like response from city officials.
Although it turned out agents had not entered the school grounds as rumored, the school warned parents that ICE was in the neighborhood, and teachers kept their students in classrooms until an authorized person could pick them up.
Two days later, some 80 students at Oakland High School held a lunchtime march and rally outside the school to protest ICE's actions.
"Who are we to say you can't be here?" said student Eric Valley. "People could leave their home countries because of war, because of bad economic conditions. They come here thinking America is safe. If this is the land of the free, why can't people come here?" he added.
"Little kids shouldn't have to carry ID, little kids are just trying to get an education," said junior Rosa Perez. While she hadn't heard of students experiencing raids at their homes, she said, "We're afraid that will happen; that's why we're here."
Rep. Barbara Lee (D-Calif.), whose district spans Oakland and Berkeley, issued a statement saying ICE's presence near the schools violates "the sanctity of the education process, and is intentionally meant to intimidate those who live in the community." She said she plans a district outreach event "to hear directly from my constituents about their experiences with agency officials."
mbechtel @pww.org