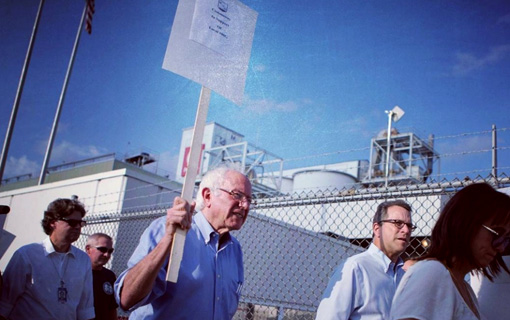 NEW YORK (PAI) – When's the last time a presidential hopeful walked a picket line?
How about Oct. 25, when Sen. Bernie Sanders, Ind.-Vt., addressed and marched with Communications Workers (CWA) in their picket line in Manhattan against Verizon?
The veteran lawmaker is the main challenger to former Secretary of State Hillary Clinton in next year's Democratic presidential primaries. And the self-described "democratic socialist" is a strong and fervent supporter of workers and unions, and sponsor of pro-worker legislation.
"You've got corporate America making huge profits. Their CEOs get huge compensation packages and then with all of their money, what they do is they hire lawyers in order to make it harder for workers to survive in this country," Sanders told the crowd in Times Square.
"What this campaign" – his campaign – "is all about is saying to corporate America: 'You cannot get it all.' That when worker productivity is skyrocketing, you've got to pay your workers decent wages, you've got to respect and negotiate with workers for decent contracts."
The 40,000 Verizon workers, represented by CWA and the Electrical Workers, are in a long struggle with the highly profitable telecom firm over its takeback demands on health care, pensions, working conditions, the company's outsourcing and more. The workers have been toiling without a contract since August, and picketing Verizon every chance they get.
The New York rally was the latest show of solidarity by the Verizon workers – and Sanders' latest show of solidarity with all workers, especially union workers. Just the day before, Sanders penned an open letter blasting management's move to kill Amalgamated Transit Union workers' pensions in Grand Rapids, Mich. (See separate story).
"In June, Verizon proposed a new union contract, but CWA takes issue with some of its key points, including suggested pay increases, the structure of pension benefits, health care contributions, whether Verizon can contract out or offshore union jobs, and employees' vacation time," a CWA statement said.
CWA is also battling Verizon on another front: Its failure to implement high-speed high-tech FiOS service in New York, Boston, Philadelphia and elsewhere, even though it made $9.6 billion in profits last year. And CEO Lowell MacAdam earned $18.3 million last year, including stock options and incentive pay, the AFL-CIO Executive Paywatch, using federal data, says.
"The company has barely moved off its initial June 22d proposal that made outrageous demands of Verizon workers. If this company is serious about reaching an agreement, it needs to start bargaining constructively and now," said CWA District 2-13 Vice President Ed Mooney, the lead union bargainer.
"Let me get right to the point: The middle class in this country is disappearing and what Verizon is doing to their workers is exactly what has got to be fought if we are going to rebuild the American middle class," Sanders, standing on the back of a flatbed truck, declared.
He also denounced Verizon for illegally firing Verizon Wireless worker Bianca Cunningham, who organized her coworkers in Brooklyn. The Brooklyn workers are bargaining their first contract and Verizon Wireless is refusing to negotiate – just like its parent firm.
"It is not acceptable to me that when workers form a union and negotiate for an entire year they can't yet get a contract. That's not what democracy is supposed to be about. That's what rotten labor law is about, and we're going to change that," Sanders said.
Photo: Bernie Sanders/Instagram