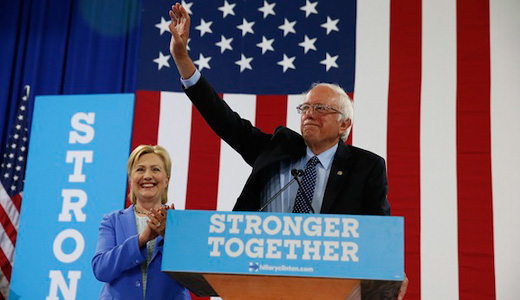 PORTSMOUTH, NH – With both candidates saying, "we're stronger together," Bernie Sanders today endorsed Hillary Clinton as the Democratic Party's presidential nominee and Hillary Clinton pledged to fight for most of the goals of Sanders' "political revolution."
Sanders and Clinton spoke from the same podium at Portsmouth High School. Sanders said that Hillary Clinton understands that "today we are suffering from the highest level of income and wealth inequality since 1928."
He outlined plans he and Clinton have crafted to expand the availability of health care, to make colleges and universities more affordable, and to guarantee that corporations pay their fair share in taxes.
Clinton echoed Sanders' call to make our government "work for all people, not just for the top one percent."
"Hillary Clinton will be the Democratic nominee for president and I intend to do everything I can to make certain she will be the next president of the United States," Sanders said.
They both pledged to work together to defeat Republican candidate Donald Trump because, as Sanders said, "he would be a disaster for working people."
Trump proposes to do away with the federal minimum wage, Sanders said, "and to give massive tax breaks to billionaires such as himself."
Clinton pointed out that Trump recently called on "the nation's leading 'experts' on trickle-down economics to help him craft his tax and economic programs."
"These are the same people who got us into the current mess," she said.
Sanders stressed that his endorsement of Clinton comes after his supporters and Clinton supporters worked together within the Democratic Party Platform Committee to adopt "the most progressive platform in the history of the Democratic Party."
The final draft adopted by the Platform Committee this past weekend includes a call for a $15 federal minimum wage and several other planks pushed by committee members representing the close to 1,900 delegates who will come to the Democratic National Convention as supporters of Bernie Sanders.
Clinton will go to the convention with more than enough delegates to clinch the presidential nomination.
Aside from doubling the federal minimum wage and automatically tying future hikes to cost of living increases, the platform draft now includes a criminal justice reform plank that calls for the Department of Justice to investigate all shootings involving police officers.
It also supports Congress putting a price on carbon and methane to discourage continued use of fossil fuels that are causing severe climate change. The platform says that lawmakers must consider the impact on the climate of all federal decisions and invest heavily in wind and solar power.
Moreover, the final platform draft urges passage of progressive immigration reform, calls for legalization of marijuana, abolishment of the death penalty, breaking up too-big-to-fail financial institutions, the passage of a modern Glass-Steagall Act to rein in the financial industry, an end to corporate tax loopholes, a ban on private prisons and an expansion of Social Security.
Writing for the NBC News online service, political reporter Alex Seitz-Wald stated, "While many questioned [Sanders'] decision to stay in the primary race long after losing the nomination, none of the progress of his ideas on the platform would have happened if he had dropped out."
In his endorsement of Clinton, Sanders said "It is no secret that Hillary Clinton and I disagree on a number of topics."
For example, Sanders supporters lost three votes taken by the platform committee: there is no rejection of the Trans Pacific Partnership trade deal, no plank condemning the revolving door between government and corporations, and a Sanders-backed measure to "end the occupation" of Palestine failed.
Nevertheless, Sanders said he can stand behind the platform as currently adopted. It will now be presented for ratification at the Democratic National Convention, which will be held in Philadelphia July 25-28.
"With Hillary Clinton as president," Sanders concluded in his endorsement today, "we can work to turn the Democratic Party platform from something on paper to legislative reality."
Clinton said, "To all those who put their heart and soul into supporting Bernie for President, I say: 'thank you.' You will always have a place at the table in a Clinton presidency."
Photo: Andrew Harnik/AP