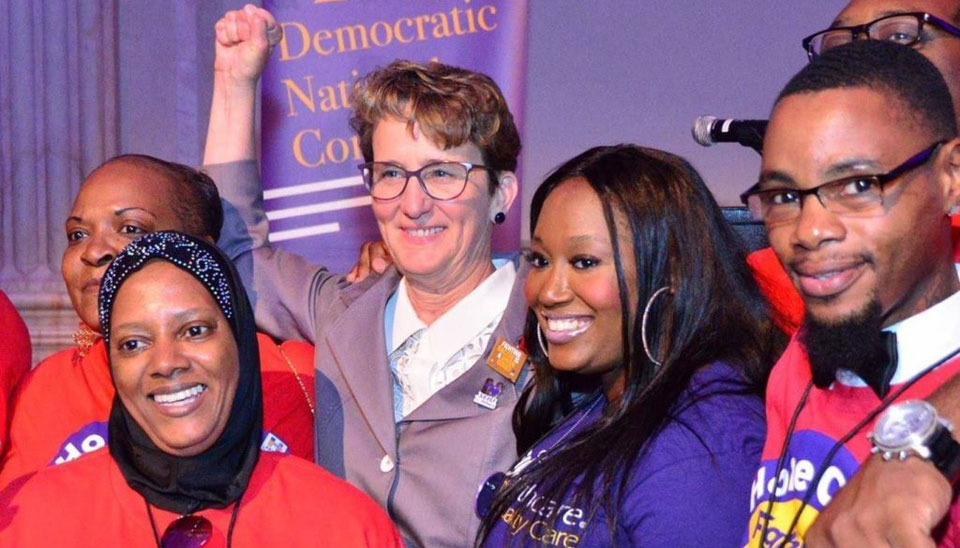 Almost simultaneously yesterday Democratic presidential candidate Bernie Sanders and Mary Kay Henry, the president of the Service Employees unveiled strong pro-labor programs they say will revive the nation's unions and lift up the country's workers.
Saying its time for every worker to have the right to organize, no matter what they do, where they live or who they work for, Henry unveiled SEIU's "Unions for All" campaign Aug. 21 with a conference and mass rally in Milwaukee.
Sen. Bernie Sanders, Ind-Vt., the longest time supporter of unions among the 23 Democratic presidential hopefuls, rolled out his comprehensive pro-labor package to the Iowa AFL-CIO, meeting in Sioux City. Iowa hosts the first 2020 presidential caucus.
Henry described her plan as "the next step in the Fight for $15 and a union" campaign and said her union would not support a presidential candidate who was not on board with the nation's unions.
The Sanders plan is a mix of legislation, such as strengthening the right to organize and increasing penalties against labor law breakers, and executive orders, including one to bar federal contracts to firms that pay employees less than $15 an hour or pay CEOs more than 150 times their median pay for their workers.
On the issue of the right to organize unions, Henry declared: "We need to make it possible for all workers to join together across employers, across industries and across geographies" to unionize, Henry told her conference.
Unions for all would "not (be) workplace by workplace" and "not by the dozens but by the hundreds and thousands and millions.
"Giving all workers — black, white and brown — the opportunity to join a union is the best way to raise wages, improve working conditions, create family-sustaining jobs and begin to fix the rigged economy," she said.
Though details of the plan have yet to be posted on its website, www.unionsforall.org, its goal contrasts with the makeup of the current workforce. Just last month, Communications Workers President Chris Shelton calculated that federal labor law covers only half of all U.S. workers. And only about 11% of all workers are unionized, including 6.4% in private industry.
Among those left unprotected: "Independent contractors" – often misclassified by employers – many professionals, along with middle managers, home health care workers, farm workers except in California and many other low-wage workers.
The National Labor Relations Act excluded the home health care workers and farm workers – most of them people of color – because FDR needed Southern segregationist Democratic votes to pass it. The racists' price was to deny power and worker rights to black and brown people, fearing they would combine with poor whites to demand and get fairness.
And the GOP-passed Taft-Hartley Act in 1947 tossed out the managers and the professionals, strengthened the "independent contractor" dodge and legalized so-called state "right to work" laws. Those laws let non-union members covered by union contracts use union protections – negotiations and contract enforcement – without paying one red cent for them.
The ProAct, a comprehensive labor law reform bill drafted by progressive lawmakers, House Education and Labor Committee Chairman Bobby Scott, D-Va., and union legislative representatives, would undo those loopholes.
It would also strengthen the right to organize, curb the independent contractor dodge and end company use of "joint employers" to evade labor law. It would impose hefty fines on lawbreakers, and expose union-busters to public view of who and how they spend their money.
Sanders' Workplace Democracy Plan would adopt all those reforms but in addition abolish right-to-work laws, give federal workers the right to strike, and combine those additions with still more executive orders. One order would ban cuts in financially shaky multi-employer pension plans. Sanders' pro-worker package also includes a new union-backed bill to put those plans on sound financial footings through repayable federal loans.
And Sanders also would legalize sectoral collective bargaining, a concept prevalent in Europe that lets workers bargain with entire industries across individual corporate lines.
Sanders routinely joins workers on picket lines from Philadelphia to Berkeley. He descended on Walmart's corporate meeting this year to demand the venomously anti-worker retail monster raise workers' pay to $15 an hour, and he attacks the 1% for creating and widening income inequality to a level unseen since the 1920s or before.
"Corporate America and the billionaire class have been waging a 40-year war against the trade union movement in America that has caused devastating harm to the middle class in terms of lower wages, fewer benefits, and frozen pensions," Sanders said in a statement unveiling his worker rights plan to the Iowans.
"That war will come to an end when I am president. If we are serious about rebuilding the middle class in America, we have got to rebuild, strengthen and expand the trade union movement in America."
"When Bernie is president he will work with the trade union movement to establish a sectoral collective bargaining system that will work to set wages, benefits and hours across entire industries, not just employer-by-employer," his campaign website says about his plan.
"It is absolutely unacceptable for profitable corporations to provide obscene compensation packages to executives while ripping off workers and their families."