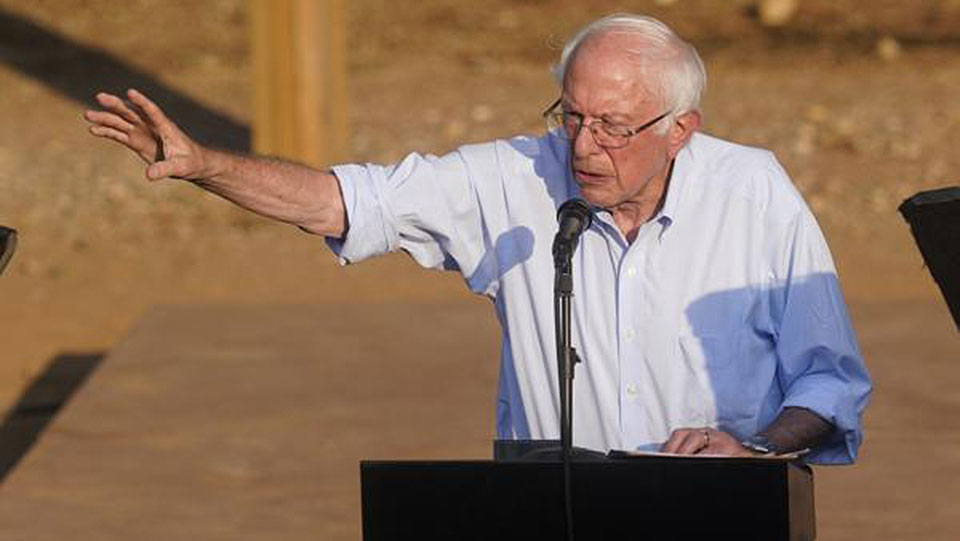 OAKLAND, Calif. – President Biden's proposals to expand traditional Medicare to cover more people and offer more benefits are a step on the way to Medicare For All, the chief advocate for such government-run single-payer health care contends.
Which is why Sen. Bernie Sanders, Ind-Vt., is pushing them now, he told National Nurses United, the union which has led a decade-long crusade for Medicare For All and against the profit-driven private health care system.
Sanders outlined his position in a recent zoom conference call with the Oakland, Calif.-based union's activists. NNU, like more than a dozen other unions, lined up behind Biden's plan in a joint letter earlier this year, without abandoning its long Medicare For All campaign.
And the advocates listening to Sanders also made it clear they're going to keep going, trying to line up more congressional co-sponsors for the latest comprehensive House version of Medicare For All, HR1976. Sanders has yet to introduce his companion Senate Medicare For All bill.
But the $3.5 trillion "reconciliation" bill Sanders, as Budget Committee chair, pushed through the evenly split Senate on a party-line vote opens the way for Biden's Medicare changes without the threat of a Republican filibuster, he pointed out. The Democratic-run House subsequently passed it, also along party lines.
"I believe we need Medicare For All, but we are not there yet," Sanders admitted. "There have been no major reforms to Medicare since 1965. We will expand it and its benefits and bring more people in by lowering the eligibility age to 60…I'll be delighted if we can expand Medicare to cover hearing, vision, and dental benefits."
Organized labor strongly supports Sanders's legislation and Biden's agenda, since the president's plans and priorities and labor's are virtually identical. One big difference: Biden opposes Medicare For All, preferring to stick only with the reforms via the Affordable Care Act.
Would include dental, vision, and hearing
Biden, Sanders, NNU, and the others would expand Medicare to cover dental, vision, and hearing ailments, lower the age of Medicare eligibility to 60 and give Medicare the power to bargain with Big Pharma to drive prescription drug prices down. Medicare has that clout: It, Medicaid, and the defense and VA health and hospital systems together account for almost half of all medical sector revenues in the U.S. Only Medicare can't bargain with the drug makers.
There's a second reason Sanders has pushed Medicare For All behind expanding traditional Medicare: Restoring workers' faith the federal government changes their conditions for the better.
Sanders views "the essence of" the reconciliation bill's agenda—also including combatting climate change, investing in mass transit, ending dependence on fossil fuels, and paying for much of this by eliminating the 2017 Trump-GOP tax cut for corporations and the rich—as proving to the country the government works for them, not the 1%.
To that end, he touted other benefits to workers and their families from reconciliation, including increasing federal funds for child care and for child care workers' salaries, permanent paid family and medical leave, and immediate $300 monthly checks to families with kids.
Union President Deborah Burger, RN, a nurse for 45 years, said NNU largely agrees with where Sanders is headed.
"The fact that these are even on the table is a testament to the movement" for Medicare For All, she said, noting it has 112 House co-sponsors, a majority of the Democratic caucus. Passage of Biden's expansion plans "would be a major blow to Big Pharma, for universal health care and (for) removing people from the grip of our for-profit health care system.
"And most private insurers are no longer footing the costs for treating people suffering during the coronavirus pandemic. They seek new ways to increase their historic profit levels. Hospitals that took (pandemic) bailout dollars are still suing their patients for unpaid bills.
"This is called 'disaster capitalism,' to accelerate the health care industry away from patient care and" change to "outsourcing and profit maximization."
All that provided more fodder for NNU's Medicare For All activists and organizers at the session. They mapped out plans to target four more House Democrats, two of them in California, the union's big base, to co-sponsor the legislation.
The campaigns would be based on a successful drive by the Minnesota Nurses Association/NNU, featuring zoom calls with staffers, street leafletting, and eventually a session with the targeted lawmaker, Rep. Betty McCollum, DFL-Minn. She signed on.
Even so, Sanders warned, achieving the goal won't be easy.
"Unions have an uphill battle on their hands" in the Medicare For All fight. "You're taking on the greed of the pharmaceutical industry and the health care industry," he concluded.