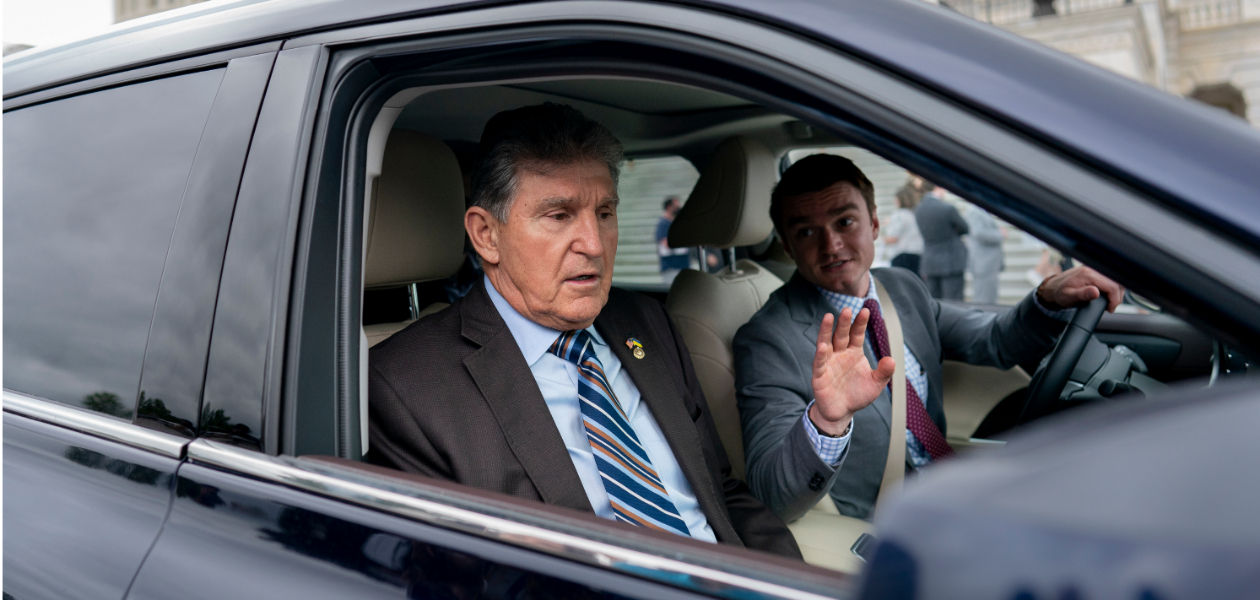 WASHINGTON—Sen. Bernie Sanders, Ind-Vt., and Rep. Pramila Jayapal, D-Wash., have finally had it with West Virginia Democratic Sen. Joe Manchin's "sabotage"—Sanders' word—of the party's progressive agenda on Capitol Hill.
And that sabotage, Sanders implied, could cost Democratic President Joe Biden and his allies, including workers, control—however tenuous—of Congress this fall.
The two spoke out after Manchin, the most-conservative Senate Democrat, and a top recipient of campaign cash from fossil fuel industries and other corporate interests, killed the latest and probably last stripped-down version of Biden's Build Back Better plan.
Manchin said bluntly he wouldn't support its tax hikes on corporations and the rich, including a minimum 15% tax, now being implemented by other nations worldwide, on corporate profits.
Manchin also opposes its provisions to combat global warming caused by carbon dioxide emissions, especially from coal-fired power plants. Though steeply declining, coal is still an economic heavy hitter in West Virginia and coal barons are among Manchin's top campaign contributors.
The West Virginian, who doesn't face Mountaineer State voters until 2024, claims he's worried about inflation. Sanders linked Manchin's concern to campaign contributions.
Manchin's stands riled Sanders, who, as Senate Budget Committee chairman, helped craft the original, much more transformative BBB bill, and Jayapal, chair of the Congressional Progressive Caucus.
"Manchin [is] intentionally sabotaging the president's agenda, what the American people want, what a majority of us in the Democratic caucus want," Sanders told ABC News interviewer Martha Raddatz on This Week on July 16. Raddatz opened her interview by saying Manchin "abruptly" pulled the plug on the Biden-Democratic program, which organized labor strongly supports and has lobbied for, despite setbacks and cuts designed to win his vote in the evenly split Senate.
"No, Martha. Let me respectfully disagree. He didn't abruptly do anything," Sanders said of Manchin.
Sabotaged the agenda
"He has sabotaged the president's agenda. Six months ago, I made it clear that you have people like Manchin" and, to "a lesser degree," Arizona Democratic Sen. Kyrsten Sinema "who are intentionally sabotaging the president's agenda, what the American people want, what a majority of us in the Democratic caucus want. Nothing new about this."
Sanders said Manchin is a corporate tool in his crusade against Biden's plans. "The problem was that we continued to talk to Manchin like he was serious. He was not. This is a guy who's a major recipient of fossil fuel money, a guy who has received campaign contributions from 25 Republican billionaires."
The cost of backing the fossil fuel companies is the future of the planet, Sanders declared.
"It ain't Democrats. It isn't the president. It's the future of the planet. So when Manchin sabotages climate change, this is for future generations. What's going on right now. in the West, all over the world, we're looking at significantly increased, more and more heat waves, more drought, more flooding. This is an existential threat to humanity."
Jayapal, speaking for the Progressive Caucus, detailed Manchin's misdeeds, emphasizing the danger of climate change—and Manchin's support of the filibuster, the parliamentary device the Senate's 50 Republicans have used to block even debate on Biden's proposals, much less votes.
Sinema also supports the filibuster, long used by Southern racists to kill civil rights bills and uphold Jim Crow. The Republicans have used it not just to kill BBB, but to kill voting rights and election reform, too, including reforms that would prevent a rightist takeover of all levels of government.
"Progressives have fought tooth and nail for the president's and the Democratic Party's agenda," said Jayapal. "Unfortunately, the senator from West Virginia has consistently worked to undermine it, blocking action on a number of priorities from child care, to housing, and now climate change.
"His latest comments highlight the consequences of not taking climate action—and they are nothing short of catastrophic. Already, this single biggest crisis of our time is having devastating impacts on frontline communities. The data continues to pile up: We are quickly running out of time to avert climate disaster.
"It is simply untenable that one senator can dictate the course for the entire country, condemn future generations to life on a warming planet, and rob the United States of a chance to act as a climate leader on the world stage. We need institutional, systemic reform to break us out of this cycle, specifically on two fronts.
"First, we need two more Democratic senators so we can break the stranglehold of the Jim Crow filibuster, pass legislation that will deliver for the working people of this country, and meet the existential urgency of addressing climate change. Second, we need to institute ethics and transparency reform…to ensure every member of Congress is working for the people, and not their own personal interests." Manchin's family owns a company that sells waste coal to power plants.
Sanders wound up by setting up the fall election, in his view, as a contest for the nation's future.
"What this election must be about is whether we are going to vote for candidates who are bad, or for those who stand up for working people, stand up for the planet and have the courage to take on the billionaire class who dominates our economy and our political life. That's what this election is about. The Republican Party is not there. We need more progressive Democrats who are going to fight for workers," he told Raddatz.