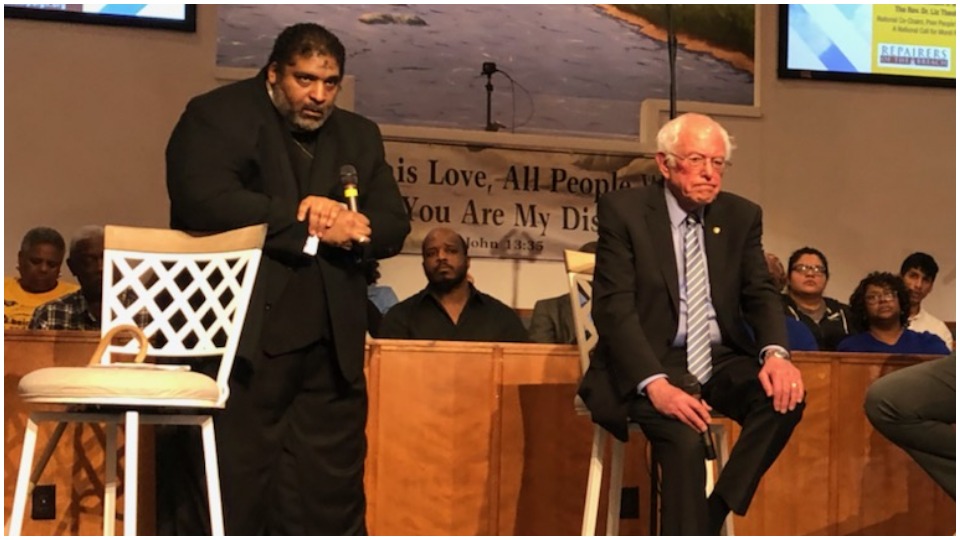 GOLDSBORO, N.C.—"Until people stand up and say" that rampant poverty and income inequality in the U.S. "is wrong, we won't have fundamental change" here, Sen. Bernie Sanders, Ind.-Vt., told the New Poor People's Campaign.
In a q-and-a with the co-chair of the nationwide drive, the Rev. William Barber II, and campaign members and parishioners in his packed church in Goldsboro, N.C., Sanders said poverty in the U.S. has never come up on the campaign trail – not even in the seven-candidate debate the night before in neighboring South Carolina.
Part of that, Sanders said, is because the poor and near-poor are politically invisible to the candidates, who tailor their pitches to the middle class. But they're also invisible, he said, to the chattering class, including the mainstream mass media, which have been launching questions at the hopefuls all through the Democrats' discussions.
"It's a non-issue, and in Congress, the same thing," Sanders said of the mention of poverty. "If you're not in the narrative, you're not in the policy," Barber said. "Your point is well-taken," Sanders replied.
Instead, he added, lawmakers must cater to corporate interests "because they spend hours a week on the phone raising money" from them to fund re-election campaigns. The solons, Sanders said, develop "a culture" that conforms to that of their contributors.
This time, on Feb. 26, the questions came from the audience as well as Barber – filled with poignant stories of what it means to be poor in the U.S. The NPPC commissioned a report last year, and is using it as the foundation for its drive, that shows the U.S. has 143 million poor or near-poor people.
The NPPC has been lobbying the Democratic National Committee, unsuccessfully, to devote one entire candidates' debate to poverty, income inequality and the chasm between the rich and the rest of us.
DNC Chair Tom Perez has turned a deaf ear, and with Super Tuesday less than a week after the q-and-a with Sanders, opportunities for such debates were closing. So the NPPC invited hopefuls to Barber's church, one by one. And it's mobilizing nationwide for its second March on Washington, on June 20.
The senator held himself out as something of an exception, and not just in the campaign. He cited visits to "the poorest county in the country" in West Virginia, to the Pine Ridge, S.D., Sioux reservation "where the average life expectancy is 45" and to multi-housing-unit projects in the South Bronx "where the elevators don't work" and people must climb 15 flights of stairs.
But he also described engaging in lobbying and picketing with Amazon and Disney workers for raising their wages to at least $15 an hour, rather than seeing Amazon's dollars go into the pocket of "the richest man in the U.S.," owner Jeffrey Bezos.
The campaign won "and as president, I'll complete that project," Sanders declared. And the full federal $15 minimum wage will cover tipped workers, too, he told NPPC member Keenan Hardin, a Waffle House server who makes the North Carolina "tipped minimum" of $3.10 hourly, plus tips.
"Four years ago, I came here" to North Carolina when running for president in 2016 "and said we gotta raise the minimum wage to at least $15 an hour. People said I was crazy, that I'm an extremist. In Congress, they were talking about $10.10 an hour and some were talking about $12.10."
"But since then, working with the Service Employees and Fight for 15, seven states have raised their minimum wage to $15, as have dozens of cities and communities."
And when he wins the Oval Office, Sanders promised the crowd, his "first order of business" would be to propose a raise to at least $15 an hour nationwide. And, Sanders told Sara Farrington, a Waffle House worker who earns the tipped minimum wage — $3.10 in North Carolina, before tips – that the $15 minimum should include the tipped workers, too.
"The House did pass it," Sanders said, referring to the Democratic-led House's party-line vote last year to raise the wage. "But under the Senate's Republican rule, we haven't even gotten a vote."
Pay wasn't the only problem the poor face and which Sanders tackled. NPPC members, including an M.D., trooped to the microphone to tell of unavailability of health care – even for people with insurance – mental health problems caused by stress of joblessness, high prices of prescription drugs, and more.
That includes unnecessary deaths. "A Yale University study just found 68,000 people die every year" because their insurers denied payment for their care, the M.D. said. "That's one every eight minutes. And a half a million people in North Carolina who should have access to health care do not" because the GOP-dominated state legislature refused to let the state sign up for additional Medicaid benefits under the Affordable Care Act, she added.
"No one has asked that question," Sanders mused. "Nobody says 'Do we have a moral obligation to ensure nobody dies unnecessarily?'"
The senator then used those questions to declare his Medicare For All plan would help solve those problems, including curbing the costs of the drugs. He also pointed out that while foes harm on the costs of his plan – former Vice President Joe Biden's latest estimate is $60 trillion over 10 years – nobody talks about the costs that would disappear.
Those savings – eliminating insurers' overhead and billions of dollars in profits, high drug prices, huge co-pays, premiums and deductibles pushed onto workers – would dwarf any additional taxes people would have to pay for Medicare For All, he said.
"And we don't regulate the pharmaceutical industry. They regulate themselves," again due to campaign contributions to lawmakers, Sanders added. "Right now, the drug companies can charge any price they want and nobody can control them." Medicare For All, he declared, would give the feds that control – and drive prices down.
Sanders also repeated other common campaign themes, drawing approval from the crowd. They included support for the Green New Deal and elimination of fossil fuels from the U.S. energy mix, comprehensive immigration reform, including legalization, and an end to GOP President Donald Trump's Mexican wall. The NPPC shares those goals, its video, shown before Sanders spoke, repeated.
And while neither questioners nor Barber nor the senator mentioned it, they agree on other top NPPC planks that appeared on the screen. One would cut U.S. military spending and transferring the money to domestic needs. The group and the senator also agree on repealing the GOP-Trump $1.7 trillion tax cut for the rich and corporations, and on free public college tuition, among other causes.
"And we have the opportunity to bring together everyone. We're white, black, Latino, Native American, gay, straight. Who cares? We're all human," Sanders added – another theme of the multi-racial multi-cultural New Poor People's Campaign.
But nothing on Sanders's agenda, or the NPPC's, would get through Congress unless the power of special interests is broken, Barber reminded Sanders. And the key to that is the ballot, which the Supreme Court took away when it gutted the Voting Rights Act's top enforcement sections several years ago, he reminded the senator. Restoring it is a top NPPC cause.
Challenging and beating voter suppression touched off the NPPC movement as "Moral Monday" marches in the state capital of Raleigh. "As soon as the court gutted the Voting Rights Act, we have states that within days engaged in" voter suppression against people of color, the senator said.
"Forty-five minutes" was how long after the ruling that North Carolina lawmakers passed those laws, Barber replied.
"I'll have an Attorney General that will go after voter suppression," Sanders pledged. He also favored automatic voter registration at age 18 and making Election Day a federal holiday. Those measures, plus Voting Rights Act restoration, plus tough campaign finance laws, are all part of HR1, which the House Democratic majority passed last year – and which Republican Senate Majority Leader Mitch McConnell has buried.
Sanders agreed and backs comprehensive legislation not to just restore the VRA's strength but to ensure it covers both historically discriminatory states – such as North Carolina – and elsewhere.
"People, especially young people, ask, 'Why should I vote?' We'll deal with that by dealing with a corrupt political system that allows billionaires to buy elections."