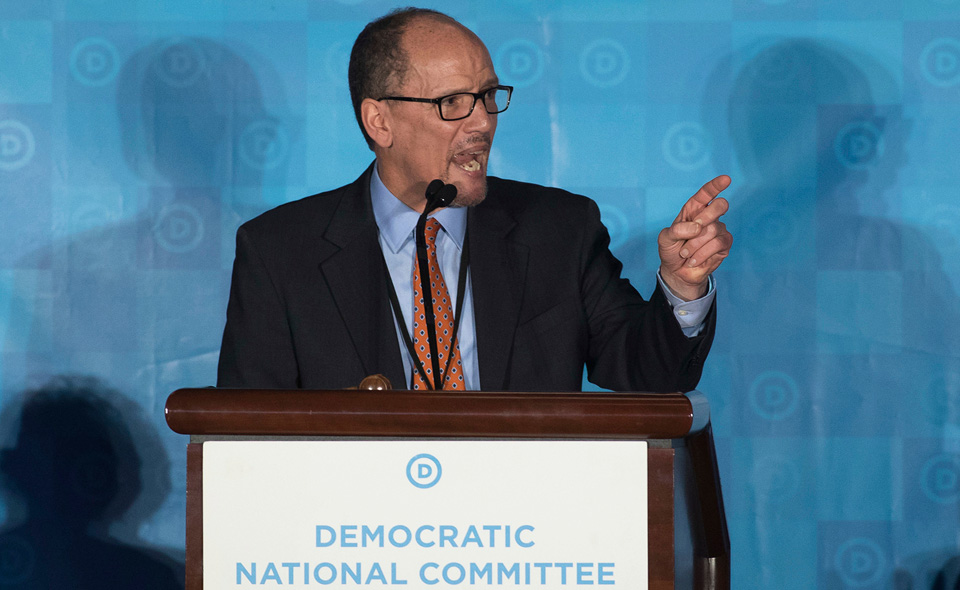 Former U.S. Secretary of Labor Tom Perez won the election for chairman of the Democratic National Committee (DNC) Saturday. Within minutes, he appointed the runner-up, Ralph Ellison, D-Minn., as his deputy.
The election took place in Atlanta at the DNC's winter meeting. Close to 440 members voted.
Vermont Senator Bernie Sanders was quoted in Politico as saying, "I congratulate Tom Perez … and look forward to working with him.
"… it is imperative," Sanders continued, "that Tom understands that the same-old, same-old is not working … Now, more than ever, the Democratic Party must make it clear that it is prepared to stand up to the one percent and lead this country forward in the fight for social, racial, economic and environmental justice."
Ellison told the DNC members, "If you came here supporting me … I'm asking you to give everything you've got to support Chairman Perez. … if we waste even a moment going at it over who supported who, we are not going to be standing up for [the American] people. We don't have the luxury, folks, to walk out of this room divided.
"We've got to walk out of here hand in hand, brother and sister, because Trump is right outside the door. Not just Trump, but Trumpism."
Shortly before the final vote, Perez said, "We are one family, and I know we will leave here united today, no doubt about that. I've learned that great leaders are good listeners. You will always have my ear, and I will always have your back."
George Goehl, co-director of People's Action, which had supported Ellison, issued a statement saying:
"We congratulate Congressman Keith Ellison on an incredible campaign that brought hundreds of thousands of people into the debate about the direction and leadership of the Democratic National Committee. By stepping forward, Ellison has moved the party closer to the bold economic reforms that will unrig the economy so it can work for everyday people.
"We are obviously disappointed that Congressman Ellison didn't win. We applaud his leadership, wisdom and grace."
Goehl concluded, "Tom Perez has taken a strong first step in naming Congressman Ellison deputy chair. We hope Perez takes additional actions that demonstrate that the compass of the Democratic Party is the hopes and dreams of the working class, and that its power is in the grassroots."
People's Action is a national organization of more than a million people across 30 states working for economic, racial, gender and climate justice – and to ensure everyone a voice in our political system. From family farms to big cities, from coast to coast, we're fighting for community over greed, justice over racism, and people and planet over big corporations.