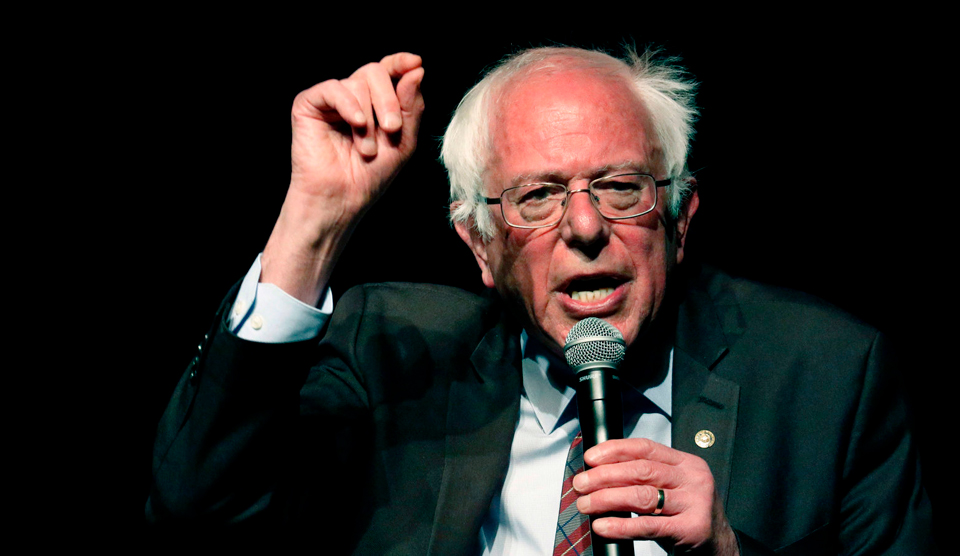 WASHINGTON—Bernie Sanders, Mark Pocan and their congressional allies want to make joining unions and funding them a lot easier.
Which is why the Independent senator from Vermont and the Democratic U.S. representative from Wisconsin, a Painter, introduced – or in Sanders' case, reintroduced – the Workplace Democracy Act.
The bill, dropped in the hopper on May 10, but announced to National Nurses United the day before, would write card-check recognition of unions into federal law, once the National Labor Relations Board verified the union collected election authorization cards from a majority of employees at a workplace.
And to make sure unions would have the needed funds to represent workers in bargaining and enforcing contracts, their measure would outlaw state right-to-work laws, too.
Both card-check recognition and a ban on RTW are favorite union causes, but both have gone nowhere on Capitol Hill, even when Democrats controlled Congress.
The last time organized labor tried to outlaw RTW was 1965. Labor campaigned to repeal the key part – section 14(b) of the 1947 GOP-passed Taft-Hartley Act – that legalizes it. They lost to a Senate filibuster.
RTW hurts unions and workers financially by robbing them of funds. RTW laws let "free riders" in a union-represented workplace take advantage of union services and gains, in contracts and in defense of workers, without paying one red cent for them.
And just last month, the ruling Republicans on the House Education and the Workforce Committee held hearings on a Chamber of Commerce-written labor law that would, among other things, outlaw card check. Card check has been on the books since a 1962 NLRB ruling.
That didn't stop Sanders, Pocan, their allies or unionists gathered in a Capitol Hill meeting room from campaigning for the Workplace Democracy Act.
"If we are serious about reducing income and wealth inequality and rebuilding the middle class, we have got to substantially increase the number of union jobs in this country," Sanders said.
"Corporate America understands that when workers become organized, when workers are able to engage in collective bargaining, they end up with far better wages and benefits… and that is why, for decades now, there has been a concentrated well-organized attack on the ability of workers to organize."
"Republicans like President (Donald) Trump and" Wisconsin Gov. Scott "Walker continue to crack down on unions and push a special interest, corporate-driven agenda that makes it harder for middle class families to get ahead," Pocan added. "And while they stack the deck against the American worker, unions are fighting to expand economic opportunity and strengthen the middle class."
"The Workplace Democracy Act restores real bargaining rights to workers and repeals the right to work laws like those that Governor Walker has used to undercut American workers. I'm proud to introduce this legislation with Sen. Sanders and stand up for the millions of middle class families who are under attack by Republican leaders."
The measure would not only make organizing easier and outlaw RTW but would also order bosses to bargain with a recognized union within 10 days, force them into mediation if no agreement is reached after 90 more, and then mandatory arbitration of unsolved issues a month after that.
The objective is to kill bosses' frequent refusal to bargain, which bosses also use to discourage workers and convince them to reverse pro-union votes.
Besides Sanders and Pocan, other initial sponsors of the Workplace Democracy Act include Sens. Sherrod Brown, D-Ohio, Tammy Baldwin, D-Wis., Kamala Harris, D-Calif., Jeff Merkley and Ron Wyden, both D-Ore., and Elizabeth Warren, D-Mass., and Rep. Rosa DeLauro, D-Conn. Brown and Baldwin are both top GOP targets in this fall's election, in states Trump carried in 2016.