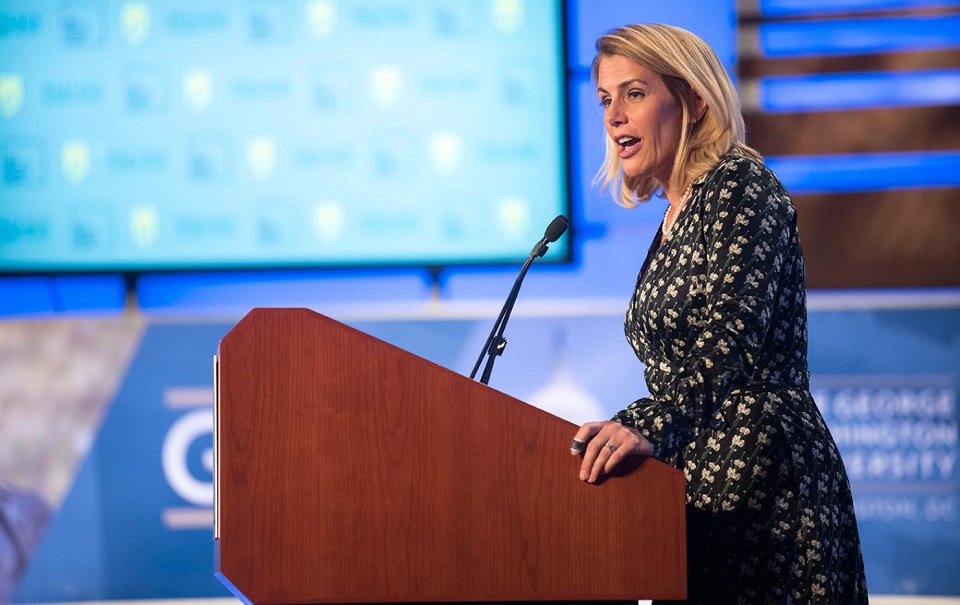 WASHINGTON—With Labor Secretary Marty Walsh headed out the door—and back to a top union job—Sen. Bernie Sanders is pushing two potential successors: Sara Nelson, president of the Association of Flight Attendants-CWA, and Bill Clinton's Labor Secretary, Robert Reich, in that order.
Sanders' recommendations may swing some weight with Joe Biden's White House. The Vermont independent chairs the Senate Health, Education, Labor and Pensions Committee, which will hold confirmation hearings on Walsh's successor and send a nominee to the Senate.
Though no official announcement has occurred, The Athletic, The Boston Globe, and ESPN all reported Walsh, a Laborers Local 223 member, and first unionist to be Labor Secretary since the Nixon administration will be the new Executive Director of the National Hockey League Players Association. That's set off a search for his successor. So far the list is short.
"Sara Nelson is the International President of the Association of Flight Attendants-CWA," Sanders wrote Biden when the news about Walsh broke on Feb. 10.  "She has been a union member for nearly 30 years, has been a leading voice for worker rights and is a very strong communicator of progressive values. She has a thorough understanding of federal labor laws and how these laws apply to workers, and her experience sets her up for success in this job."
Left unmentioned in Sanders's short letter were several notable instances where Nelson took the lead on national issues.
One was when, during Republican Donald Trump's 35-day federal shutdown, she proposed a general strike, especially of airline workers. In response, air traffic controllers covering the New York metro area airports—essential workers forced to toil without pay–staged a coordinated call to stay off the job. That grounded the air system and forced Trump, under corporate pressure, to cave in on his demands.
Another, showing Nelson's legislative chops, talent Cabinet secretaries need, came during the crafting of legislation distributing federal aid to businesses the coronavirus pandemic forced to close.
Working with fellow Oregonian Rep. Peter DeFazio (D), Nelson got his Transportation and Infrastructure Committee to attach a worker retention mandate to the $25 billion subsidy the government doled out to the airlines. In return, they had to keep all their workers on the job even if planes weren't flying. There were no other such stay-on-the-job conditions in that money bill.
Sanders listed Nelson first, before Reich. The senator said Reich, now a public policy professor at the University of California at Berkeley "is widely regarded as one of the most effective Secretaries of Labor in modern history and, based on past experience, would hit the ground running. He has been instrumental in advancing workplace protections, workforce development, and worker power for decades." But by his own admission, in his book, Locked In The Cabinet, Reich was frustrated by Clinton's pro-corporate "New Democrat" tilt.
A check of AFA-CWA's website when Sanders's letter became public showed no comment, yet, on the potential nomination of Nelson, an Oregonian, to succeed Walsh. Based on past statements, notably at the last CWA convention, she would have strong union support for the job. Then, union President Chris Shelton enthusiastically endorsed Nelson as successor to then-AFL-CIO President Richard Trumka.
Nelson was widely expected to contend for that post when Trumka retired. But Trumka died before that election, and AFL-CIO Secretary-Treasurer Liz Shuler succeeded him. Her incumbency, activism, and plans to shake up the labor movement made her unstoppable, and there was no race.
Other candidates to succeed Walsh include Deputy Labor Secretary Julie Su, a progressive former California Labor Commissioner and worker-rights attorney, known for her tough enforcement of the state's pro-worker rights laws. Harvard's On Labor blog reports she's the front-runner in the race. Corporate interests tried, unsuccessfully, to stop her ascent to DOL's #2 post.
And former House Speaker Nancy Pelosi, D-Calif., still a power in the party, is pushing former Rep. Sean Patrick Maloney, D-N.Y., a close ally. Maloney chaired the House Democrats' campaign committee in the 2022 election cycle. But he lost his own seat to a Republican due to redistricting when he had to move to an area he never had represented.
Maloney is openly gay but leery of progressives. In a Washington Blade op-ed he argued after the 2022 election that "While Trumpers are so much worse in what they stand for, the one similarity we are seeing, as we did in the mid-term elections, is these candidates also can't win a general election. The reality is, the majority of the country is moderate. In fact, in many areas, the general election voter is moderate-leaning right."