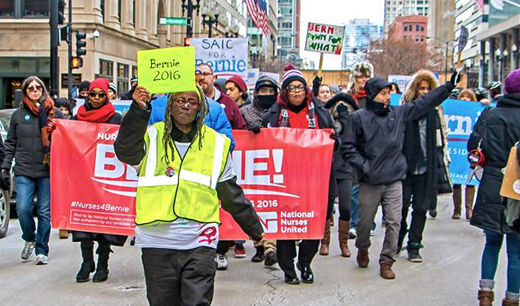 CHICAGO – Thousands gathered nationwide Jan. 23, as demonstrators rallied together in support of Bernie Sanders. National initiators of the event estimated on Facebook that 34 cities held grassroots-organized marches and even more speech-watching parties (deemed "virtual rallies") for Sanders as he seeks the Democratic presidential nomination. Sanders gave a speech that was livestreamed later that evening exclusively to grassroots organizers and campaign workers and it was viewed by over 2,000 individual watch parties on Saturday night.
Interestingly, Saturday's marches were not coordinated as a top-down effort of the campaign. The marches were organized by local grassroots efforts. Millennial activist Ryan Thomas coordinated the events from his home in Philadelphia through his Facebook page.
Sanders' speech was the campaign's response to the swell of grassroots action by groups such as #Movement4Bernie and Millennials for Bernie Sanders 2016. Many of the same students who started the #MarchForBernie coordinated the #MillionStudentMarch, which took place in many cities last November to demand tuition-free public universities, forgiveness of all outstanding federal student loans, and a $15 minimum wage for all campus workers – all parts of Sanders' platform.
Video: Chicago #MarchForBernie
People's World video by Emily Likins.
Over 1,500 people marched from Daley Plaza to the Chicago Board of Trade, cheerful in the (balmy for January in the windy city) 35-degree weather. The march paused at Bank of America, demanding: "Break it up!" Theresa Powers spoke on behalf of #Movement4Bernie. The pre-march rally featured speakers Martese Chism from National Nurses United; David Hernandez from the Chicago Teachers Union; Lamon Q. Reccord (Glo Boy Lo-Lo), 10th ward Alderwoman Susan Sadlowski Garza; and anti-deportation immigrant rights activist Maria Paz Perez .
Photo: Bob Simpson, Chicago for Bernie Sanders, Facebook.